About the Lab
Our lab conducts multi-disciplinary research programs investigating the essential characteristics and developmental trajectories of the language and cognitive profiles in autism and related disorders and explores the relationship between these profiles and brain structure and function.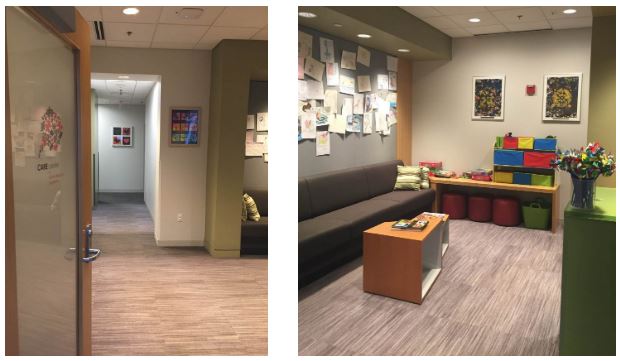 History
Our Lab was originally located at the University of Massachusetts at Boston, where Dr. Tager-Flusberg taught for over 20 years.  The lab moved to the Eunice Kennedy Shriver Center (at the University of Massachusetts Medical Center) in 1996, and then in 2001, we moved to Boston University School of Medicine.
Our research initially focused on comparing conceptual, semantic, and grammatical knowledge in children with autism to children with intellectual disability or Down syndrome using experimental paradigms and longitudinal studies of naturalistic language data.  In the early 1990s, we began investigating the relationships between language and theory of mind in children with autism or specific language impairment (SLI), and by the mid-1990s we expanded our program to studies of theory of mind and other aspects of social cognition and social perception in children with Williams syndrome.
In the late 1990s we began a large NIH-funded program project (part of the Collaborative Programs of Excellence in Autism – CPEA) exploring behavioral and brain imaging studies of language, theory of mind and other aspects of social information processing in autism or language impairment, and then in 2002 we were awarded an NIH Autism Center (part of the STAART program) to address family, developmental, treatment and brain imaging and pathology studies focusing on the social-communication and affective dimension of autism.
In 2009, following Dr. Tager-Flusberg's appointment as the Director of the Developmental Science program in the Department of Psychology at Boston University, most of the lab moved to the Charles River Campus.  Our studies of Williams Syndrome continued at the Boston University School of Medicine until Summer 2011.
In 2012 we were awarded one of three NIH Autism Centers of Excellence (ACE) which led to the creation of our Center. Our studies on autism take place in the Center which is housed in the Department of Psychological and Brain Sciences on the Charles River Campus and at Boston Children's Hospital.  Our brain imaging studies using magnetic resonance imaging methods (MRI) continue in collaboration with colleagues at MIT and Massachusetts General Hospital.
Our research programs are funded by the National Institutes of Health and the Simons Foundation Autism Research Initiative (SFARI).
Current Research Directions
The broad goals of our research address the following topics:
To identify behavioral and brain risk markers for autism or language delays that may be present during the first two years of life. Identifying high risk infants at these young ages would allow for early intervention to begin sooner than is currently possible, which will greatly increase the potential for such treatments to have lasting positive impacts.


To explore how the brains of various groups of children and adolescents process language using functional brain imaging methods. Do people with autism use different pathways for language and how do they compare to individuals with other language-based learning disorder or typically developing individuals? We expect that this research will lead to a deeper understanding of alternative approaches to diagnosing and treating language impairments.


To understand why some children with autism fail to acquire spoken language we are using a combination of behavioral, brain imaging and electrophysiological methods to investigate the underlying systems for speech production and sound processing. We are also testing a novel behavioral therapy for promoting speech in nonverbal children that has shown promise in earlier studies.


Children and adolescents with autism enjoy working with tablets and there are many apps available that promise to increase language and cognitive skills. However it is not known whether apps do lead to changes in language and if so how can we most effectively measure such changes. We are currently evaluating two different apps in a randomized controlled trial and developing novel measures of expressive language that will be important for this and future interventions research.