Exhibitions
Current Exhibitions
Information on our exhibitions for the Fall 2018 semester will be announced later this summer!
HEAL by Robert Indiana
Brilliantly standing out in the middle of the School of Theology Library is "HEAL," (2014) an original silk screen print by American artist Robert Indiana (b. 1928–). Donated anonymously, this breathtaking print will make its permanent home within our library. The story of how HEAL came to the BU School of Theology Library is about more than just a few people and colorful ink on paper. HEAL has a deep theological foundation. It is a gift to the BUSTH community. May it serve as a reminder of the tender presence and care of divine Love, enabling you to love and to be loved, to hope, to heal and to be healed.
Theology
The Hebrew Bible refers to love hundreds of times. Christ Jesus exemplified the love of God and healed countless people. The New Testament records the gospel message, "God is Love" (I John 4:8b) and Christians have embraced, studied, prayed with, preached, lived, and healed with the power of love throughout the ages. Christian Science, founded by Mary Baker Eddy, so emphasizes God's love that the quote, "God is Love", is written in almost every single Christian Science church sanctuary, and healing is central to the faith tradition.
Art
Robert Indiana saw the quote, "God is Love", in the churches of his youth, and eventually created LOVE, one of the most iconic pieces of pop art ever produced. It has spread all over the world and has been translated into multiple languages. Years later, based on LOVE, Indiana created HOPE and then HEAL. Boston gallery owners, moved by Indiana's work, curated and displayed his art, trusting that someone would buy and/or donate it to an organization that would be benefitted by the message.
Community
BTI students organized a conference dedicated to the topic of healing, and welcomed all types of submissions. Fellow students responded with sermons, papers, and workshops, and one student who happened to see Indiana's work at the gallery proposed a display for the conference. BUSTH and BU staff embraced the idea, collaborating with students and the gallery to host LOVE, HOPE, and HEAL. A few people who heard about the display offered to donate HEAL to BUSTH, and invited the school community to contribute toward the acquisition. Many responded.
May you find your own inspiration in the multi-faceted story and art of Love, hope, and healing.
More information on Robert Indiana, and the inspiration behind his world famous LOVE print, can be found here.
Biblical Watercolor Scenes by Harold Copping, On Loan from the Khalili Family Trust
Around our beautiful library are nineteen framed watercolors depicting biblical scenes painted by renowned British artist Harold Copping (1863-1932). His art brought the Bible to life for millions throughout the world.
Boston University is grateful to the Khalili Family Trust for lending the works in our exhibition, given in honor of Boston University President Emeritus John Silber.
Dr. Nasser David Khalili (b.1945) began collecting art over thirty years ago and although his interest was mainly focused on Islamic art, he has also gathered exceptional Japanese and Spanish objects and Indian and Swedish textiles. The latter group was exhibited at Boston University in August 2001. Dr. Khalili's collection, numbering 25,000 objects, is one of the largest known private art collections in the world. However, the Khalili Collection is treated very much like a public art collection: objects are lent for several international venues each year, including exhibitions in Milan, London, Geneva, Jerusalem, and of course, Boston. A host of art historians and other scholars have been invited to study aspects of the collection and their research will culminate in a fifty-volume publication.
Dr. Khalili is an internationally recognized scholar and benefactor of Islamic art. He is Professor of Art and Archeology in the School of Oriental and African Studies at the University of London. In 2003, he received an honorary Doctor of Humane Letters from Boston University, recognizing his significant contributions to the world of art.
Previous Exhibitions
Click on the collapsible box to learn more about previous exhibitions at the School of Theology Library. For previous exhibitions held by the School of Theology, consult the consult the School of Theology recent news here.
Living My Truth, Art by Nathaniel Devarie
On Display in STH Community Room, March-May 22, 2018
Artist Reception, Tuesday, April 18, 2018 at 5:30PM- 7:00PM
Nathaniel Devarie paints his personal narrative in his art exhibition Living My Truth. He brings us on a journey from rejection in his conservative, Christian church community to self acceptance through love as a gay male. Through strong visuals in acrylic paint and fabric works, the viewer receives a deep understanding of how the plight of LGBTQAI individuals search for spirituality may be found beyond the parameters of organized religion. He takes all the positives of what he learned from his family and church community of his youth to bear on his new understanding of God as love.
Scenes and Symbols: Artworks from China, Korea, and Japan
On Display in STH Library and Community Room, Spring 2018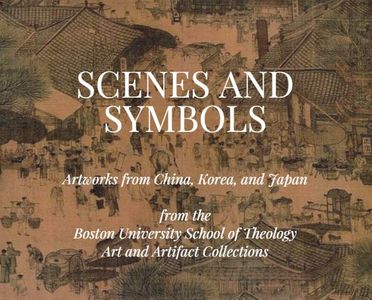 The art of China, Korea, and Japan is filled with elements that hold deep meaning. Whether a painted lotus flower, or beautiful ink script, the images show us the importance that history, culture, and ritual hold in this part of the world. This exhibition hopes to celebrate the impact Asian art has had on personal and cultural attempts to make meaning in what can seem like a shallow world.
Transcending Conflict, Finding Peace: Transformative Responses to World War II
On Display Fall 2017 in the Library Reading Room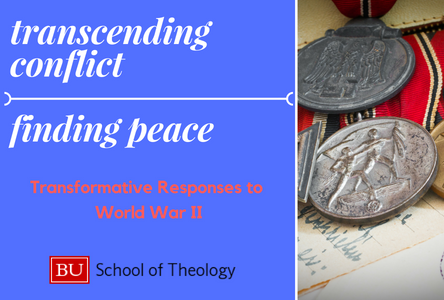 How do we respond to war and conflict? How do we support those who participate in wars even though we may object? In this exhibition, visitors will see a few different ways in which people responded to soldiers going to fight in World War II. Perspectives include those of Boston University, local churches, a School of Theology faculty member, and a military chaplain.

The Ape Drawing Project by Jen Bradley
On Display Fall 2017 in the Library Reading Room and STH Community Center

In 1994, Jen Bradley began routinely drawing the gorilla habitat at the Franklin Park Zoo in Boston. Since then, she has continue to record her experiences and observations through the process of drawing and video. She refers to this ongoing series and practice as The Ape Drawing Project. Learn more on her website, www.apedrawingproject.com.
Jen Bradley is a painter and printmaker whose work has been exhibited in solo and group exhibitions in the U.S. and is in public and private collections nationally and internationally. She received a BFA from Massachusetts College of Art. Bradley was born in Boston, Massachusetts, and growing up spent many summers in Alsace, France. Bradley was the Arist-in-Residence at Boston's Franklin Park Zoo, where she began her ongoing "Ape Drawing Project" in 1994. Bradley splits her time between Boston and Provincetown, Massachusetts.

A Sense of Place/El Sentido del Lugar
January – March 10, 2017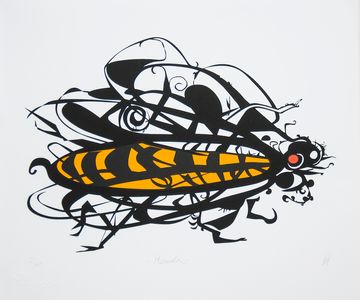 A Sense of Place/El Sentido del Lugar is a cross cultural, collaborative printmaking exhibition of original works by two presses that are separated by 3,800 miles. Circling the Square Fine Art Press of Gardiner, Maine and Fundación Estampería Quiteña of Quito, Ecuador celebrate a visual conversation on sustainability and biodiversity. For more information visit the Circling the Square Press website.
The original prints appear on the walls in the Library's Main Reading Room and in the School of Theology Community Center.
Opening Reception: Thursday, February 16, 2017
5:30PM STH Community Center (Rooms B23/B24)
Remarks by printmakers from Circling the Square Art Press will speak about the project, their works, and the printmaking process. Light refreshments will be served.
Dress + Design 2.0: Beads and Baubles
On Display Spring 2017
What we wear tells the story of who we are. Cultural, religious, and traditional identities are communicated through accessories and every day objects in this exhibition of artifacts from the Jannette Newhall (world traveler who was the first professional Librarian of the School of Theology Library) and Percy Woodward Collections from the School of Theology Archives.
Dress + Design: Clothes, Jewelry, and Textiles from Peru to Japan
On Display Fall 2016
What we wear tells the story of who we are. Cultural, religious, and traditional identities are communicated through everyday objects of dress in this exhibition of artifacts from the Jannette Newhall (world traveler who was the first professional librarian of the School of Theology Library) and Percy Woodward Collections from the School of Theology Archives.
The Artwork of motive Magazine
On Display Fall 2016
Margaret Rigg was art editor for motive Magazine, the official magazine of the Methodist Student Movement published by the General Board of Higher Education of the United Methodist Church. These are the original artworks created by a variety of artists, including Robert Hodgell, Jim Crane, and Margaret Rigg herself. These items are a part of our Margaret Rigg Collection in the School of Theology Archives. See our digitization project for motive Magazine here.
Connecting the Academy with the Music of the Church
This February 2016 exhibition of selected resources from the Boston University School of Theology Library Archives and curated by Carl P. Daw, Jr. was prepared in conjunction with the Annual Meeting of the Society for Christian Scholarship in Music held at the School of Theology that same month. Items on display highlighted the large collection and long-standing commitment the School of Theology has to the role of Church Music.
Included below is the pamphlet from the exhibition.
John August Swanson Poster Exhibition
This collection of prints and posters speak to the STH theme: Power, Privilege, and Prophetic Witness. Through colorful images and compelling text drawn from the Bible and through writings by prominent theologians, poets, and activists, Swanson tells us the stories of those that inspire us to be better human beings. As viewers we see with our own eyes how themes of ecology, feeding the poor, and equal rights are all calls for justice and community. The exhibit was on display in January 2016 in the STH Community Center.
See the School of Theology news update about it here.
Ulterior motive: the cartoons of Jim Crane
Through simple statements, and intricate black-and-white line drawings, Jim Crane comments on theology, ecology, politics and the human condition. His cartoons, created in the 1950s and 1960s seem even more relevant today. Crane's cartoons were published in theological magazines including, motive (a magazine of the Methodist Student Movement), Ave Maria (a Catholic family magazine), and United Church Herald.
This July 2014 display was put together by Archivist and Preservation Librarian Kara Jackman (contact information: kjackman@bu.edu or (617) 353-1323).
See more here: https://flic.kr/s/aHsk8Ncn3u
Methodist Women of the New England Conference Exhibition
In this 2006 exhibition in the School of Theology Library, we displayed documents from our archives that traced the "valiant fight to final victory" of women in the New England Conference who struggled for the right to preach.
See more here: https://flic.kr/s/aHsk8MPN5j
Save
Save
Save
Save
Save
Save
Save
Save
Save
Save
Save
Save
Save