Scanners, Printer, and Wifi
The STH Library has 7 public computers near the front of the library and 6 in the Library Instruction Room (209, off the library Reading Room). Most of the computers require a BU log-in;  however, two are kiosk-style stations (no log-in) reserved in the front of the library for visitor access.
Setting up Wi-Fi
All Boston University students, faculty, and staff can access Wi-Fi for their wireless enabled device (computer, laptop, cell phone) as follows:
From your computer or device, select eduroam, which you should see in the list of available networks.
Log in to eduroam using your full BU email address in the form login@bu.edu.
Provide the password you use to access your BU email account. For most people at BU, this password is the BU Kerberos password that you use to access most other BU resources.
If you are prompted to accept the certificate, you should do so.
Visitors can also access Wi-Fi on a wireless enabled device:
Connect to network BU Guest (unencrypted).
After attempting to navigate to any website on your browser, you will be redirected to a page where you set up a guest account.
Click on "Request a Guest Account" and fill out the information. Note you will need access to your email (by using, for example, one of our public access computers) or receive SMS text messages on your cell phone.
You will be sent a username and password to use to sign in that is good for 30 days.
You can repeat the same process over again at the end of the 30 days. BU IS&T has provided an online tutorial for the process.
Scanning
Our Book Scan Stations are available free of charge at the School of Theology Library to all library visitors. They are located halfway down the main hallway of the library on the left.  Materials can be scanned into PDF, text-searchable PDF, JPEG, and Word file formats. The files can be sent to your email address (5 MB maximum size), uploaded to Google Drive, or saved on a USB (maximum 250 pages).
Note: All document scanning is subject to U.S. Copyright Law.
Printing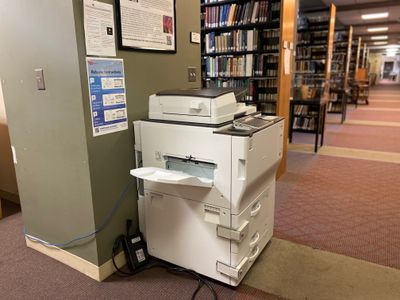 The School of Theology Library has a MyPrint printer located by the scanner, which is connected to  BU IS&T's MyPrint system, allowing BU students, faculty, and staff to print documents from our computers using their printing allocation, which is updated each semester. If you exceed your print sheet allocation for the semester, you can still print using BU Convenience Points, which can be purchased on the StudentLink.
From an STH Library computer simply click "print" on a document and choose the printer "MyPrintBW" for black and white printing.
To release a print job, go to any printer on BU's campus (including the one in the STH Library) and scan your BU ID (or type in your BU username and password). Select the document you wish to print on the touchscreen, and it will begin printing immediately.
You can also set up your personal computer to print to any MyPrint printer, including the one at the School of Theology Library. Consult BU IS&T's step-by-step guide on setting up your computer to print to the MyPrint printer or consult the guide available here and at the School of Theology Library circulation desk!
Unfortunately, there is currently no option for visitors to print.