Events and Exhibits
Follow the School of Theology Library on Twitter and Facebook for the most up-to-date information on events and exhibitions.
Exhibitions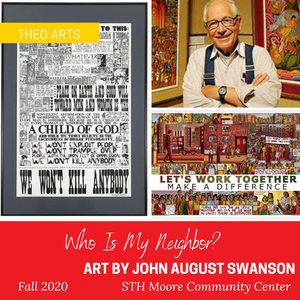 The School of Theology is proud to host art exhibitions that highlight the varied holdings of our archival collections, artists within our community, in our area, and throughout the world. Find out information about current exhibitions on display at STH and the library and explore previous exhibitions and media.
STH Library Talk Series
The School of Theology Library is proud to sponsor the STH Library Talk Series, highlighting exciting scholarship from all corners of the Boston University School of Theology community. The library invites faculty, students, or staff at STH to discuss a recent piece of scholarship in the fields of theology or beyond, providing the community a chance to engage with a work and its author in an intimate setting. The library talks typically last forty-five minutes to an hour.
View this page to see previous STH Library Talk Series events, media, and announcements of future lectures.
Library Essentials Workshop Series
Our Wednesday Workshop Series is hosted in the Library Instruction Room (209) at 1pm on Wednesdays during the semester. These workshops are designed to provide participants with a firm foundation in information literacy as they begin their academic journey at the School of Theology. These workshops focus on locating and accessing resources for their research, properly citing sources and avoiding instances of plagiarism. Attendance to at least one workshop is mandatory for all students taking the First-Year Formations course.
Advanced Theological Research Workshop Series
The Advanced Theological Workshop Series builds on the foundation of the First-Year Workshop series to present advanced research skills to doctoral students and those master's students considering continued academic work at the doctoral level. The workshops introduce advanced theological research using the library's unique historical and theological collections, as well as the data mining and visualization tools necessary to approach theology from within a digital humanities framework. This workshop series is open to master's and doctoral-level students in the Boston University School of Theology, as well as the Boston Theological Interreligious Consortia.
Motive Magazine
A publication from the General Board of Higher Education and Ministry hosted at Boston University School of Theology, motive (always spelled with a lowercase "m") was the official magazine for the Methodist Student Movement from its founding in 1941 and, for a few years at the end of its life, for the entire University Christian Movement (UCM). The School of Theology Library took charge in the movement of digitizing this important publication that inspired an entire generation of religious activists. To explore motive Magazine, click here.
Digital Collections
The School of Theology Library is involved is many other digital projects beyond the digitization of motive Magazine. These digital projects include A History of Missiology, a joint project between the School of Theology Library and the Center for Global Christianity and Mission. Several of our Chinese Christian Posters are a part of a larger online collection, viewable here. View more of the Theology Library's digital collections here.
Book Sales
The School of Theology Library regularly holds book sales; we sell surplus or duplicate items from our collection for reasonable prices to all (hardcovers $2, paperbacks $1). All proceeds help support our library.