Research Inquiries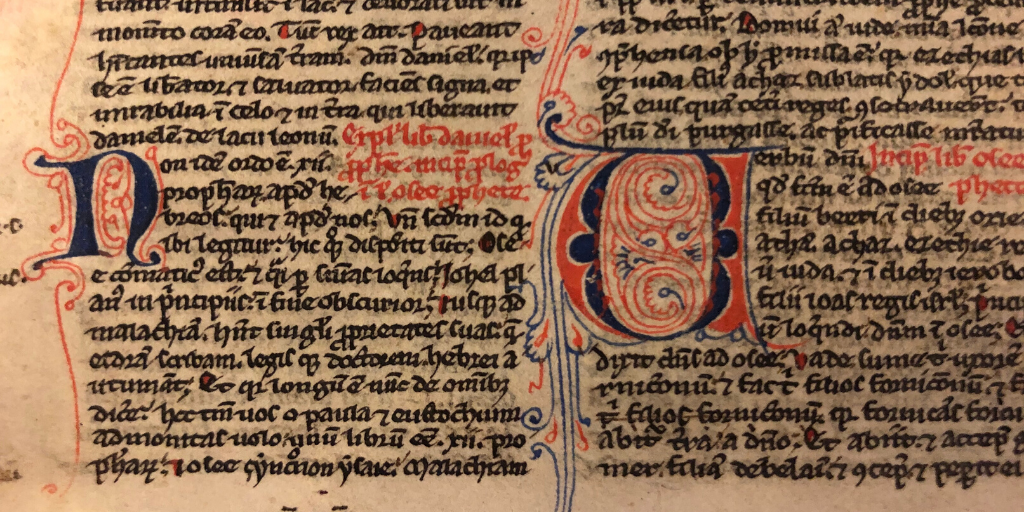 From our Archives and Research collection, the above picture is a leaf from a Latin Vulgate Bible from France, dating from 1240AD.
Making Research Inquiries
The School of Theology Archives, located within the School of Theology Library, collects, preserves, and provides access to records of enduring, historical value relating to, or created by, the New England Conference of the United Methodist Church and the Boston University School of Theology. Additionally, the School of Theology Archives includes personal papers collections, art collections, priceless special collections, and more. Click here to search our archival collections.
Our Archivist and Preservation Librarian fields on average 250 questions per year, from genealogical inquiries to requests to see artifact collections. To make any research inquiries, please visit the Ask the Archivist form.
Genealogical Inquiries
We look forward to your genealogical research questions. Please be advised that due to volume of requests for ancestral information that the Archivist can only spend 20 minutes searching for records in the archives. It is encouraged that you make an effort to visit the archives if you wish to learn more, or conduct large-scale projects.
New England Conference Commission on Archives, School of Theology Collections, and Personal Papers Inquiries
Research inquiries regarding the New England Conference Commission on Archives and History records, the Boston University School of Theology records, personal papers, and artifact collections will be given more time. This is especially true if you are conducting research for a book or dissertation.