GEGI: Development Banks and Safeguards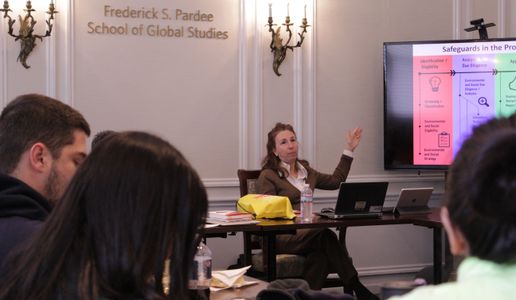 The Global Economic Governance Initiative (GEGI) continued their  spring seminar series on development banks and sustainable development with a March 4, 2016 discussion at the Frederick S. Pardee School of Global Studies on the role of safeguards in the work of multilateral development banks (MDBs).
Janine Ferretti, Chief of the Inter-American Development Bank's (IDB) Environment Division, led the discussion entitled "Multilateral Development Banks and Global Economic Governance."
Ferretti said safeguards are a mechanism to help reconcile the competing interests of development banks and the societal concerns with communities during infrastructure projects.
"We do have different incentives and we do have conflicting incentives," Ferretti said. "On paper we shouldn't because we all believe in sustainable economic growth, we all love it, we all sign up, but at the end of the day the way that my colleagues who are bankers get their bonuses is by how much money they've gotten out the door. It does create this interesting tension, and it's something that we've been able to so far to deal with but it does create these tensions."
Safeguards provide benefits on many different levels, according to Ferretti, both to multilateral development banks and for the communities that the banks do their business in.
"People wonder if it's just for small things, is it just for local people, is it to protect the reputation of the MDB — they really do provide benefits across many different levels," Ferretti said. "Local people have livelihoods to protect which can enhance the value of the project, society also gains in terms protection of ecosystem services or reduction in health damages. The client gets greater support by the local community and MDBs get greater development effectiveness and also reputational risks are managed."
Ferretti said safeguards provide a mechanism for MDBs to manage conflicting interests within infrastructure projects.
"Safeguards are the formula with which you can take these competing interests that are equally valid and try to reconcile them," Feretti said. "Can you have your cake and eat it too? A lot of the time yes if you know how to do it right."