Define your times. Journalism
Learn to create nonfiction narratives that tell the stories of our time. Good journalism begins with understanding the history, principles, law and ethics of journalism.
What sets the BU Journalism program apart from others is our emphasis on deepening that understanding.
---
The well-rounded journalist.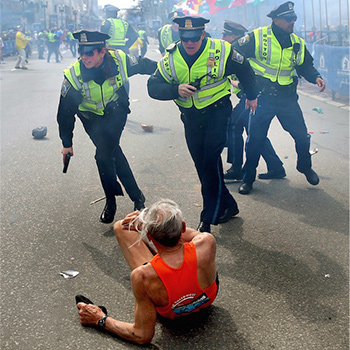 Students combine a solid liberal arts background with pre-professional training to prepare for careers as writers, reporters, editors and producers for online newsrooms, magazines, radio, television, newspapers and other media outlets. In fact, you'll take many of your classes outside of the College of Communication (COM), because we believe that journalists need the broadest possible education. One third of your courses will be dedicated to your major and related classes at COM.
When you're through, you'll be a graduate of both a world-class university and one of the country's highest-ranked communication schools.
---
Study what interests you.
Our undergraduate focus areas include Online Journalism, Broadcast Journalism, Journalism, Magazine Journalism and Photojournalism. With our large selection of classes, you can gear your studies to what you want from your career. Regardless of your focus, you'll gain a solid foundation in the principles of journalism that will allow you to tell stories across media platforms as they evolve over the years.
---
Learn by doing.

COM students often gain valuable experience interning at local news organizations, including WBUR, the Improper Bostonian and the Boston Globe.
Hit the streets to cover spot news, beats and features—the BU News Service gives you the opportunity to cover real news for real audiences. You can feed regional news outlets in our State House program. Or you can cover Congress as part of our Washington, DC, program. There are many opportunities to practice journalism under the guidance of our extraordinary faculty. Your professors are themselves award-winning, practicing journalists with numerous outstanding recent accomplishments. They write bestsellers, produce films and create multimedia stories.
---
COM, as in community.
COM, of course, is short for "Communication." But it represents more than just a field of study. At COM you're part of a vibrant community of talented students and faculty who share a passion for storytelling, learning and making a difference. Students form close bonds and often work together. Mentorships turn into lifelong friendships between professor and student. Within this large urban university, COM is a friendly, manageable place.
You also become part of the whole Boston University community. As a highly ranked major research university, BU attracts a diverse, international student body with interests from art to engineering to zoology. Studies are challenging, social lives are stimulating and relationships are rewarding.
Finally, your even greater community is Boston. What better place to study? Boston is a leading international city and the seventh-largest media market in the country. American journalism was born here. Fenway Park is practically in BU's backyard. And, as a major high tech center, the city remains at the forefront of communications innovation.
---
Make a difference.
Journalism is an opportunity and a challenge, a privilege and a responsibility. And it happens to be a lot of fun. If it's for you, come develop your mind and heart so you can find great stories and tell them with skill and passion.

Take the next step.