Message from the Director
The Passing of a Generation
The past six months have seen the deaths of several major figures in the fields of mission studies and World Christianity. It is important to offer gratitude for their lives and leadership. Their work has influenced many of us connected with the Center for Global Christianity and Mission.
Ed Schroeder, one of the leading Lutheran missiologists of his generation, died March 1, 2019. Ed was unfailingly cheerful and was a voice of moderation in the American Society of Missiology. He was a founder of Seminex and strong supporter of the Crossings Community. In December of 2018, Norwegian Lutheran missiologist Knud Jorgensen passed away from leukemia. From 1998-2009 he was Director of the Scandinavian mission foundation Areopagos and 2008-2010 dean of Tao Fong Shan in Hong Kong. As co-chair of the Edinburgh 2010 study process, Knud edited dozens of books and papers that proceeded from the networked missiological conversation following that historic meeting.
January saw the death of Prof. Lamin Sanneh of Yale University, one of the founders of the field of world Christianity. Prof. Sanneh was an Executive Committee member of the Dictionary of African Christian Biography and founder of the Yale-Edinburgh Conferences, in which Boston University students and faculty regularly participate. Our current issue of the Journal of African Christian Biography is devoted to his memory https://dacb.org/news/journal/.
This month the death of Prof. Dan Bays of the University of Kansas and Calvin College occurred. I first met Dan around 1990. We were part of a small network that began charting a path forward for what by the year 2000 would be called the field of World Christianity. Dan played a key role in gathering scholars of the old Christian college archives in China, and bringing together Chinese and western scholars of Chinese Christianity. With his irenic and modest personality, and superb scholarship, Dan broke new ground in the study of Chinese independent evangelicalism, and Chinese Christianity in general. We served together on the Research Enablement Program committee, that during the 1990s distributed 110 grants to individual scholars for research on Christianity worldwide. Every year we met in Nashville with a new group of scholars for inter-disciplinary seminars that built momentum toward a collaborative scholarly consciousness, now called World Christianity. I have kept the photo of our committee on my desk since it was taken in 1995.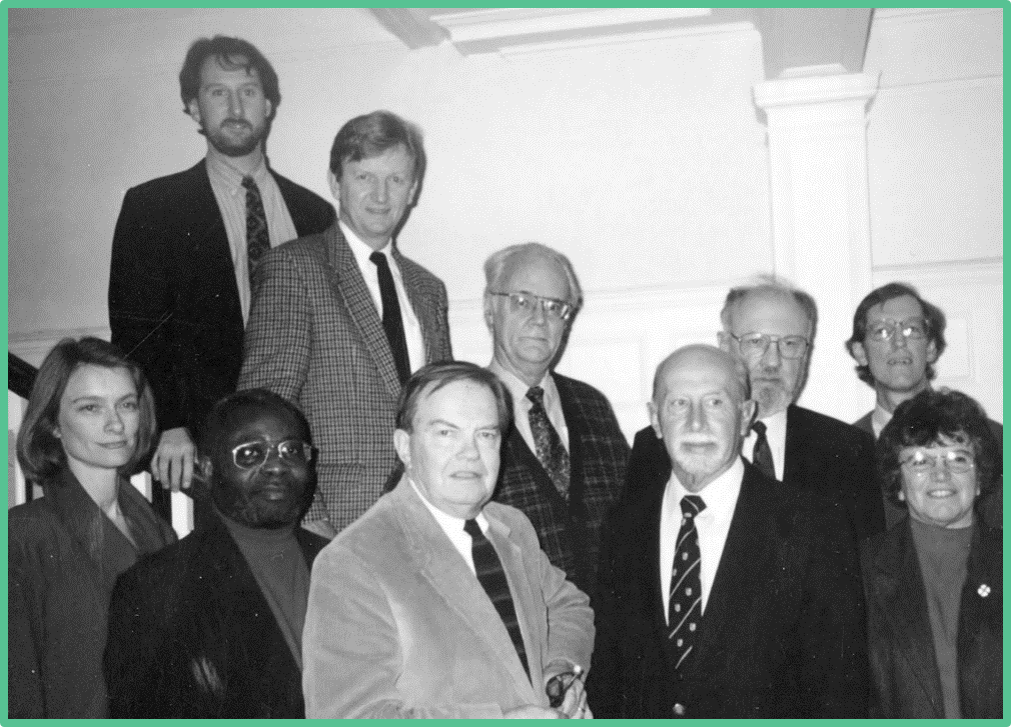 From left to right, top row, are Geoff Little (staff person); the late David Kerr, Islamicist and expert on Christianity in the Middle East; the late Paul Hiebert, leading mission anthropologist; Bob Frykenberg, Historian of India; and the late Dan Bays, Historian of China. Bottom row shows Dana Robert, mission historian; John Pobee, Ghanaian ecumenical theologian; Gerald Anderson, Director of Overseas Ministries Study Center and Boston University alum; the late José Miguez-Bonino, Argentinian ecumenical theologian; and Mary Motte, FMM, Catholic missiologist.
May the saints who have gone before us rest in peace. I give thanks for their lives, their scholarship, and their witness.
Dana Robert, Director