Study in a University Setting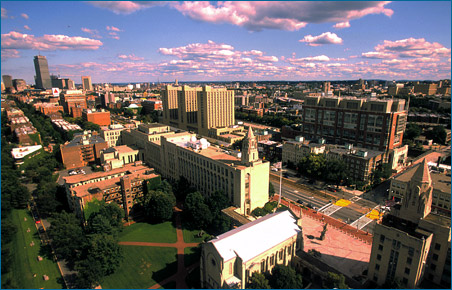 Boston University (BU) is the fourth-largest private university in the US, with close to 32,000 students and more than 2,600 faculty members. It is an internationally recognized institution of higher education and research and has one of the largest populations of international students of any American university. The legacy of its Methodist roots is reflected in the university motto: "learning, virtue, piety."
The School of Theology is proud to have the oldest continuous graduate degree programs in World Christianity and in Mission Studies at an American university.
The study of World Christianity and Mission are greatly enhanced in the context of a research university:
BU's 17 colleges and schools along with a number of multi-disciplinary centers and institutes are central to the school's research and teaching mission. In addition to taking courses with faculty in the School of Theology, students are encouraged to take courses in a variety of university departments including Anthropology, Religious Studies, History, Theology, and Sociology. The African Studies Center at BU is the second-oldest center of its kind in the United States; it maintains a major African studies library. Together with the Center for Asian Studies and the Center for Latin American Studies, significant faculty resources exist for African, Asian, and Latin American languages, history, anthropology, archeology, and religions.
Boston University gives students access to study at other world-class institutions. Through the Boston Theological Institute (BTI), students may also enroll in courses at Boston College (BC)  Department of Theology, Gordon-Conwell Theological Seminary, Harvard Divinity School, Hebrew College, Holy Cross Greek Orthodox School of Theology, St. John's Seminary, and Boston College's School of Theology and Ministry.
Students of World Christianity or Mission Studies at Boston University have access to an excellent research library system, as well as to library resources in the metropolitan Boston area. Library facilities in a research university are far superior to those of most free-standing theological seminaries and the resources available at Boston University are exceptional:
The School of Theology Library – 138,000 volumes and 625 periodical subscriptions
Boston University Libraries – 5.7 million volumes and thousands of subscriptions
BTI Libraries – 1.5 million volumes and numerous subscriptions