History of the Center
The Center for Global Christianity and Mission was founded by Dr. Dana Robert and Dr. Marthinus Daneel in 2001 to research, teach about, and respond to Christianity's  "shift southward." In 2010 more than 60 percent of the world's Christians lived in Africa, Asia, or Latin America. The founding priorities of the Center were to train western and non-western church leaders in world Christianity and mission, to do research and produce publications on western and non-western mission history, to undertake empirical research on new Christian movements, and to provide theological education among indigenous churches in southern Africa.
For example, during its first decade the CGCM: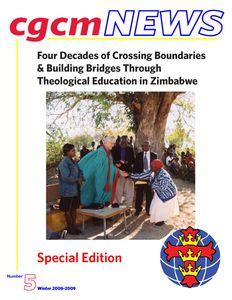 • sponsored theological education by extension or correspondence courses for over a thousand Christian leaders in rural Zimbabwe;
• created and supported the first digitization project at BU, a history of missiology website, that is making available worldwide the classic writings of Protestant missionaries;
• organized many visits to STH by practicing missionaries and mentors for students interested in cross-cultural ministries;
• strengthened the global networks of the School of Theology by supporting international doctoral students with small tuition grants;
• provided annual support to the STH Library for the purchase of books and major microfilm collections for mission studies.
Since that time, the CGCM has expanded its affiliated faculty and emphases; however, it remains steadfast in its focus on the emergence of World Christianity.