Alum Profile: Casely Essamuah, Th.D. 2003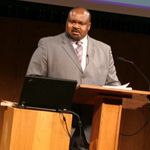 Casely Essamuah is the Global Missions and Compassionate Outreach Pastor at the Bay Area Community Church in Annapolis, Maryland. Originally from Ghana, he is an ordained minister of the Methodist Church Ghana.
He received his Th.D. from the School of Theology at Boston University in 2003. His dissertation, "Genuinely Ghanaian: A History of the Methodist Church Ghana, 1961-2000," examined the history of the Methodist Church in Ghana from 1961, the time of its autonomy from the British Methodist Conference, to the year of 2000, focusing on the missiological issues of contextualization. In this work, he argued that contextualization was one of the most important elements in understanding the history of the Methodist Church Ghana since Ghanaians, especially Fante people, have accepted Methodism on their own terms and have reshaped it to fit their needs. His dissertation was published in 2010 with the same title.
His current research interests include contextualization, over-contextualization, African Christianity, and reverse missions of the majority (or, non-western) world to the western world. In March 2011, he received the distinction of speaking at the Henry Center's Scripture and Ministry Series, presenting "Missionaries and Over-Contextualization." In this lecture, he gained wide attention by arguing that the Western churches, especially those in the U.S. are suffering from an "over-contextualizing of cultural forms." In other words, what matters in the western world, is not the lack of contextualization but over-contextualization. With this concern, he raised a question, "How do you make the gospel understood where it is such a familiar presence as to be unremarkable?"
Essamuah's interest is not limited to a scholarly one: as an active minister, he is also interested and actively engaged in planting immigrant churches in the U.S.
Bay Area Community Church: http://www.bayareacc.org/
by Hye Jin Lee