It's the fall semester of your first year as a DPT student and already you're beginning to practice what you've learned. Each Friday, you interact with patients and practitioners at a clinical site in the Boston area. By the end of the program, you'll have experienced physical therapy practice with dozens of types of patients and diagnoses in multiple clinical settings.
You're surrounded by friends and future colleagues at the only national conference for PT students. All weekend long, you hear terrific speakers, participate in workshops, and enjoy social events, all because the BU Physical Therapy Association chose to send you as one of this year's attendees.
You're deep into your Academic Practicum, a project idea you developed in an area that fascinates you. You chose your mentor for the project, too—perhaps your favorite faculty member or an outstanding clinical instructor. You never worked so hard. Or loved working more. At Boston University, we also offer many opportunities with affiliated sites, where you will learn clinical skills, gain assurance and do exactly what you want to do when you become a practitioner.
Top-Ranked Program Nationally
If these scenarios make your pulse race, consider getting your DPT degree at BU College of Health & Rehabilitation Sciences: Sargent College. U.S. News & World Report ranks our Doctor of Physical Therapy program among the top 9% in the nation. And Boston University has few equals in providing opportunities for broad clinical experience, pursuing your personal interests, and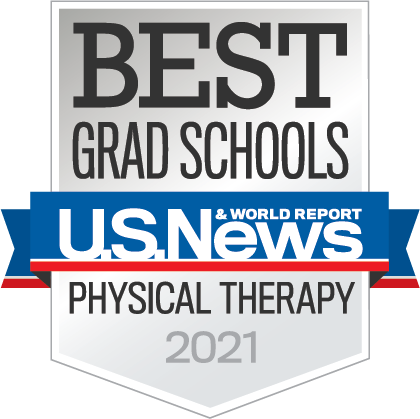 taking part in rewarding professional and volunteer activities.
The doctor of physical therapy degree is a challenging journey: five academic semesters and one summer semester of coursework, plus 36 weeks of full-time clinical education. And we offer didactic and practical learning opportunities in vibrant, state-of-the-art facilities right on campus – including our Physical Therapy Lab, Center for Simulated Clinical Experience, and the Boston University Physical Therapy Center. After completing the DPT program and passing the licensure examination, you'll be not only clinically competent but also truly confident as you enter clinical practice.
Along the way, you'll have unforgettable projects, professors, and practical encounters. For an Academic Practicum, one DPT student created a family education program for children with disabilities in Haiti. Another developed a business plan for a fitness center designed for people in wheelchairs. Our students have also helped construct a 2-day course for therapists and students in Guatemala, raised money for PT research, and worked with underprivileged city kids.
Beyond Academics
Beyond academics, life at Sargent College may be just what you're looking for. You'll be part of a close-knit community of PT students—in a specialized school that gives you the resources of a major university and the feeling of a family. You'll also feel the energy of Boston—a vibrant intellectual, scientific, and cultural hub. And when you want to work out, you'll have a world-class facility minutes away at the BU Fitness & Recreation Center.
In the job market, a DPT degree from Boston University will work hard for you in return. Over the last two years, 100 percent of BU graduates actively seeking employment found jobs.
Want to learn more?
We invite you to introduce yourself by filling out the Request Information form or contact us by email at sargrad@bu.edu. You can also review the 2023-2024 DPT Financial Fact Sheet to learn more about financing your education.