Splitting PDFs into Separate Pages
Instructions for splitting PDFs into separate documents with individual pages automatically, using Adobe Acrobat Pro or DC.
This is particularly useful when splitting PARs into individual files to send for digital signature.
Step 1.Open the PDF using Adobe Pro or Pro DC (the feature isn't available in Adobe Reader). In Adobe Pro DC, navigate to the menu at the top and select: View -> Tools -> Organize Pages -> Open
Step 2. The Organize Pages screen shows thumbnails of the PDF pages, and multiple options. You want to select the Split option in the menu at the top of the screen.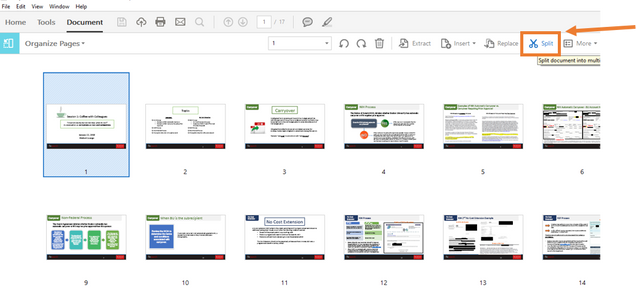 Step 3.  Select Split and a new menu bar appears below it. Make sure that you type "1" so that it says "Split by Number of Pages, 1 Pages" – this will ensure that each PAR is saved as a separate PDF document.

*Note – if you are using Adobe Acrobat Pro (not DC), go to Tools -> Pages -> Split Document.
Step 4. If you click on "Output Options" you can change where to save the files, as well as the naming convention for the files.
Step 5. Once you are happy with your options, click "Split" next to "Output Options" and you will get a pop up box notification once complete. Go to the designated folder to see the saved individual PDF pages.