What's Next?
The BU Law community shares predictions for the next 150 years of law and legal education.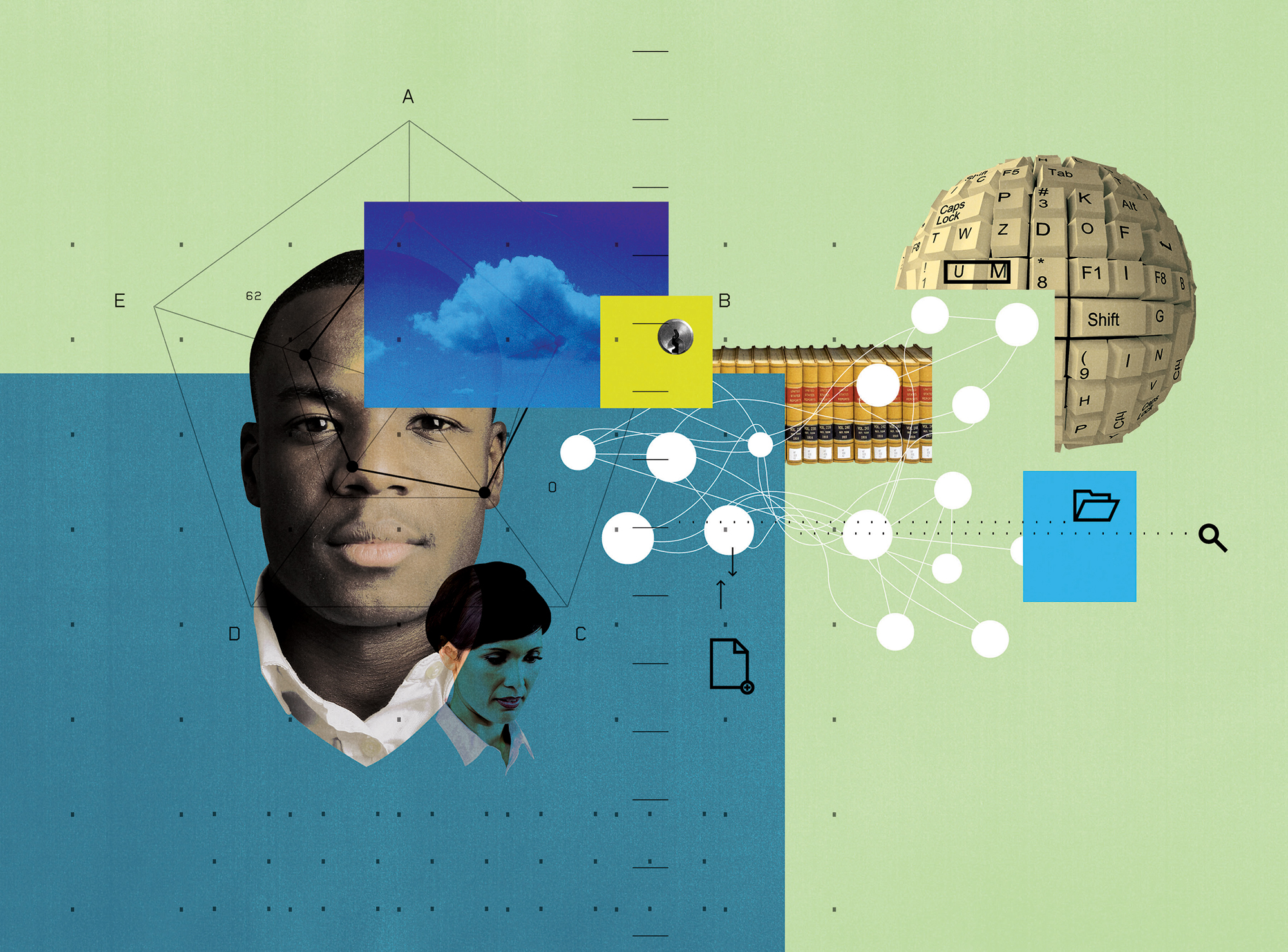 LAW150
What's Next?
The BU Law community shares predictions for the next 150 years of law and legal education.
Since its founding 150 years ago in 1872, Boston University School of Law has never been afraid to break with convention in pursuit of higher values.

The school's early embrace of diverse groups of students and perspectives fostered an academic ethos of intellectual rigor and innovation that continues to this day.
Judge Sandra L. Lynch (LAW'71, Hon.'12), of the United States Court of Appeals for the First Circuit, recalls the inspiration of taking courses with pathbreaking professors like securities regulatory law expert Tamar Frankel, when almost no other law schools hired women as faculty. "I consider BU Law to have been a pioneer in so many ways, to be prescient about what the future of the law would hold," Lynch says. "That history will help the law school as it approaches its future."
What the future holds is anybody's guess. So The Record asked eight BU Law students, alumni, staff, and faculty to share their predictions for what comes next. What skills does the future law student need? Which novel areas of law will catch fire? Will technology be a blessing or a bane for the legal profession? And how can BU Law meet the challenges of the next century?
We heard musings on everything from holographic law books to defending democracy to the seismic impact of artificial intelligence on the practice of law. (One student's proposed future 1L course title: "How to Best Serve Our Computer Overlords.")
One theme came up repeatedly: the nation is at a pivotal juncture on many fronts—climate, race, politics, international affairs, even deciphering truth itself—and future generations of lawyers, advocates, and judges will play a consequential role in determining the course of American life in the years to come. There is also an unshakable optimism about the potential of BU Law and its dynamic community to shape a better world.
"It's a 'put up or shut up' moment for the law," says Ronald E. Wheeler, an associate professor of law & legal research and the director of the Fineman & Pappas Law Libraries. "It's lawyers who are going to make or break it. We need lawyers who believe in the system and want to fix it and make it work for citizens of the world."
Technology: The Good, the Bad, and the Downright Sci-Fi
From AI recruiting first-year associates to fortifying law libraries against hackers, our panelists recognized the profound disruptive force new technologies are already exerting on the legal profession. "[It] sometimes feels like the dinosaurs mulling around right before the asteroid hit," says Kiernan Majerus-Collins. "AI can be a powerful tool or a disaster."
Mandie LeBeau: "Several law firms are now embracing AI personality assessments as part of their recruiting. They say it's to help them see qualities in candidates they may have missed, but I'm concerned it might be used to weed people out, which could go against what we're trying to do to increase diversity in the profession. Algorithms are man-made, so they're inherently biased."
Imara Joroff: "My generation is quick to adopt new technology, especially if it makes our lives easier and more interesting. If it takes time away from things like document review, we can spend more time doing things like pro bono work or connecting with our clients."
Ronald E. Wheeler: "Data security is going to be more and more important. With governments evolving to transact a lot of business electronically, we have to get better at securing our nation and government. No one has figured out how to do that yet. It's the dirty secret of the tech world. Law firms are paying ransoms on the sly to get information back. It's craziness. It's like the Wild West."
Kiernan Majerus-Collins: "AI could make lawyers much more efficient and bring costs down for ordinary people and potentially allow many more clients to be served and that much more justice be done."
Justice for All
In expanding access to legal training and services, our panelists emphasized that a more just world is not inevitable—it must be intentional. "We need to see equity as a form of innovation," says Jonathan Allen. "Equity as the premise, as the lens through which we see and do everything."
Naomi Mann: "Intersectionality is so critical to our justice system, and yet our legal system puts people into boxes. If you have an employment discrimination complaint and identify as a woman of color, the law usually requires that you bifurcate those into a race-based claim and a gender-based claim and provide different evidence for each. How can we create systems that take the individual as who they are? That understand individuals come with different identities and should not be required by the legal system to divide them up?"
Jonathan Allen: "We need to recalibrate our systems and infrastructure so that the questions we ask from the outset—when making a decision about priorities, admissions, hiring, allocating resources, designing a workflow—are driven by equity. We need more financial aid and merit and need-based scholarships. We have to lead by example, with more diverse recruiters and admissions teams sourcing underrepresented talent and reviewing applications to decide what they connect with and what's compelling in a personal statement or résumé."
Imara Joroff: "One of the big things I'd like to see change is the need to fit in and conform. I hope in the future there's a societal shift in terms of what qualities we look for in a successful and professional person. You shouldn't need to be in a black pantsuit to conform to the stereotype of what we've deemed a good leader."
Christopher Robertson: "Law has a huge problem with access to justice. The most common legal procedures—debt collections, evictions, foreclosures, child custody disputes, divorces—are generally done without the benefit of a lawyer, and that cuts very much along race, class, and ethnic lines. Technology and changes in law schools will be part of the solution to expand legal services to a wider range of backgrounds. Think about TurboTax, a smart web form that fills out your taxes by asking some straightforward questions. We're seeing similar efforts to provide legal services in an automated or quasi-automated fashion. I think we'll also see a diffusion of legal practice beyond JD-trained professionals."
---

My generation is quick to adopt new technology…. If it takes time away from things like document review, we can spend more time doing things like pro bono work or connecting with our clients.

---
The Lawyer of Tomorrow
Future generations of legal professionals will need to possess a combination of tech savvy and emotional intelligence.
Christopher Robertson: "Even more, the soft skills and higher-order skills will be essential. Being able to negotiate, being able to predict what that judge will decide because you understand the underlying legal values and principles at stake. Seeing how this case is just one case in a larger chess game where that judge is resolving the technical ambiguities with a broader sense of the law. Those sorts of big picture skills and human skills are going to be even more important for the lawyers of tomorrow."
Mandie LeBeau: "Courts are conducting hearings via Zoom. How to present yourself virtually, appear convincing to a judge, or connect with a client through a computer screen is a whole new skill set that law students will need to develop."
Ronald E. Wheeler: "Not only does technology change fast, governments change; laws are always changing. Students will need to understand the importance of ethical rules as they apply to technology, client information safety, threats from external governments. They're going to have to have a truly global mindset."
Jonathan Allen: "The next generation of diverse lawyers, practitioners, and social engineers have overcome so much. They are so resilient and brilliant and creative—especially on issues of race, gender, sexuality, and economic equity. They are looking for ways to solve the big social issues that they care deeply about, and they are unwilling to accept no for an answer."
BU Law 5.0
How should we prepare future lawyers for a rapidly evolving legal landscape?
Kiernan Majerus-Collins: "Law school should reorient toward skills that are most difficult for AI to acquire, whether that's interpersonal skills or oral advocacy. AI has the most ground to make up in areas where humans intersect with other humans. Law schools should be training students to be as effective as possible in the things that AI is worst at and avoid training them to do things that will be automated in a decade or two."
Naomi Mann: "Having law schools without a required experiential component is like having a cooking school where you teach students about ingredients and the chemistry and science of baking, but no one ever turns an oven on. There has been resistance to this—a fear that if we infuse law school with too much experiential education that it will become a trade school. But law determines the rights we have, how we live every day. We as a profession deserve to have people exiting law school who know what they're doing, who aren't going to be learning how to practice law on real people's lives the very first day that they start."
Imara Joroff: "Law students need to be self-aware and have compassion for everybody in the room. Part of that comes from educating students, starting in elementary school, about the full history of the United States. In law school, we work so much with the Constitution—being able to come in with a clear and accurate history of how that document came to be and how it was written is important."
Sandra L. Lynch: "Societal norms exist side by side with legal norms, and there is an interplay between the two. Lawyers are called upon to be leaders in the community, to articulate what those norms are, and build a consensus that people agree with. Law schools are going to have to be even more mindful of that role."
Christopher Robertson: "If [AI] models are based on data that don't represent populations that have been systematically, economically excluded, that's another institutional bias that can be baked into the data. It's really important for law students and future lawyers to become fluent in those systems, be curious, and learn continuously about how these technologies work under the hood."
Mandie LeBeau: "There used to be rules and timing guidelines of when law firm recruitment could happen. Historically, firms waited for grades at the end of the 1L year. But some employers aren't willing to wait anymore, so 1Ls are being recruited before they finish the 1L year. If this early recruiting trend continues, the summer on-campus interview programs that law schools pride themselves on—I slowly see that being obliterated."
---

People cannot become disengaged from the political process. The assumption that we will always have a constitutional democracy is not necessarily accurate.

---
Law's Next Big Thing
Some new frontiers of law are being fueled by headlines, while others will be driven by science.
Mandie LeBeau: "Health law is booming. Data privacy is on fire. Voting rights and immigration continue to stimulate growth."
Chris Robertson: "One of the most radical shifts we'll see in the decades ahead is the changing of what it means to practice medicine. We're just now starting to experiment with medicine being practiced by intelligent devices and systems. Increasingly, the role of the physician will change as expert systems get smarter, and the law around them will have to change. It won't be medical malpractice so much as product liability or product regulation. The thing that delivers treatment or tells you what kind of leukemia you have will be some weird amalgam of the institution, the software, and the human doctor."
Imara Joroff: "If you think about social media, amateur video editing, deepfake videos—we'll need more focus on privacy, data protection, fraud. And at what point does having access to the internet become a universal right?"
Kiernan Majerus-Collins: "Climate justice. People suffering the effects of climate change often did nothing or next to nothing to cause it. How can the law deliver some recompense to them while holding those most responsible accountable?"
The Evolution of the Law
The nation is at a crossroads and the next generation of lawyers must act with a recognition of the gravity of this moment.
Naomi Mann: "People debate vigorously whether the law itself creates social change or whether social change creates changes in the law. We see that playing out in real time with Supreme Court decisions. The law has been created and structured in a way that prioritizes certain identities over others. The challenge for us is, how can the legal system recognize the full panoply of identities and determine what justice means and how we achieve justice."
Kiernan Majerus-Collins: "There's a crying need for thoughtful and talented lawyers all across the country. We desperately need the sorts of people who go to BU Law to end up in a wider variety of places and to engage in politics and civic life. The era of saying 'this is how I make my living, and I'm not interested in the broader social ramifications'—that can't continue. People need to think about jobs they want to have, the clients they want to take, and what values they do and don't hold."
Jonathan Allen: "We have a legal profession that does not represent all of the communities in our country, especially those that are disproportionately impacted by the legal system. So we are essentially upholding a caste system based on racism and systems of oppression. To shift the tide will require that we begin to see more people of color of diverse backgrounds practicing and influencing the law but also building the connections and relationships yielded through the legal profession, which hold significant power."
Sandra L. Lynch: "Over my lifetime, although a great many battles for equality still remain, there is more sharing of responsibility and power spread among more diverse groups and so in that sense the country has become more democratic, and that gives me hope. There are of course all sorts of countervailing trends that are very worrisome. People cannot become disengaged from the political process. The assumption that we will always have a constitutional democracy is not necessarily accurate."
---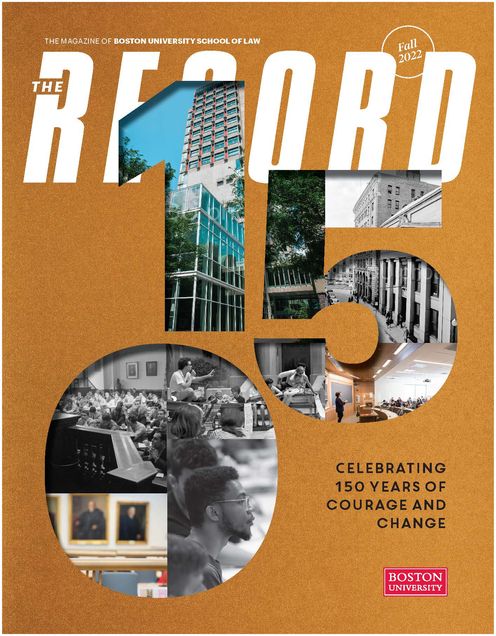 The Record, Fall 2022
---