All in the Family
Alumni share the personal and family ties that connect them to BU Law.
Alumni share the personal and family ties that connect them to BU Law.
BU Law has minted thousands of lawyers in its 150 years. Ask any one of them what they remember most about law school and you might hear about a favorite professor, an achingly difficult class, or how it felt to represent a client for the first time in a clinic.
And you might find out that their ties to the school carry beyond what's listed on their résumés and into their personal lives. Over the decades, many students have found lifelong partners at BU Law. Others have formed lasting friendships with students or professors. Countless alumni send their children and grandchildren to BU Law, creating multiple generations of these family ties.
"Through history, BU Law has done an exceptional job of preparing people to have success in their careers," says Zachary Dubin, assistant dean for development & alumni relations. "The older generation has confidence in knowing their kids are going to get the same training and grounding and be set up for success."
Those alumni also continue to stay involved in the BU Law community, supporting the school in a variety of ways—through networking and programming that fosters community and through contributions to the school's scholarships for veterans, first-generation students, and others.
"We define family broadly here," Dubin says. The relationships students create at BU Law not only help support their careers but often become partnerships they can lean on throughout their lives.
The Record spoke with three of these families to learn more about how BU Law played an integral role in their personal lives. Here are their stories.
---
Rohan and Catalina
Bond Over Coffee
Years before they married in 2020, Rohan Kazi ('17) and Catalina Kazi ('18) would hang out in the International Law Journal offices at BU Law, a popular meeting spot in part because of the free Keurig coffee that fueled the study process.
"I remember that Rohan would always put this blueberry coffee in and it smelled so bad," Catalina says.
Rohan joins her in a laugh, explaining that the better coffee flavors would disappear quickly, leaving him few options for a caffeine boost. "Yeah, yeah, it's gross," he concedes. "I don't recommend it, but I drank a lot of it."
The two would often study together in the evenings. And since they lived near each other in Allston, they ended up walking home together along Commonwealth Avenue. One of their favorite stops along the way was Hopewell Bar & Kitchen.
Rohan's friendship helped Catalina get through the last two years of law school, as she struggled with the loss of her mom, who was diagnosed with terminal cancer and later passed away in Bogotá, Colombia.
"Rohan, from the very beginning, was always so supportive, and really there for me—first as a friend, and then as my partner," she says. "The fact that he was able to support me through literally the worst thing I've ever experienced meant a lot to me."
After Rohan graduated and took a job as a corporate lawyer in New York, they continued to see each other on weekends. When Catalina graduated, they both found jobs in Boston and moved in together in the South End.
But when the COVID-19 pandemic hit the following year, they realized how isolated and far away from family they felt. They married in late 2020 and began scoping out jobs in the San Francisco Bay Area, where Rohan was born and raised. Both found in-house opportunities. Catalina is compliance counsel at investment company Edward Jones and Rohan is legal counsel at fintech company BlueVine.
They keep in touch with many of their law school friends, most of whom stayed in either Boston or New York. More than a dozen BU Law friends attended Rohan and Catalina's wedding celebration earlier this year. "Boston is always going to be so special, because I left Colombia when I was 17 and then moved around a lot," Catalina says. "After living in Boston for almost a decade, I will always think about that place and all the memories very fondly."
---
The Rozier-Byrds
Band of Brothers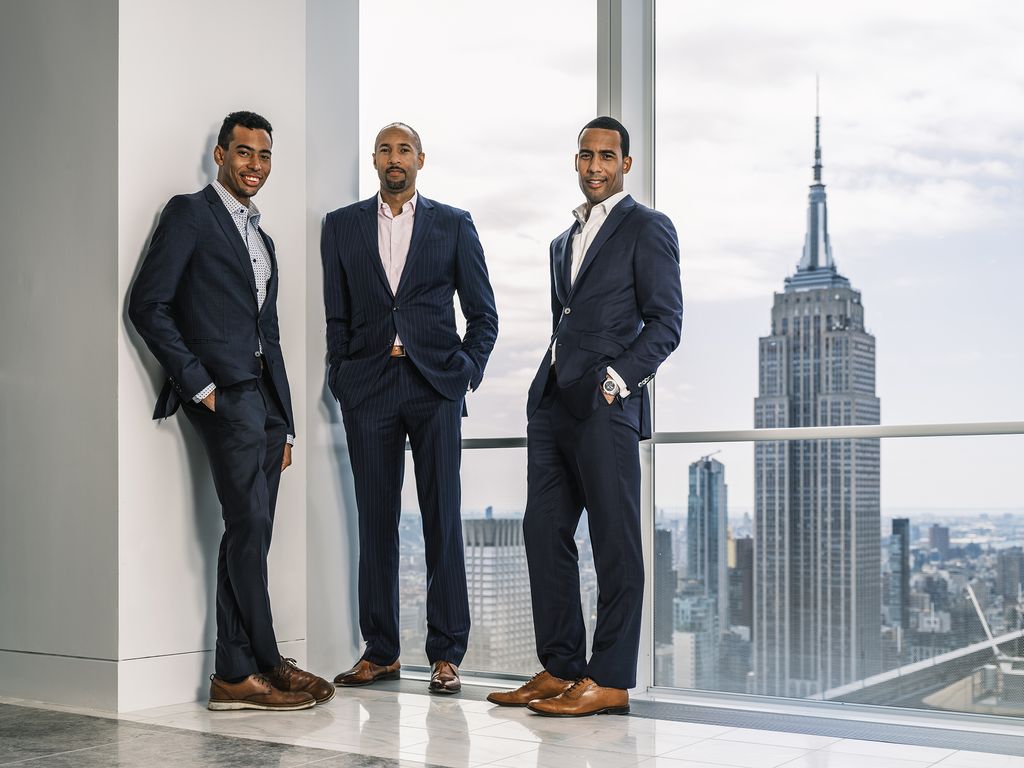 Timothy Rozier-Byrd ('23) started at BU Law in the fall of 2020, when the pandemic ushered in remote learning and postponed many in-person events. But he was able to navigate those challenges partly thanks to his brothers, Terence Rozier-Byrd ('06) and Trevor Rozier-Byrd ('10).
"I'm thankful for having that unique foundation. It's really special," says Timothy, who is pursuing a career in health law. "Having my brothers there as support has been really helpful."
All three brothers grew up in Lakeland, New Jersey, and got introduced to the legal profession through their grandmother, Elizabeth Rozier. She served as the town prosecutor and had a small general practice handling real estate, civil litigation, and more with her partner Robert Silverman.
Terence was the first in the family to attend BU Law. After getting his undergraduate degree at Princeton University and briefly working in finance, Terence started thinking seriously about law school. He received a personal introduction to BU Law from a longtime family friend, Frank Campbell (JD'77, LLM'84). A generous scholarship and the knowledge that his younger brother, Trevor, would be studying at nearby Boston College sealed the deal. After graduation, Terence built a career in Big Law advising institutional investors and is now a partner in the New York office of Akin Gump.
Trevor had set his sights on a law career early on, from his summers working in his grandmother's office. A stint as a paralegal for a large firm in New York City confirmed his choice. From there, it was an easy decision to attend BU Law.
"I saw the experience that Terence had at the school, the way people were very invested in him as an individual, and it was something that I wanted to be a part of, too," he says. "I was able to become a part of the community and engage and grow both personally and professionally in ways I never had before."
After law school, Trevor worked for large law firms in New York and Boston—specializing in corporate transactional law—before going in-house at State Street. He held senior sales strategy, business development, and corporate development roles. In 2021, he left to found Stackwell, a fintech start-up aiming to address the racial wealth gap by empowering Black investors.
Both Trevor and Terence remain engaged with BU Law, continuing to give back as active members of the alumni network, serving as mentors, and providing opportunities for Timothy and other BU students to learn and grow.
"They have shown me how close-knit the BU community is," Timothy says of his brothers. "It has such a vast alumni network all over the country. I really want to take advantage of the connections and the opportunities that BU Law has to offer."
---
Chris and Paul
Fate Brings Them Together
Chris Odell (JD'13, LLM'14) and Paul Stibbe ('13) grew up in small Midwest cities and didn't have any ties to the Boston area when they arrived separately as 1Ls in 2010.
A mutual friend suggested they meet each other. They talked by phone and then met in person at an early campus mixer.
In another twist of fate, Chris met Paul's friend Alexandria Gutierrez ('13) on his first day of classes. "We just happened to hit it off and become very good friends, not even knowing that she was Paul's roommate," Chris says.
Chris and Paul hung out in the same social circles and often studied together, pushing each other to get the most out of their time in law school. Paul wanted to become a litigator, while Chris specialized in tax law, so they could support each other when the coursework got tough without allowing their competitiveness to get in the way of their growing bond.
The library was always crowded, with students fighting for space to study. But there always seemed to be open seats at the tables near the entrance to the student lounge.
"We just kind of laid claim to that. And that's where we would always go," Chris says. "It was a straight shot from there to the student union with restaurants and a Starbucks. So I'd pick up my Starbucks and come to the lounge. It just became this place where we'd always meet up."
By the second half of their first year of law school, Chris and Paul's connection grew deeper. They moved in together during their 2L year and soon began planning what the future would look like together. But first, they had to spread their wings.
After they earned their JDs in 2013, Paul clerked for the Supreme Court of North Dakota for a year, while Chris continued his studies at BU Law and earned his LLM in Taxation.
The following year, Paul's goal of working in litigation took him to Chicago, where he clerked for the US District Court for the Northern District of Illinois. Chris joined an accounting firm in Boston with the goal of eventually joining Paul in Chicago.
"Both of us were excited to spend time in Boston, it's such a cool city, but we each have more connection to Chicago, so that's how we ended up back there," Paul says.
Both now work for large law firms, Chris at Kirkland & Ellis and Paul at Greenberg Traurig. They married in 2018 and invited many of their BU Law friends to their wedding party the following year.
"It's amazing how BU Law alumni are just everywhere," Chris says. "It's a great network to be a part of." 
---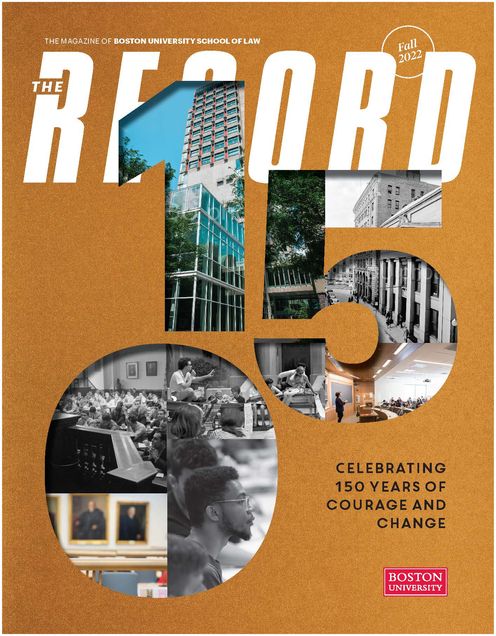 The Record, Fall 2022
---