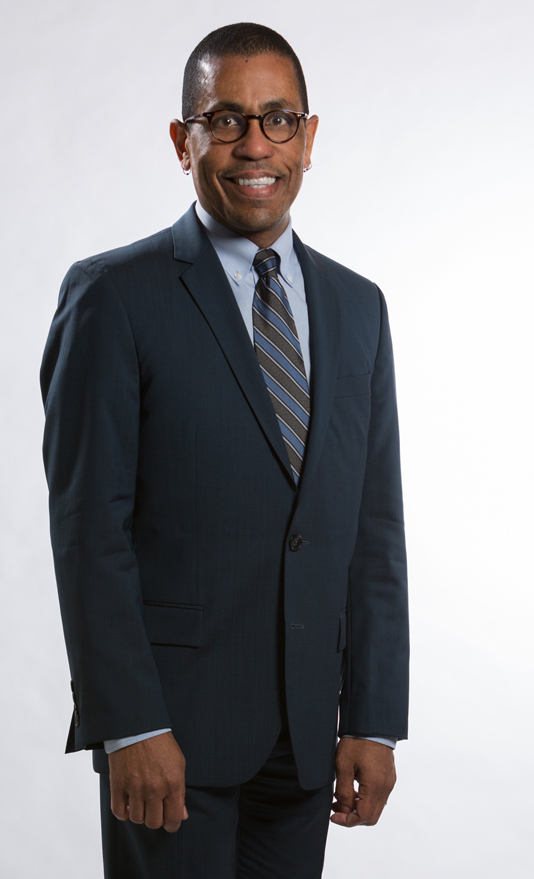 Ronald E. Wheeler, Jr.
Director of Fineman & Pappas Law Libraries
Associate Professor of Law and Legal Research
BA, University of Michigan-Dearborn
MLIS, Wayne State University
JD, University of Michigan Law School
Areas of Interest
Diversity & Inclusion, Law Library Management, Legal Writing & Research
Biography
Ronald Wheeler, a recognized leader in the area of legal research instruction, has served in various law library management roles at law schools across the country, including Suffolk University Law School, the University of San Francisco School of Law, Georgia State University College of Law, and the University of New Mexico School of Law. Wheeler has taught legal research in various contexts including in stand-alone first year legal research courses, upper division courses, online, and in study abroad programs in Rio de Janeiro, Brazil and Linz, Austria. Wheeler also taught a course on US Legal Research to Chinese law students at the East China University of Political Science and Law in Shanghai, China during the summer of 2012. Wheeler also teaches a research and writing seminar called Queer Legal Scholarship which addresses the intersection of sexual orientation law and academic literature.
Director Wheeler's scholarship focusing on legal research techniques, legal research instruction, and algorithm-driven search engines has gained him national attention, and he is regularly called upon to speak about innovations in teaching and other legal research-related topics. He is also a well-known author and speaker about issues related to law library management and the role of the law library in legal education. Wheeler pens Diversity Dialogues, a regular feature in Law Library Journal which aims to engage scholarly conversation on issues of diversity and inclusion in librarianship and the legal profession. In 2014, Wheeler was named to the Lawyers of Color "50 under 50" list of minority attorneys making an impact on legal education.
During 2016-17, Director Wheeler served as president of the American Association of Law Libraries (AALL), becoming the first African-American male president of AALL. He is a member of the Law Librarians of New England (LLNE), serves on the executive board of the New England Law Library Consortium (NELLCO), and is a member of the Editorial Board of the Legal Information Review.
Publications
Ronald E. Wheeler, "An Introduction to "Critical Legal Research: The Next Wave"," in Symposium "Critical Legal Research: The Next Wave" (A Panel in Honor of Richard Delgado and Jean Stefancic), 101

Boston University Law Review Online

1 (2021).

Publisher

|

Scholarly Commons

Ronald E. Wheeler & Phebe Huderson-Poydras, "How Law Libraries Can Help Tell the Black Lives Matter Movement's Story," 25

AALL Spectrum

41 (Sept/Oct 2020).

Scholarly Commons

Ronald E. Wheeler, "

Everything from Soup to Nuts: The Full Plate of Academic Law Library Directorship, in "A Day in My Law Library Life," Circa 2018

," 111

Law Library Journal

71, 99 (2019). (Compiled by Scott Frey).

Scholarly Commons

|

HeinOnline (BU)

|

HeinOnline

Ronald E. Wheeler, "Micro Essay Researching Foreign Law in a Bunch of Common Law Jurisdictions Just Got WAY Easier!" 26

Perspectives: Teaching Legal Research & Writing

32 (2018).

Scholarly Commons

|

SSRN

Jenna Fegreus & Ronald E. Wheeler, Sources of Compiled Legislative Histories: A Bibliography of Government Documents, Periodical Articles, and Books, 1st Congress–114th Congress, 4th edition, William S. Hein & Co. (2018).

Ronald E. Wheeler, "About Microaggressions," 108

Law Library Journal

321 (2016).

SSRN

|

Scholarly Commons

Ronald E. Wheeler, "Soft Skills - The Importance of Cultivating Emotional Intelligence," 20

AALL Spectrum

28 (Jan/Feb 2016).

SSRN

|

Scholarly Commons

Ronald E. Wheeler, "Is This the Law Library or an Episode of the Jetsons?" 20

Journal of the Legal Writing Institute

49 (2015).

SSRN

|

Scholarly Commons

Ronald E. Wheeler, "Library Director as Opportunity Identifier," in

Academic Law Library Director Perspectives: Case Studies and Insights

195, Michelle M. Wu, ed., William S. Hein & Co. (2015).

HeinOnline (BU)

|

HeinOnline

|

Scholarly Commons

|

SSRN

Ronald E. Wheeler, Nancy P. Johnson, Deborah Schander & Austin Martin Williams, "Georgia Practice Materials: A Selective Annotated Bibliography," in

State Practice Materials: Annotated Bibliographies

Georgia-1, Frank G. Houdek, ed., William S. Hein & Co. (2014).

HeinOnline (BU)

|

HeinOnline

Ronald E. Wheeler, "Teaching WestlawNext: Next Steps for Teachers of Legal Research," 21

Perspectives: Teaching Legal Research & Writing

127 (Spr 2013).

SSRN

|

Scholarly Commons

Ronald E. Wheeler, "National Thank Your Mentor Day – Guest Author Ronald Wheeler,"

Cassidy Cata-Blog

(Jan 2012).

Scholarly Commons

Ronald E. Wheeler & Terrance K. Manion, "A Tale of One CALI Lesson: Librarians Share a New Approach," 14

AALL Spectrum

24 (Apr 2010).

Publisher

|

HeinOnline (BU)

|

HeinOnline

Ronald E. Wheeler, Nancy P. Johnson & Terrance K. Manion,

Georgia Legal Research: Secondary Source Materials

, Computer-Assisted Legal Instruction (CALI) Lesson (2009).

Publisher

Ronald E. Wheeler, "Tips for Developing Specialized Legal Research Courses," 29

RIPS Law Librarian

2 (Spr 2007).

HeinOnline (BU)

|

HeinOnline

Ronald E. Wheeler & Stephanie Davidson, "Learning While They Work: The Use of Student Assistants in Two Academic Law Libraries," 25

ALL-SIS Newsletter

19 (Spr 2006).

Publisher

Sexual Orientation and the Law: A Research Bibliography Selectively Annotating Legal Literature Through 2005

, Ronald E. Wheeler, James M. Donovan, James G. Durham & Stephanie Wilson, eds., William S. Hein & Co. (2006). AALL Publication Series No. 74

HeinOnline (BU)

|

HeinOnline

|

Publisher

Ronald E. Wheeler, "Marriage Equality: A Civil Rights Issue," The Black Perspective 5 (Dec 2004).

Ronald E. Wheeler, Jeremy Ballew & Barbara Lah,

New Mexico Formal Reprimands and Judicial Notices for Professional Responsibility

, New Mexico Courts, Disciplinary Project (2004).

Publisher

Ronald E. Wheeler, "Where to Find Ordinances Online," 9 Bar Journal (State Bar of New Mexico) 54 (Sum 2003).

Ronald E. Wheeler, "Legal Writing: Some Useful Online Reference Sources," 8 Bar Journal (State Bar of New Mexico) 11 (Win 2002).

Ronald E. Wheeler & Barbara Lah, "Researching New Mexico State Administrative Materials," 8 Bar Journal (State Bar of New Mexico) 15 (Spr 2002).

Ronald E. Wheeler, "Vendor Neutral Citation in New Mexico," 8 Bar Journal (State Bar of New Mexico) 11 (Sum 2002).

Ronald E. Wheeler, "Researching International Environmental Law," 7

Bar Journal (State Bar of New Mexico)

6 (Winter 2001).

Scholarly Commons