Inclusion and Outreach
The Boston University College of Engineering has a long-standing commitment to the recruitment, advancement and support of a diverse community of faculty, staff and students in all of its educational and research programs and practices. By developing an extensive network ranging from K-12 outreach programs to faculty leadership training, the College strives to include historically underrepresented groups to create a talented and versatile engineering community that is supportive to all members.
Message from the Dean
"We speak constantly about our commitment to diversity, equity and inclusion here at the College of Engineering. We do so for many reasons. For one, we can commit to show how a diverse community best functions when there is respect for all races, ethnicities, religions, sexual preferences, etc. Equally, we convey an appreciation for the importance of a diverse, inclusive community to add value to each other. Beyond respect, we can show how only through inclusive diversity can we learn more, innovate better, think more creatively, understand people and peoples better, and be better positioned to contribute back to and improve society. We can commit ourselves to be a beacon of what can emerge when our whole community conveys that racial injustice is intolerable while diversity embraced is empowering and fulfilling for all."
            –Kenneth R. Lutchen, Dean
The Technology Innovations Scholars Program (TISP) sends Inspiration Ambassadors — talented and specially trained undergraduates — into elementary, middle and high schools nationwide to expand the horizons of young students and engage them with engineering. Inspiration Ambassadors mentor students in FIRST® Lego League and Robotics challenges, visit schools to talk about their college experience and engage K-12 students in engineering activities, and host math and science study/homework sessions with middle- and high-school students from historically underrepresented groups.
Improving society requires the participation of all segments of the population. As BU Societal Engineers, we include society to impact society. Through anti-racism efforts and support of student groups, the College is working toward fostering a more diverse faculty, staff, and student body and inclusive climate.
2019 ASEE Diversity Recognition Program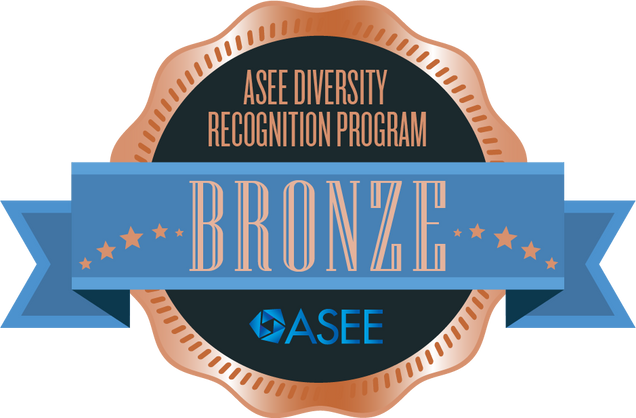 The College has been nationally recognized for its commitment to diversity by the American Society for Engineering Education (ASEE) with a Bronze Level award in the inaugural ASEE Diversity Recognition Program. This program was created to recognize engineering and engineering technology colleges that make significant and measurable progress in increasing the diversity, inclusion, and degree attainment outcomes of their programs. Learn More
Boston University has been a GEM Fellow Organization since 1979. The College of Engineering provides full fellowships to GEM Fellow PhD students.
Contact
Wynter J. Duncanson (she/her/hers), PhD , Assistant Dean of Inclusion & Outreach