Student podcast on Boston's busing history nets two awards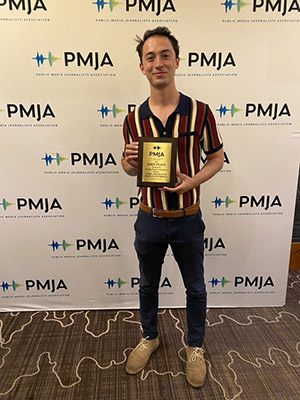 Two episodes of a COM student podcast series exploring Boston's history of school busing, integration and racism won top awards at this year's Public Media Journalists Association conference in Seattle.
"(Dis)Integration: Ruth Batson," an episode of the Dis-Integration podcast series produced by WBTU, COM's student radio station, won first place in the Narrative/Produced Podcast, Student Division, category. It was reported by Jesse Remedios (COM'21) and co-hosted by Remedios and Valerie Wencis (COM'22).
Another episode in the series, "(Dis)Integration: Rachel Twymon," won second place in the Best Interview category. It was reported by Wencis and co-hosted by Wencis and Remedios.
"The student work in the (Dis)Integration podcast was amazing," said Anne Donohue, associate professor of journalism at COM and faculty adviser for WTBU. "Students tracked down all the major figures from the busing era that are still alive as well as profiling the unsung heroes who are no longer with us.
"In addition, they advanced the story to today's Boston and examined what the city still needs to do to bring racial justice and equality to its schools and other institutions," she added.
Remedios returned from Seattle with another award, this one for second place in the Series, Division AA, professional category for "Boston Under Water," his report for WBUR about climate change and its impact on Boston's Seaport district.
The awards were among 221 awards presented to 101 organizations for "the best work in public media journalism from across the country," according to PMJA. This year, judges reviewed more than 1,500 entries.