Nineteen seniors receive Blue Chip Awards, COM's top undergraduate honor
Honors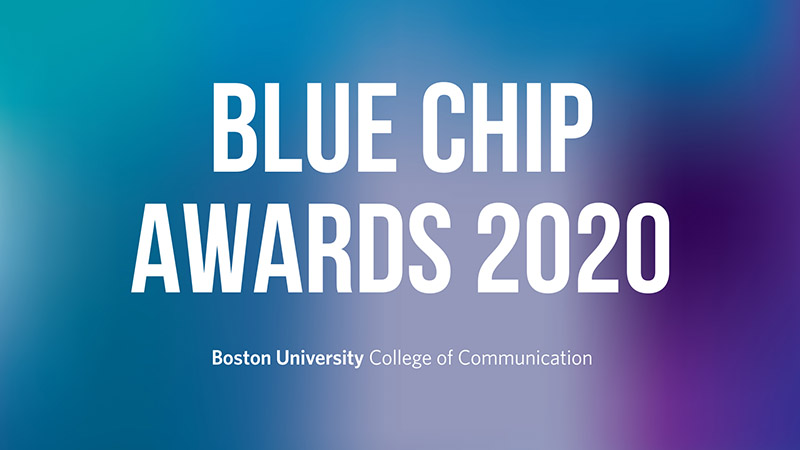 Nineteen seniors were named winners of this year's Blue Chip Awards, the most prestigious undergraduate student honor conferred by Boston University's College of Communication.
"These seniors have proven to be leaders at Boston University and COM. They have demonstrated academic achievement. They have participated in internships and other professional activities. They are active in the BU and COM communities. They are extremely talented in their areas of study and areas of interest," said William Taylor, assistant dean for undergraduate affairs at COM. "I'm looking forward to following all their future success stories as they move on to the next chapter in their lives."
Each senior was nominated by a faculty member, and chosen by the student's academic departments.
2020 Blue Chip Award Recipients:
FILM & TELEVISION:
Jonny Arruda
Deni Budman
Rachel Dougherty
Madelin Mermelstein
Hannah Petosa
Sophia Ricciardi
JOURNALISM:
Nicholas McCool
Andres Picon
Sabrina Schnur
Hannah Schoenbaum
K. Sophie Will
MASS COMMUNICATION, ADVERTISING AND PUBLIC RELATIONS:
Alia Al-Chalabi
Alex Chapman
Lexi Glicksman
Nicole McPherson
Thomas Nitti
Emily Rosenberg
Hannah Stamer
Emily Wisner
Watch testimonials from sponsoring faculty members.