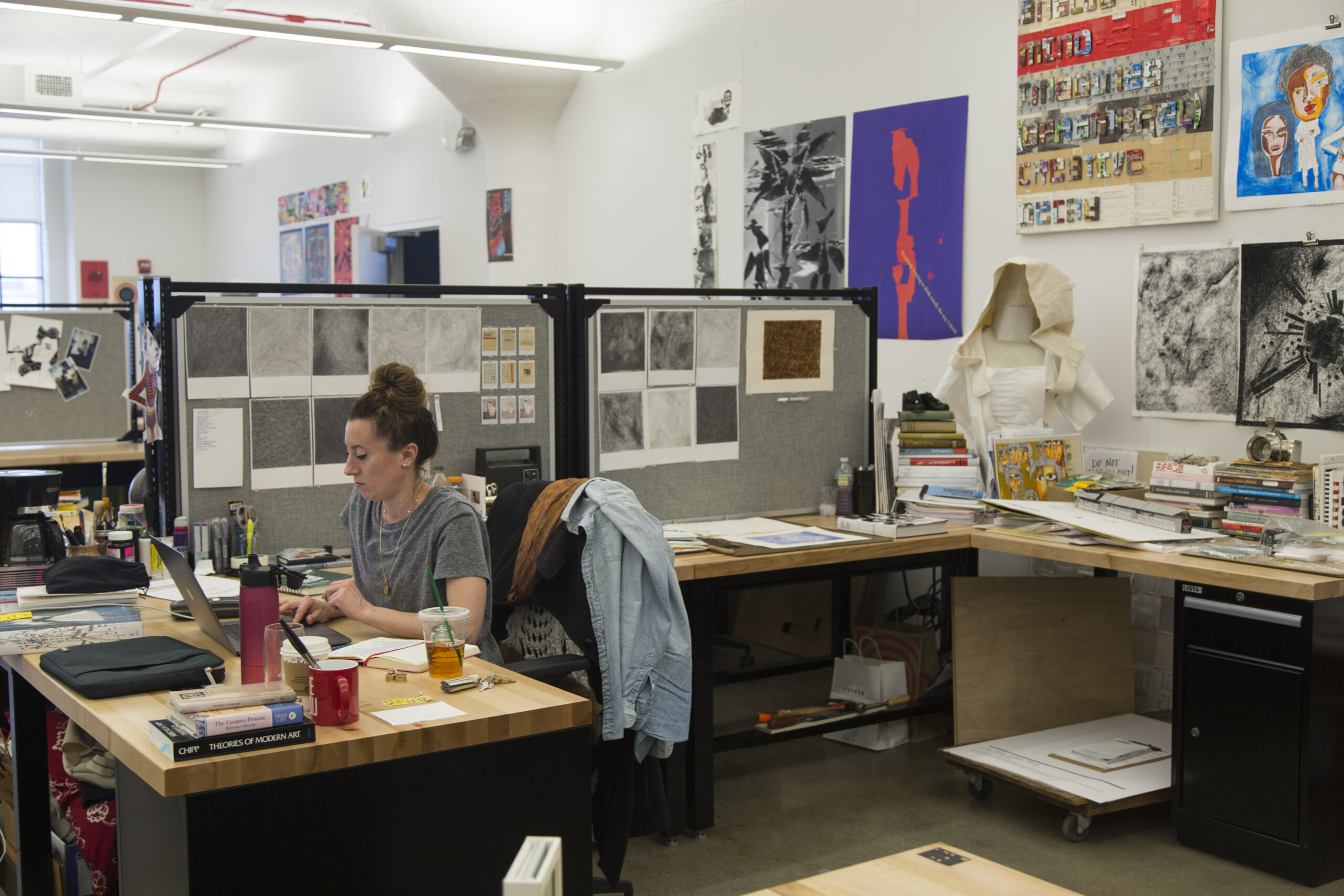 The five MFA programs at SVA provide students in Painting, Sculpture, Print Media & Photography, Graphic Design, and Visual Narrative with an excellent, informed, practice-based graduate education in the visual arts.
Leading practitioners challenge students to catalyze new work and fully express new knowledge. Students take part in and help create important creative communities toward sustaining their own successful and impactful lives in the arts. You can read more about our alumni here. 
MFA pedagogy is based on extensive studio work in conversation with SVA faculty perspectives and visiting critics. Both offer impactful voices and models for our students. Graduate students learn field-specific histories reframed through contemporary practice and thinking. They make individualized work in the context of a larger community and for speculative future audiences, modes, and needs. Creative research is broadly defined and supplemented by University electives and College, University and Boston resources listed and linked below. Within SVA, graduate-level practice and theory are informed by the important Tuesday Night Lectures Series, BU Art Galleries and MFA thesis exhibitions, graduate symposia, and other graduate-led events. 
In addition to formal events, SVA fosters dialogue across all five programs via a broad spectrum of practice-based electives, shared facilities, and social events at SVA and in Boston and New York. School and departmental events are offered and developed by students with faculty to expand the potential of the five disciplines through knowledge sharing, connection, and artistic resonance.
The development of partnerships and professional communities within, between, and beyond BU programs is a strength and priority of the SVA graduate programs as a whole. Outreach and a vibrant intellectual and artistic ecosystem are brought into being through the following platforms for knowledge-sharing, and by important partners who help support graduate research, community, and new forms of production and thinking.
Partnerships, Outreach, Collaborations, and Opportunities
Design Inquiry Lectures

New York City gallery partnerships

MFA field trips

Open Studios 

The BU Arts Initiative and funded AIR programs such as Dakota Mace (2022) and Francisco

Alarcon (2019)

Diversity and Inclusion Catalyst Grant 

Professional development programming hosted by School of Visual Arts

BU Spark! (Center for Data Science)

BU Medical Anatomy Lab