Life Altering
Selections from a Kansas City Collection
January 18 – March 1, 2022
Faye G., Jo, and James Stone Gallery
Created over the past 12 years, the works in Life Altering: Selections from a Kansas City Collection, explore a rich array of meaning relevant to our present time. Artists investigate the global inequity of wealth and power, social justice, race, slavery, colonialism, the experience of exile and the diaspora, identity, the important role of the body, LGBTQ+ issues, popular culture, the precarious balance between progress and technology, climate change, and the environment. Some artists draw from the traditions of their cultural heritage—African, American, Caribbean, Indian, Iranian, Iraqi, and Native American. These artists celebrate their heritage by reclaiming ownership of, and pride in, their cultural origins. Above all, the artists here express hope, courage, resilience, and determination in the service of a better future.
The exhibition features a selection of art from the collection of Bill and Christy Gautreaux, who for the last 25 years have embarked on what Bill calls "a journey of learning and awareness that has been life-altering." Artists who are women, Black or people of color, and those working internationally and/or are part of the diaspora are the primary focus of their collection. While the names of many artists in the collection are widely recognized today, they were often emerging or underrepresented when the Gautreauxes acquired their work. According to Bill, "contemporary art has changed our view of the world and the way that we live."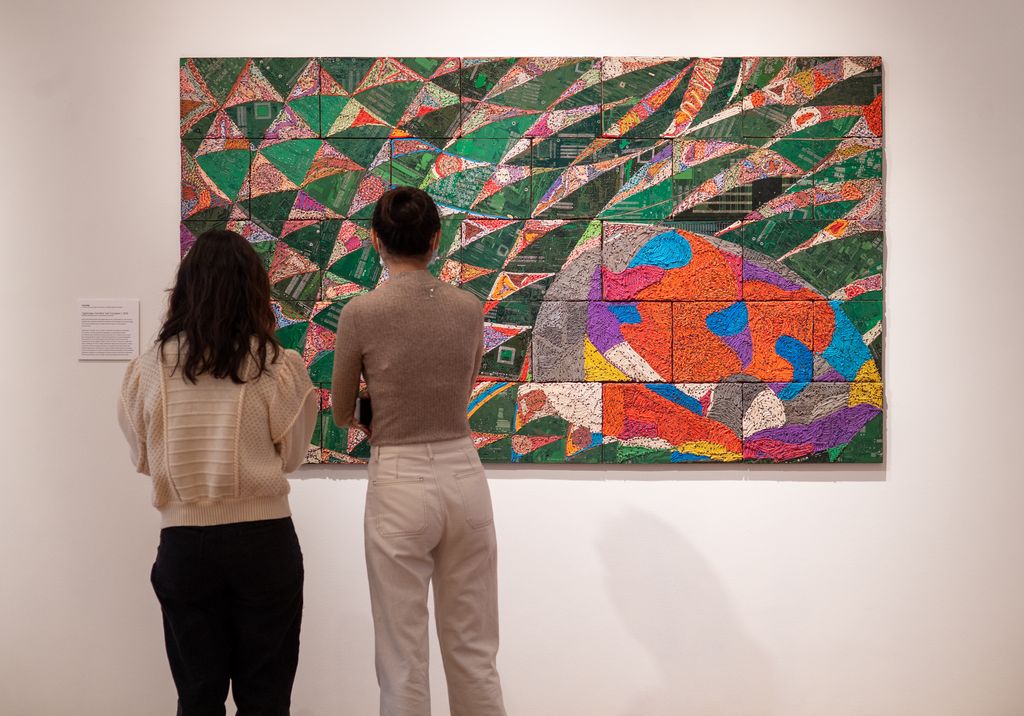 Bill and Christy are committed supporters of a variety of nonprofit and charitable organizations, with a focus on arts, education, and civic leadership in Kansas City and further afield. Through their museum leadership, gifting works to institutions, loaning works for public exhibition, and providing funding for exhibitions and projects, they are actively engaged and invite opportunities for continued involvement. As related to Kansas City art organizations, they have served on or are on the boards of the Nelson-Atkins Museum of Art and the Kemper Museum of Contemporary Art. Bill is the Chair of the Board of Trustees of William Jewell College and serves on the boards of the Association of Art Museum Curators and Art21. The Gautreauxes are also members of the Whitney National Committee. ARTnews named the Gautreauxes among the world's top 200 art collectors (2014 to 2018).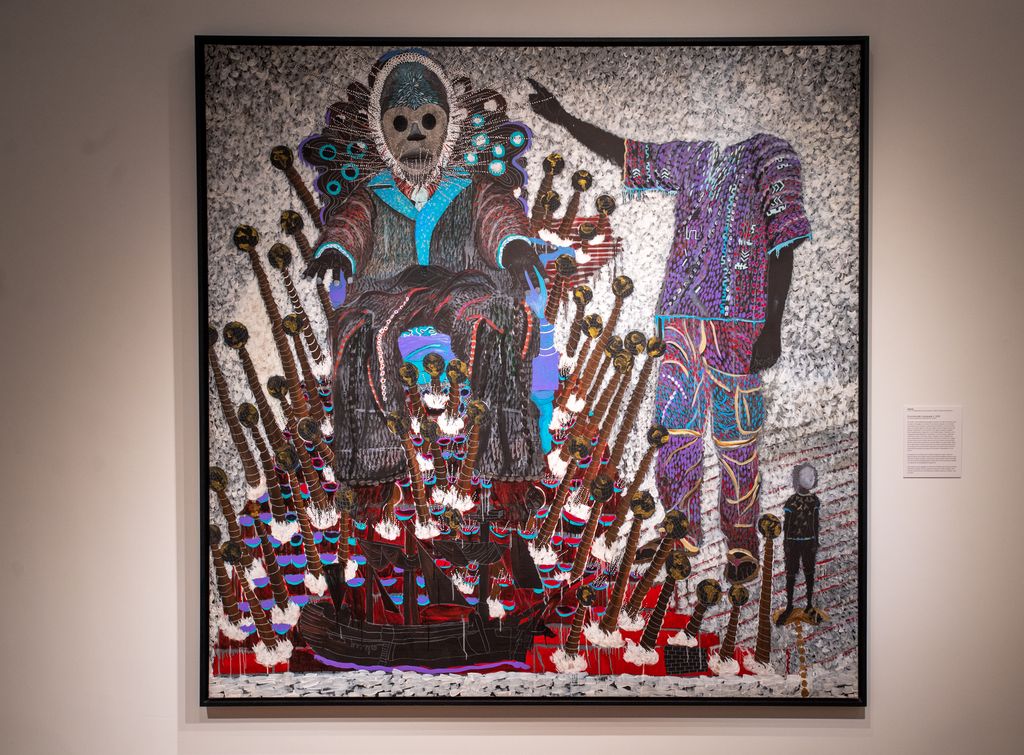 The arts in Kansas City are flourishing. William Rudolph, Deputy Director of Curatorial Affairs at the Nelson-Atkins says, "Bill and Christy's commitment to acquire and share works has enriched the Nelson-Atkins' galleries and helped our goal of increased inclusivity. This spirit dovetails with our commitment as witnessed by 'KC Art Now' and our exhibition 'Testimony: African American Artists Collective,' a partnership with a local artists' collective. The Gautreauxes have become vital partners helping the museum become a place where the power of art meets the spirit of community." And, Erin Dziedzic, Director of Curatorial Affairs at the Kemper Museum of Contemporary Art, notes that "Bill and Christy Gautreaux's Kansas City-based private collection is excitingly at the core made up of exceptional works by global women artists and artists of color and is in dialogue with Kemper Museum of Contemporary Art's program. A selection of over 30 works were exhibited for the first time in Piece by Piece: Building a Collection in 2015 at Kemper Museum. The Gautreauxes' deep appreciation for artist's innovations and personal experiences shines through in the range of media and in the complexity of concepts they are dedicated to in their collecting practice."
Leesa Fanning, Independent Curator of the exhibition and former Curator of Contemporary Art at the Nelson-Atkins Museum of Art, states, "It has been an absolute pleasure to collaborate with Bill and Christy. Their global contemporary art investigates the most pressing concerns of our time, sparking conversation, raising our awareness, and bringing hope for transformation and change."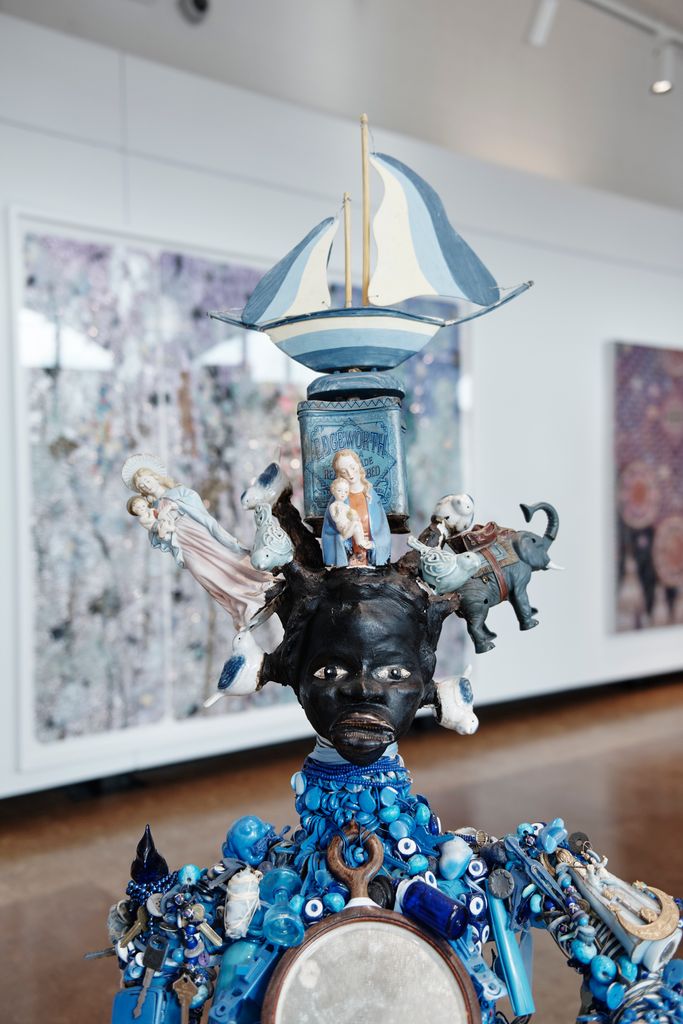 Featured Artists
Omar Ba (Senegalese), Firelei Báez (Dominican Republic), Hank Willis Thomas (American), McArthur Binion (American), Tunji Adeniyi-Jones's (British, of Nigerian descent), Nick Cave (American), Enrique Martínez Celaya's (American, born Cuba), Monir Shahroudy Farmanfarmaian (Iranian), Asad Faulwell (American), Vibha Galhgotra (Indian), Theaster Gates (American), vanessa german (American), Jeffrey Gibson (American), Hayv Kahraman, Zanele Muholi (South African) , Ebony G. Patterson's (Jamaican), Amy Sherald (American), Wendy Red Star (Apsáalooke/Crow), Elias Sime (Ethiopian), Lynette Yiadome-Boakye
Life Altering: Selections from a Kansas City Collection Celebrates Diverse Artists
Stone Gallery exhibition explores race and racism, identity, and inequity of wealth and power around the world