One Year after Joe Biden's Inauguration, BU Experts Give Him a Mixed Review
How effectively has he dealt with COVID, the economy, climate change, and more?
Politics
One Year after Joe Biden's Inauguration, BU Experts Give Him a Mixed Review 
How effectively has he dealt with COVID, the economy, climate change, and more?
He's not a rookie quarterback, and this isn't the NFL. We're not going to give him letter grades. But one year after his inauguration seems like a good time to assess how President Joe Biden is meeting the challenges of the office and the expectations of the progressive wing of his own party and the voters who put him in the White House.
Last week a poll released by Quinnipiac University found Biden's approval rating had dropped to a new low—just 33 percent—largely over his perceived handling of the economy and the ongoing COVID-19 pandemic. That's cause for concern for Democrats, with just 10 months to go until the midterm elections.
How has his performance met, exceeded, or failed expectations? We reached out to a panel of experts from across the University and asked them for their insights. Passing stimulus and infrastructure bills and reframing the government's pandemic response count as successes, they say. But Biden is having a hard time getting his message across to a public exhausted by COVID and political division.
Facing the pandemic
In public health, the first year of the Biden administration has been the best of times and the worst of times, says Sandro Galea, dean of the School of Public Health, Robert A. Knox Professor, and author, most recently, of The Contagion Next Time (Oxford University Press, 2021).
"It's been the best of times from the perspective of having an administration that is making an effort to put in place scientists and administrators who are part of mainstream public health thinking," says Galea, "and who are basing decisions on science and evidence and trying to keep some of more political considerations out of it.
"It's been the worst of times because it's been a terrible year," he says. "More people died in the United States from COVID in 2021 than 2020, and from a health outcomes point of view, it's been a year where the country has done quite poorly. But in many respects that's independent of anything the administration could have done."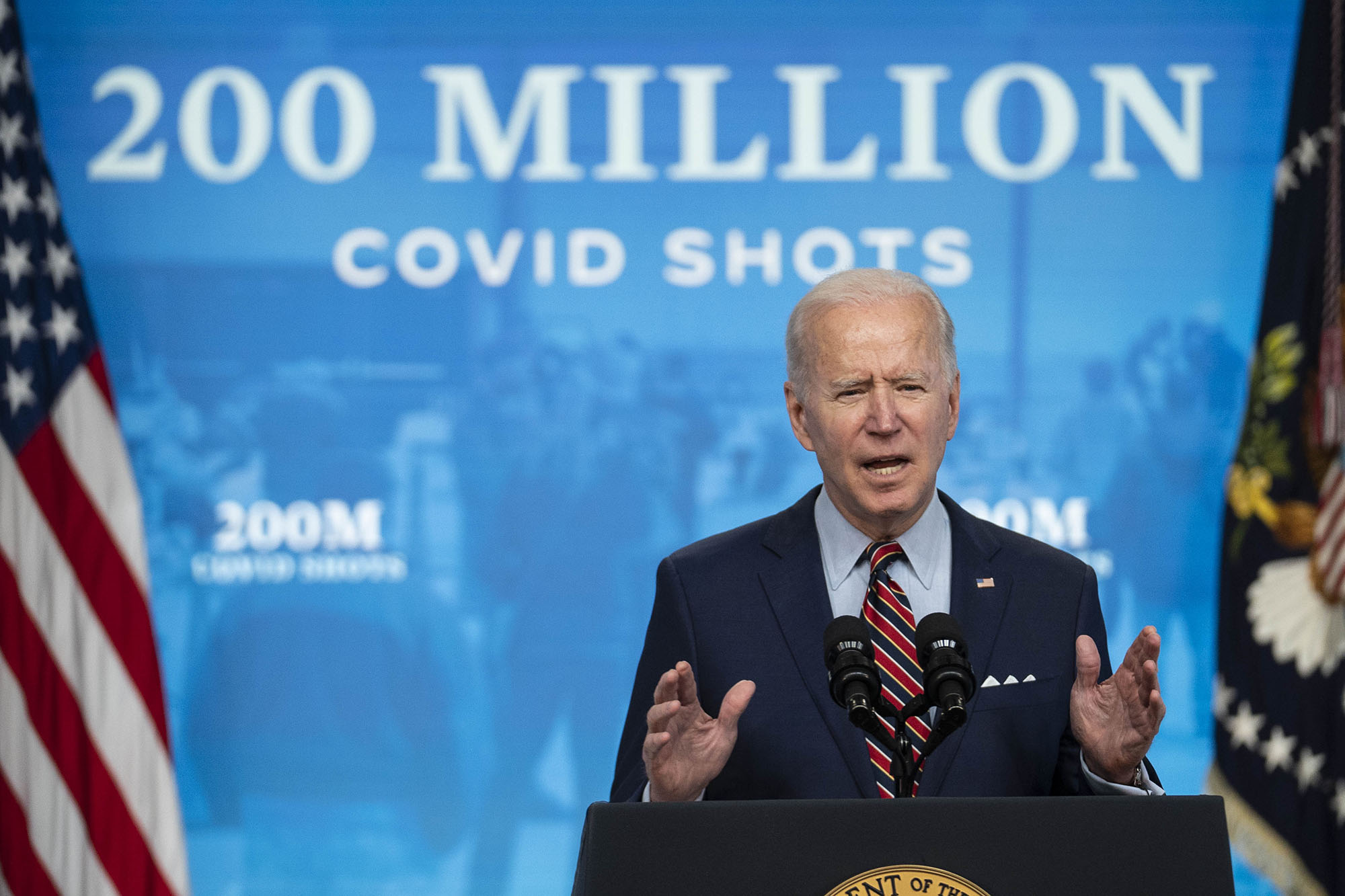 He also says that Biden could have moved faster in accelerating the availability of testing and making clear best practices for limiting the spread of the virus. "But ultimately the administration inherited a really bad hand, and they have tried to work within that. I have a lot of sympathy for that."
Going forward, Galea says, he hopes to see clarity from the White House about how we live with COVID. "It's very clear that it is going to be endemic, and it's also clear to me that continuing with a start/stop approach to the economy and our entire social structure is not sustainable."
Stimulus benefits and infrastructure
"It happened so long ago that I feel it has receded from our minds, but the American Rescue Plan was a really big deal for local governments," says Katherine Levine Einstein, a College of Arts & Sciences associate professor of political science and assistant director of policy at BU's Center for Antiracist Research, who studies urban politics and policy.
That $1.9 trillion Biden stimulus package passed last spring by Congress has allowed governments "to plan for really transformational investments in things like housing, infrastructure, and schools," she says.
---

One of the toughest challenges in evaluating the Biden administration is they've made these incredibly exciting investments in our communities, and we're not going to see the effects for a few years, which is probably politically terrible for them in the midterms.

---
Einstein was part of a group of researchers at BU's Initiative on Cities that asked mayors around the country last summer how transformational the Rescue Plan could be. The mayors said they were able to engage many different programs and fill budget gaps that were "of deep concern" in the last year of the Trump administration, when pandemic-era financial problems loomed in many communities.
Since then, Biden's $1.2 trillion Infrastructure Investment and Jobs Act—passed last fall—is intended to fund repairs and improvements to roads, bridges, and rails and expand access to clean drinking water and high-speed internet in underserved communities.
"One of the toughest challenges in evaluating the Biden administration," Einstein says, "is they've made these incredibly exciting investments in our communities, and we're not going to see the effects for a few years, which is probably politically terrible for them in the midterms."
It's the economy, again
"Presidents have a lot less to do with the economy than you think," says Kevin Lang, the Laurence A. Bloom Professor of Economics at CAS.
Inflation is soaring, the supply chain is tangled, and the employment picture is unusual, matching very low unemployment opposite widespread talk of a "great resignation." But none of this is necessarily Biden's doing, Lang says, nor can he provide a quick fix for the problems. That doesn't stop consumers from blaming the president for rising prices.
"This has been a little unusual in that the way the pandemic has been handled has deeply affected the economy," he says. A majority probably believes it was better to shut down the economy early in the pandemic and save more lives, he says, but with the Omicron variant, we're seeing what happens when there are a lot of COVID cases among workers and customers alike.
"We're in pretty uncharted territory with the kind of supply-chain issues we're facing," Lang says, "but on inflation I think it's an open question. Did they overstimulate the economy? I think, absent the supply chain issues, the stimulus was not excessive. If this inflation turns out to be a two-year thing and we get back down to target even by the end of 2023, I would say it hasn't been too bad. If it turns out we have to have a significant recession to curb inflation, then yeah, we'll say they blew it."
Pleasing the progressives? Not so much
The best way to assess Biden's record "is to go back and think what his coalition looked like when he was first elected," says Robert Tsai, a School of Law professor of law and a Law Alumni Scholar. "There's the contingent called the progressive wing that has been champing at the bit to implement a lot of interesting ideas, from immigration reform to anti-corruption measures to social welfare programs. And they want him to seize the moment.
"The other part of his coalition, though, includes a number of people who were tired of Trump, but aren't necessarily deeply committed to the kinds of things the progressive wing is. So the question is, who should be leading the coalition and how do the president and his staff think about his coalition?"
Biden "should get a lot of credit," Tsai says, for nominating more judges to the federal bench in the first year of his presidency (73, with 40 confirmed) than any president since Ronald Reagan. He also notes that the president's picks have been notably diverse. Biden deserves credit for the infrastructure bills, too, but progressives are upset because they didn't get the social welfare programs and immigration reform that were supposed to come with it.
"The progressives are right that a lot of things they want are quite popular, but the reality is, it only takes a couple of people in the Senate or in the House to really block things up," Tsai says. "Democrats are going to have to win more elections to get that stuff done."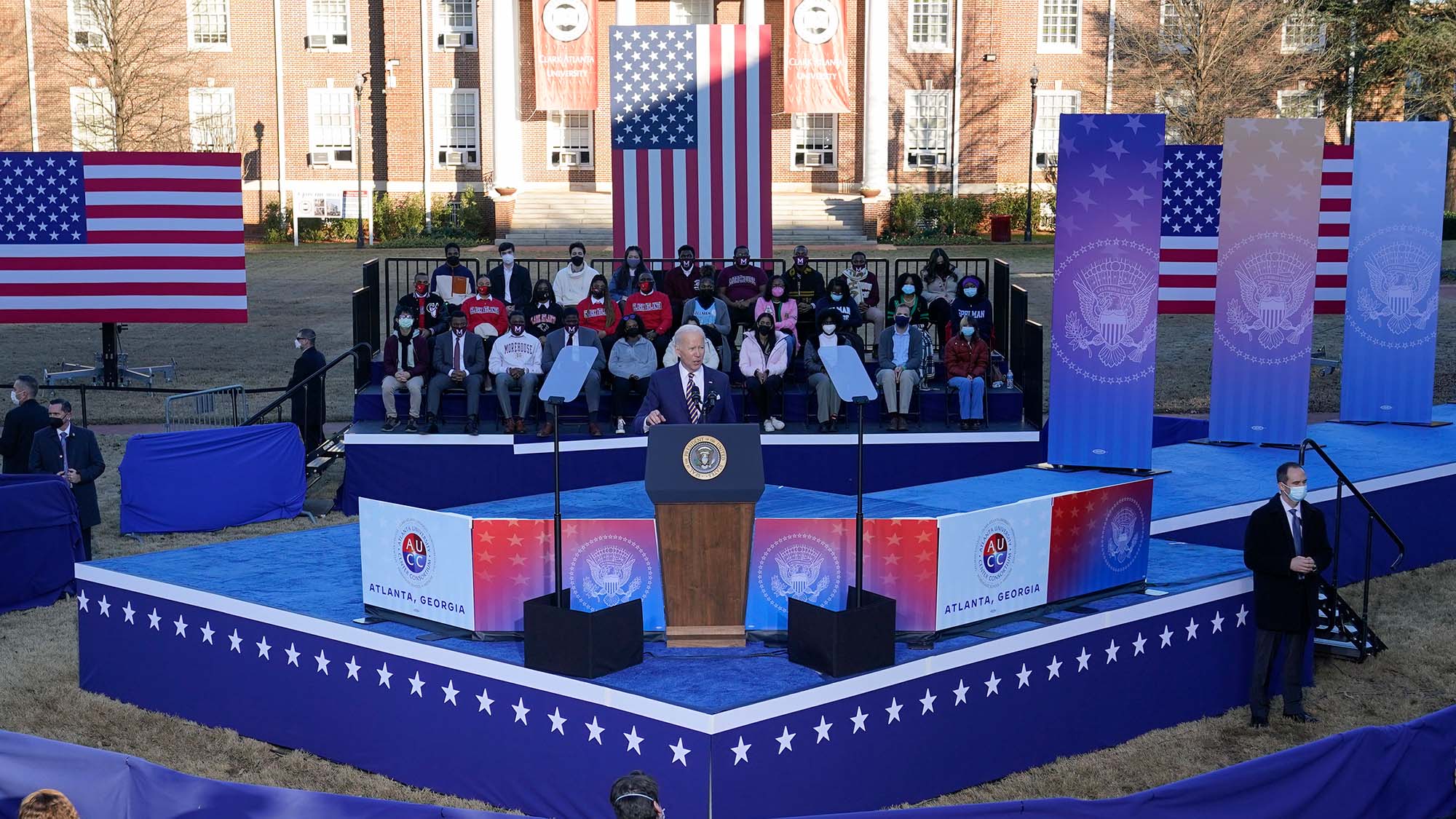 Biden finally stepped up to make a hard push for voting rights legislation, but the situation is dire, Tsai says, after state-level action by Republicans to restrict voting. "I wish they had turned to this as a priority a lot sooner."
Einstein sees a similar landscape. "I think one of the things that has been exciting about the Biden administration is that they are much more interested in explicitly tackling racial equity, through methods like executive orders," she says. "But you can take a step back and ask how effective it has been."
Role as a world leader
As president, Biden must be a leader on the world stage, too, and he gets at best a mixed review from Neta Crawford, a CAS professor and chair of political science. "Joe Biden has done about as I expected," she says, given that he's a Centrist Democrat with long foreign policy experience both in the Senate and as vice president.
"In terms of the hotspots of the world, he's doing what I'd expect a reasonable person to do," Crawford says. "We didn't have a reasonable person in the White House in the prior four years, so this is a sort of return to normal. And a return to normal for Democrats is an effort to be strong and to look strong. So he's a little more robust than he needs to be on the international scene."
His aggressive pivot to dealing with China is one example, she says. But she also has praise for his willingness to negotiate with Iran, and she thinks "the response to Putin's verbal and actual aggression is right on," using negotiations and the threat of sanctions.
But Biden has not and probably will not make fundamental changes in how our resources are deployed in response to a changing world, Crawford says. "What we saw over the last 20 years was an increase in the military's base budget that has gone up steadily no matter what we're doing, and what that has done has institutionalized high military spending. The US is not rightsizing its forces to the world we're in. And that military spending has an opportunity cost in terms of domestic politics and the domestic economy."
It's also keeping the administration from forcefully addressing the number-one global threat: climate change. "The world we live in is on fire," Crawford says. "If we radically reduce our own emissions and participate in an international regime that radically reduces emissions, we reduce that threat of conflict they're so concerned about, and we make life possible on the planet. But that requires imagination and courage, and I don't see that."
Getting the message out
"Part of why Biden was elected is that he promised to end COVID," says longtime political campaign consultant Tobe Berkovitz, a College of Communication associate professor of advertising. "That was a campaign promise, but the voters want their elected officials to keep their campaign promises, and what we've seen with COVID, especially with the new variant, is it's far from defeated, and he is being held responsible because he is president and he made a promise and was unable to keep it. If we had solved COVID completely, would Biden be taking credit for it? Of course.
The public is to a large degree just worn out after two years of the pandemic and instructions that change often, Berkovitz says, with messaging that proves counterproductive a week or a month later, when conditions change.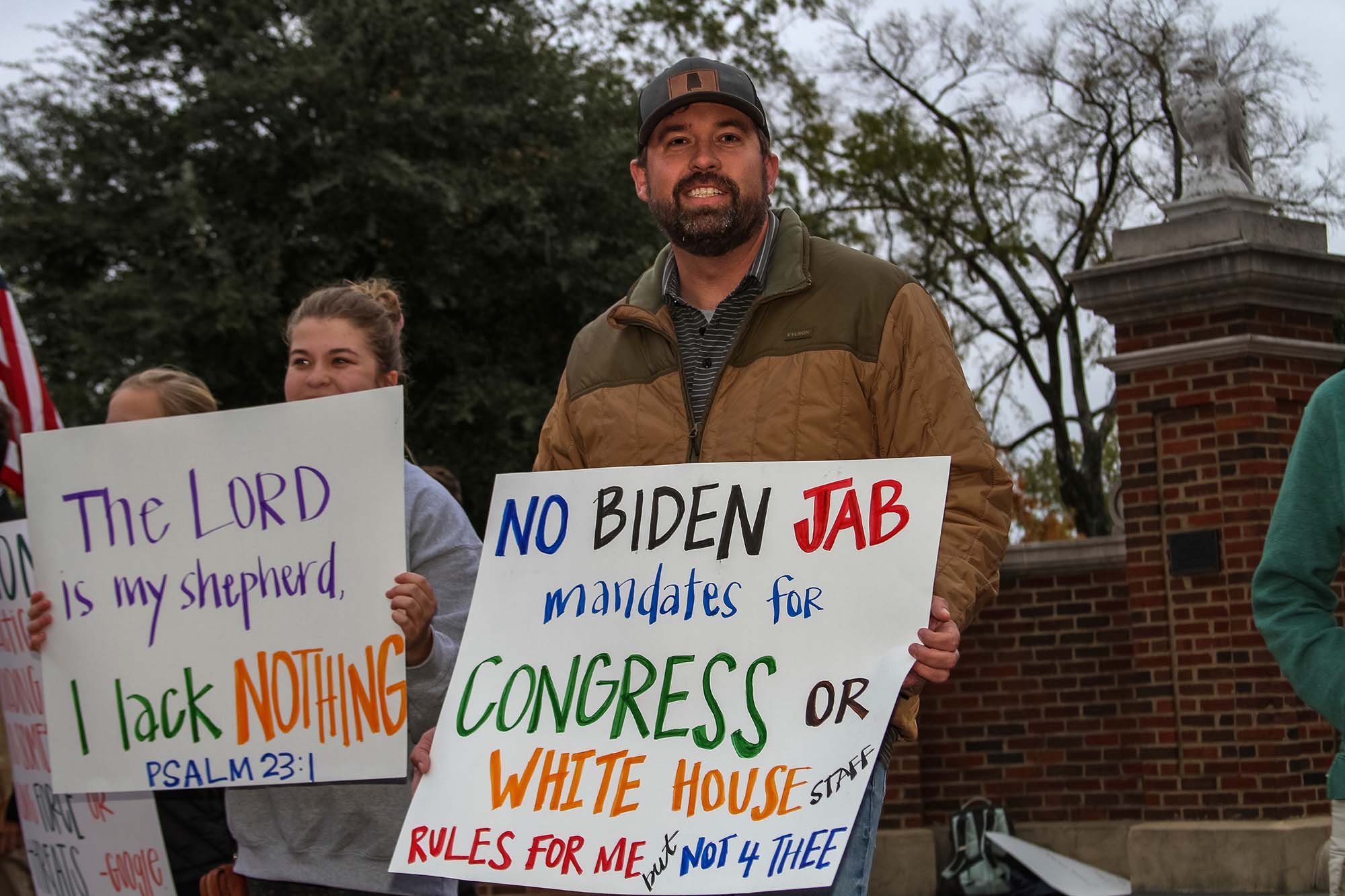 Biden is also faced with a divided electorate, and the group he needs to reach to help Democrats in the 2022 midterms is a small group of swing voters in the middle. Biden's recent attack on his predecessor—who he never mentioned by name—was "throwing red meat to his base," Berkovitz says, but will swing voters "want to hear the litany of all the terrible things Donald Trump did? Will that dog still hunt for the people in the middle?"
Inflation may be more important to those voters, and that's not the only issue. "We haven't mentioned crime or education, and these are things that affect many American families deeply," he says. "What no one's talking about—and I'm shocked—is abortion. In many ways, that will be the driver of the '22 election, whichever way the Supreme Court decides."