The Contagion Next Time: How to Fight a Future Pandemic
Public Health
How to Fight a Future Pandemic
In The Contagion Next Time, SPH Dean Sandro Galea's prescription isn't about vaccines and masks
Maybe we're finally headed in the right direction with COVID 19, thanks to vaccines and masks and a slowly shrinking infection rate. But rather than relax, Sandro Galea is looking ahead to the next pandemic—and to the society it will attack.
"Novel viruses will continue to emerge. And we should be ready," Galea, dean of the BU School of Public Health and Robert A. Knox Professor, writes in his new book, The Contagion Next Time (Oxford University Press, 2021). "Unless we address the foundational forces that underlie health, nothing we do will sufficiently prepare us for the next pandemic."
What he's concerned about isn't vaccines or masks or even medicine, really. Galea wants us to address drivers of public health, including politics, socioeconomics, and structural racism that make us vulnerable to COVID and whatever coronavirus or other infectious disease comes next.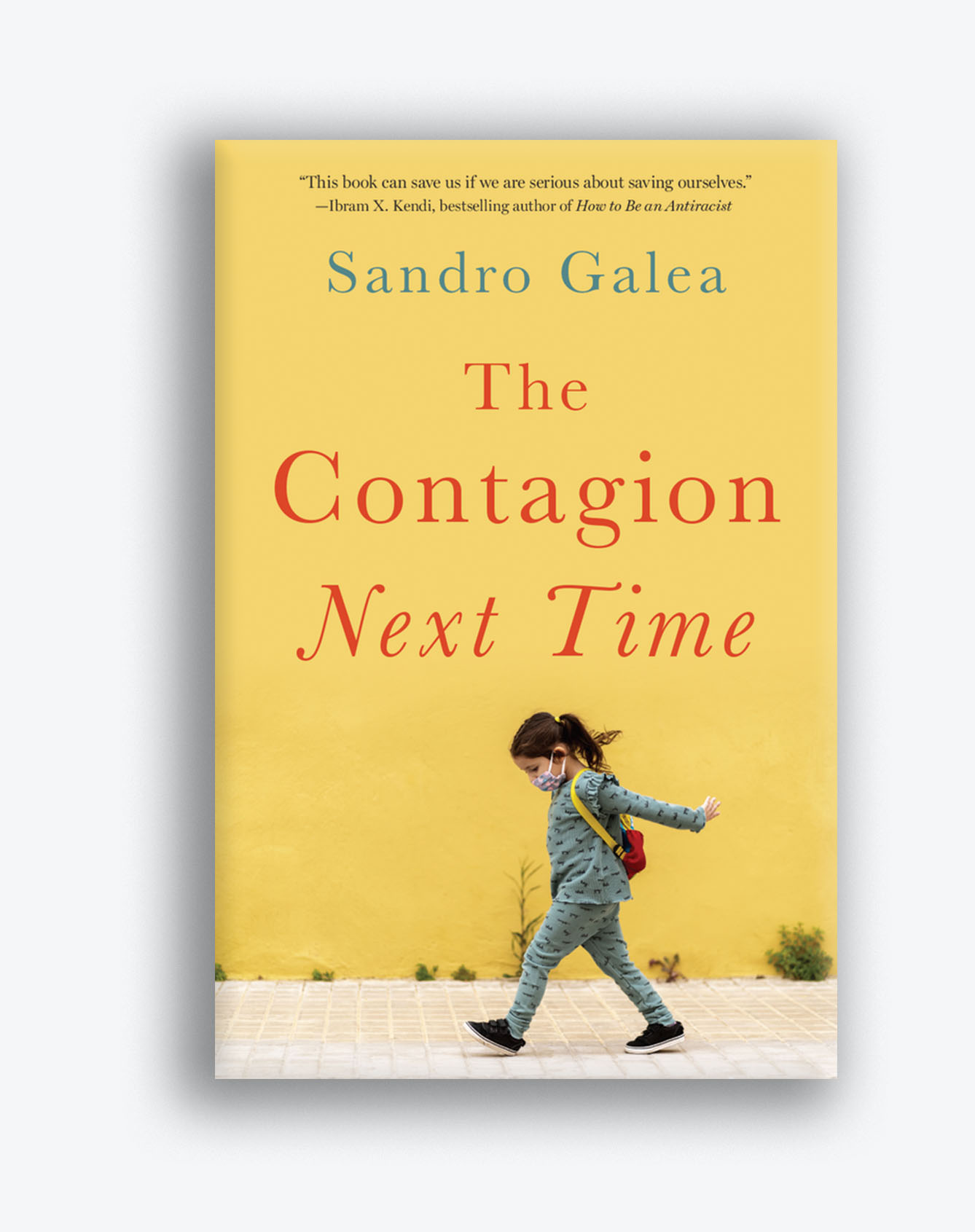 It's no coincidence that his title echoes James Baldwin's 1963 essential book on racism, The Fire Next Time. Ending economic and social inequities often driven by racism is the only effective way to tackle challenges such as chronic disease, malnutrition, obesity, addiction, and homelessness that leave us as a nation vulnerable to a pandemic, Galea writes.
"It will not matter how cutting-edge our treatments are, how nimble our process of vaccine development, how sophisticated our disease surveillance," his book continues. "We need to do what we did not do after SARS [severe acute respiratory syndrome] and invest in creating the conditions for health, guided by science and informed by our values."
Galea says that what he's "trying to do in this book is to make sure that in our conversations about the next contagion, as we slowly emerge from COVID-19 and think about rebuilding, is that we do not forget about these issues."
"Sandro Galea expertly demonstrates that our investing in the healthiest population possible is literally an act of national security against a future pandemic," says a cover blurb from Ibram X. Kendi, founding director of the BU Center for Antiracist Research, a College of Arts & Sciences professor of history, and the University's Andrew W. Mellon Professor in the Humanities. "The Contagion Next Time issues a clear warning, and a clear way forward. This book can save us if we are serious about saving ourselves."
Galea will answer questions about the book and the pandemic in a Reddit AMA today, Monday, November 1, at noon. Information on other virtual book tour appearances is here.
BU Today:
This is not the obvious post-pandemic best seller. Why?
Sandro Galea: I wrote it recognizing that there will be many books written about the pandemic, about the need for better vaccines, better therapeutics, better surveillance systems, better stockpiles. All those are important, those books should be written, but I wrote this book explicitly because if that's all we do, we will have failed. The idea behind the book is to be very clear that much of what happened in the pandemic was not a failure of medicine—it was a failure of social and economic structures. Our vaccine approach was a tremendous success, how quickly we got to an effective vaccine. The issue is that we did not pay attention to everything else.
BU Today:
Where were the effects of this failure during the pandemic?
Sandro Galea: The things that were worse in the past 18 months or two years are: one, the overall burden of death from COVID; two, the disproportionate burden of death and severe COVID cases borne by certain groups, particularly minoritized groups; and three, the many consequences of the mitigation efforts, the lockdowns and all that.
BU Today:
Start with the overall burden.
Sandro Galea: Fundamentally, it is a function of underlying morbidity in our population. We were not a healthy population to begin with, and we were sitting ducks for a virus that particularly affected people who were sicker to begin with. In this country, we are sicker and have shorter lives than we should because we don't pay as much attention as we should, and we spend less than we should, on the public health infrastructure that would mitigate obesity, chronic illnesses such as diabetes and heart disease, substance abuse, and lack of preventive care.
BU Today:
Why were the effects felt disproportionately by Black, brown, and low-income populations?
Sandro Galea: For two reasons. Minority groups had less capacity to protect themselves from exposure to COVID, because they tend to have unstable economic situations and a disproportionate reliance on jobs which have no flexibility. Black Americans were more exposed to COVID than white Americans because they are disproportionately more in essential occupations and on the lower end of the wage spectrum. The higher the income you have, the more likely you can work your job remotely. The second reason is that Black Americans have a disproportionate underlying morbidity which stems from decades and centuries of marginalization and fewer assets, going all the way back to Jim Crow.
BU Today:
The third problem is our response to the pandemic itself?
Sandro Galea: We went with the heavy bludgeon—the lockdown, shutting schools—because we didn't have the public health system in place to take a more nuanced approach. For example, the virus affects mainly older people, so a reasonable approach would have been to do everything we could to protect people over 65 and keep the schools open. Instead we ended up with isolation, a pandemic of poor mental health, more drug overdoses, loss of schooling. We know that education is perhaps the single most clear determinant of long-term health, so if we are curtailing educational attainment, we are curtailing long-term health for a whole generation.

A blunt lockdown effort results in loss of retail and frontline jobs, and those jobs are low-wage jobs held by people of color. Net job loss in the pandemic was exclusively in the lower 50 percent of the income range. That mitigation approach by itself is deepening economic divides.

Also, the rise in mood anxiety disorders to my mind directly links to social isolation and the lockdown measures that we've taken. You've seen our papers on that and the attendant consequences, including drug overdoses at a record high in 2020 of more than 93,000. These are all consequences of the approach we took and the economic consequences.
BU Today:
One thing you haven't talked about is our polarized politics and the related avalanche of misinformation assailing the vaccines and other efforts to contain the disease.
Sandro Galea: I do think where we get information and how we get it is a problem. This is the first global crisis that has been experienced through the prism of this democratized way of spreading information and the cacophony of voices that spread these stories. We don't know how to handle that. These social media issues are real issues, but in the next decade or two we'll get our hands around them. There's no question that they have become a real problem. I talk about how the voices of scientific experts have been tremendously refracted through social media in not necessarily positive ways, and I think science has a share of the blame.
BU Today:
Despite all this, you call yourself an optimist.
Sandro Galea: To paraphrase [respected Canadian researcher] Ronald Labonté, optimism is a useful form of political resistance. I choose optimism not naively. I choose optimism because the world has gotten better. The first chapter is about that, and I did that intentionally. The real danger about a book like this is to say, 'We're doomed, and nothing can save us.' I quite appreciate Ibram Kendi's quote, which they ended up putting on the cover, which says this book shows how we can save ourselves if we choose to do so. We can do better—we just need to choose to do better. Ultimately it is the smart thing to do, and the right thing to do.