BU's Initiative on Cities Funds Five Studies Examining Impacts of COVID-19 on Vulnerable Urban Communities, With an Eye Towards Combating Them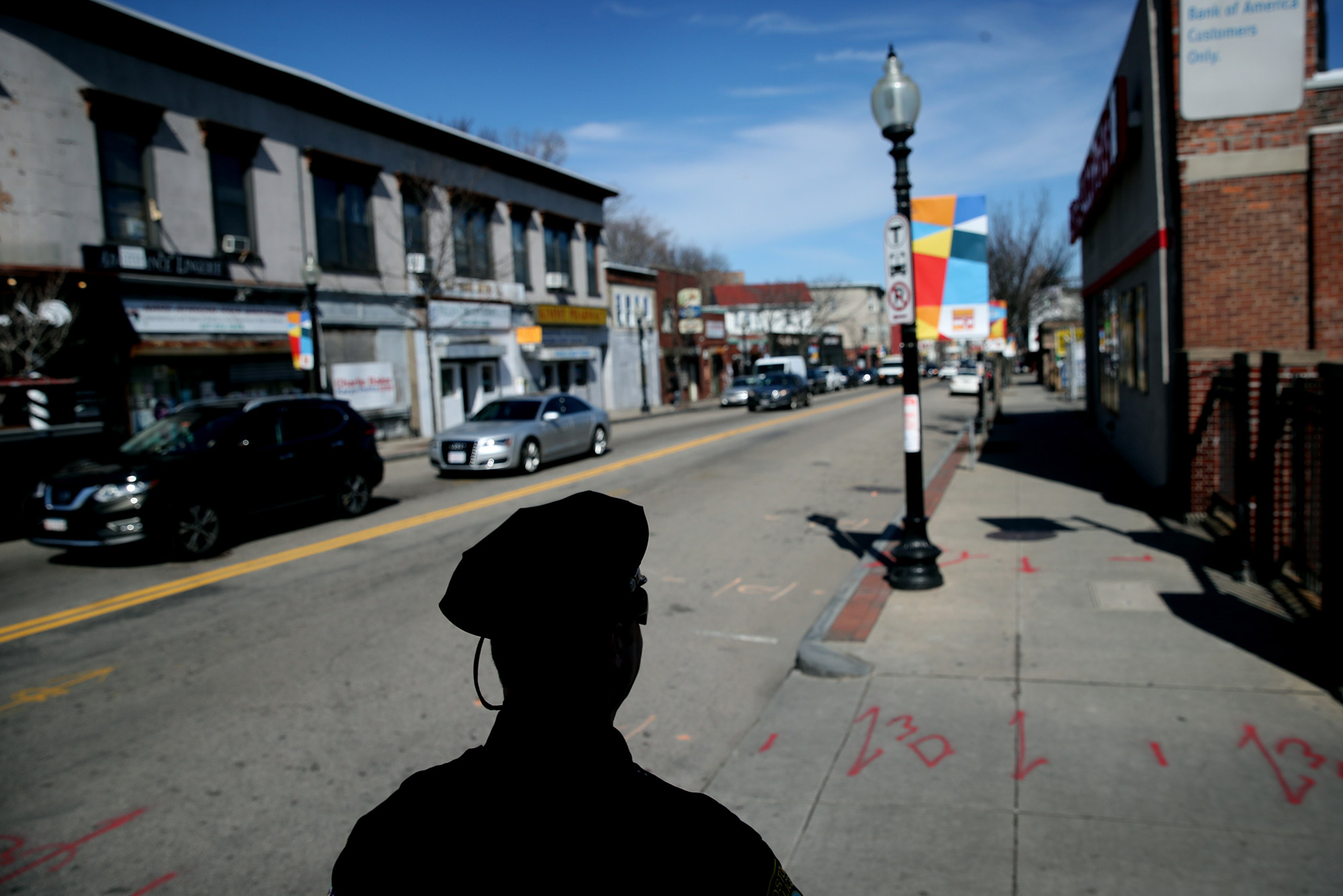 Social Justice
Five New Studies to Probe Pandemic's Impact on Vulnerable Urban Populations
BU's Initiative on Cities is funding research to drive social justice
Though you'd never know it from TV police procedurals, 80 percent of arrests and state criminal dockets involve misdemeanors—a few are more serious crimes (drunk driving, certain domestic violence cases), but most are for low level offenses, such as loitering, disorderly conduct, trespassing, and traffic violations.

"These ongoing practices have led to the mass criminalization of millions of people, and especially Black, Indigenous, and Latinx people," says Jessica Simes, a College of Arts & Sciences assistant professor of sociology.
The COVID-19 pandemic has worsened things as it's rampaged through those communities, turning police into public health enforcers. "Activists and news reports from select cities point to 911 calls and policing…as the primary tools cities are using to enforce social distancing guidelines," says Jaquelyn L. Jahn, a BU visiting scholar from Harvard.

Simes and Jahn will scour crime and 911 call data from eight cities, including Boston, to pinpoint differences in policing before and after stay-at-home orders and advisories, aided by other information about racial housing segregation and risk from the virus. Their project is one of five that have been awarded up to $10,000 from BU's Initiative on Cities (IoC), examining how COVID-19 has impacted underserved urban residents.

"We wanted to help BU faculty put their skills to use helping others during the pandemic," says Katharine Lusk, codirector of IoC. "The best way was to spur research focused on urban residents disproportionately impacted by the health and economic consequences of COVID-19. All the projects are designed to move from research to action within the next year, some within months."

The IoC issued an urgent call in April for BU-led faculty proposals to better understand the impact the pandemic has had on vulnerable populations, including young children and the elderly. IoC's grants are seed money intended to help the researchers pry outside financial support for their studies, Lusk says.
The five projects funded by IoC represent researchers from BU's College of Arts & Sciences, School of Medicine, School of Public Health, School of Social Work, and Wheelock College of Education & Human Development. 

"This work is a reminder of why (the late Boston Mayor) Tom Menino came to BU to found the Initiative on Cities," Lusk says. "He believed [the IoC] could change people's lives—in Boston and in cities everywhere." Menino received an honorary degree from BU in 2001.

In addition to Simes and Jahn's study on pandemic policing, here are the lead researchers and the study goals for the other four projects kicking off.

How is COVID-19 impacting Boston's young families?

Megan Sandel, BU School of Medicine (MED) associate professor of pediatrics and School of Public Health (SPH) associate professor of environmental health, and Deborah A. Frank, MED professor of pediatrics and SPH assistant professor of community health sciences
Children aren't COVID-19's usual victims—medically. But they may suffer from its economic fallout when families' food, housing, and other needs are jeopardized by the pandemic-induced economic depression. Sandel and Frank's study will check in with parents and young children who were previously surveyed during pediatric visits to Boston Medical Center (BMC), BU's teaching hospital, by the Children's HealthWatch research network.
"The pre- and post-survey data will allow [our team] to examine if food insecurity, economic hardships, and poor child and parent health have increased since the COVID-19 crisis. [That data] will also determine if such impacts have been disproportionately experienced by immigrant families and families of color," the researchers write in their study plan. The team will also consider whether policies supporting basic needs correlate to adult and child health in different racial, ethnic, and immigrant families.
How is the pandemic affecting loneliness, mental health, and material insecurity among Boston's aging residents?

Judith G. Gonyea, School of Social Work professor and Arden O'Donnell (SSW'21)
Among age brackets, people 60 and older suffer COVID-19's highest death rates, forcing them to shun groups and socializing. Given findings that loneliness can foster sickness, from heart disease to depression, a team of researchers led by Gonyea and O'Donnell will survey a racially and ethnically diverse sample of 120 Bostonians in this age group. The survey will be conducted in English, Spanish, or Cantonese. The researchers will ask interviewees' to share their coping strategies for stay-at-home advisories and whether they've maintained social connections, and will look for effects on elderly people's psychological well-being, loneliness, health, and financial hardships, such as food insecurity or cutbacks on medicines. Boston's Age Strong Commission will collaborate on the study.
Are Boston's healthcare workers transmitting the SARS-CoV-2 virus, responsible for coronavirus infection, to their family members?

Diana Ceballos, SPH assistant professor of environmental health, Jessica Leibler, SPH assistant professor of environmental health, Jennifer Greif Green, Wheelock College of Education & Human Development associate professor of special education, Jonathan Levy, SPH professor and chair of environmental health, and Julia Noguchi (SPH'23)
Are our proverbial "healthcare heroes" exposing their family members to the novel coronavirus, brought home from work? This study will probe possible transmission routes—on workers' clothing, skin, belongings—and, for lower-income health workers such as custodians and food services staff, the difficulties of avoiding infecting loved ones. For lower-income families, their housing might lack separate bathrooms and bedrooms for self-quarantine, for example, and they might more heavily rely on public transit. The researchers will interview workers about virus protections at work, home, and in between, as well as "take-home mitigation efforts." They'll also test-drive an interactive, online training program for workers and family members in mitigating take-home exposure to the virus.
How are cities responding to the COVID-19 housing crisis?

Katherine Levine Einstein, CAS associate professor of political science, and Maxwell Palmer, CAS assistant professor of political science
With the economic slump endangering many Americans' ability to pay their rent or mortgage, Einstein and Palmer will study housing assistance policies among the US's 150 largest cities and the 101 communities making up greater Boston's Metropolitan Area Planning Council. They'll examine how different-sized cities have responded to the COVID-19 housing crisis—financial relief, eviction and foreclosure moratoriums, etc.—in part by surveying selected housing commissioners about matters such as which policies are working, with a special eye toward whether the neediest are getting aid. Their findings about available assistance will be shared with those local governments and residents most in need, and with policymakers.