Posted May 2022
We're creating a crowdsourced cookbook in honor of this year's Asian American and Pacific Islander Heritage Month! We're calling on all our AAPI alumni to submit food recipes that have made an impact on their life. Sharing a meal is one of the most universal ways that people come together. We use mealtime to celebrate victories, mourn losses, laugh with old friends, and bond with new ones. Food recipes passed down through generations allow us to connect with and honor our ancestors in a way like nothing else does. When we embark on new journeys in unfamiliar environments, it is often those recipes that give us the deepest sense of comfort.
Whether the recipe you're submitting has been passed down by generations, is your own creation, or both—we'd love to see it.
Complete the form below to submit your recipe.
We will be collecting submissions throughout the month of May 2022.

To save a recipe card, right-click on the image and select "save image as…"
Stephen Padre (COM'95) shares a recipe for Pork Shish Kabob Barbecue, a recipe he was introduced to by his father. Stephen's father was a native Filipino and immigrated to the U.S. in his 20s. He married Stephen's American-born mother, and became famous among her family for this dish—a hit at family barbecues. Stephen's father passed away in November of 2021, and this dish is one way that Stephen remembers him.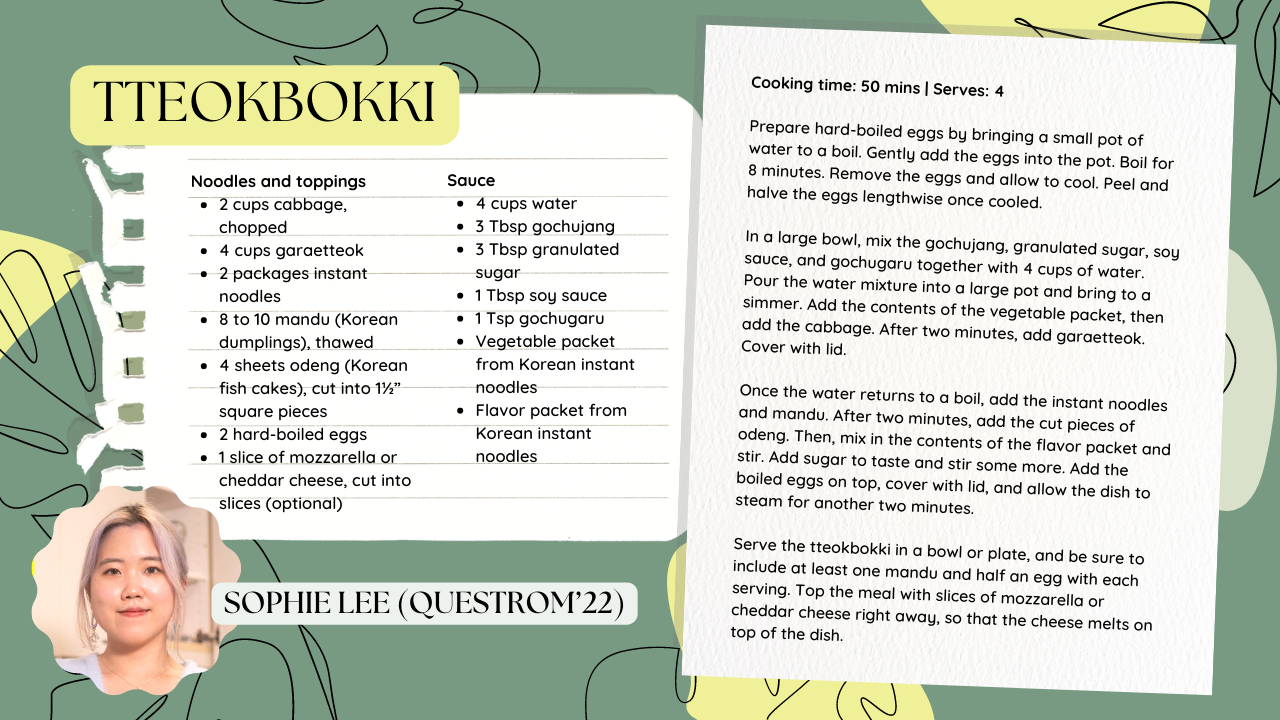 Sophie Lee (Questrom'22) shares a recipe for tteokbokki, a popular savory Korean street food dish made with ramen, rice cakes, cabbage—and more. Lee was first introduced to tteokbokki when she moved to Seoul, South Korea, in elementary school. She recalls it as "the first hangout food" of her youth—something she and her friends would indulge in when they were together—despite not liking most spicy foods (as her mother reminds her). Originally shared on BU Today.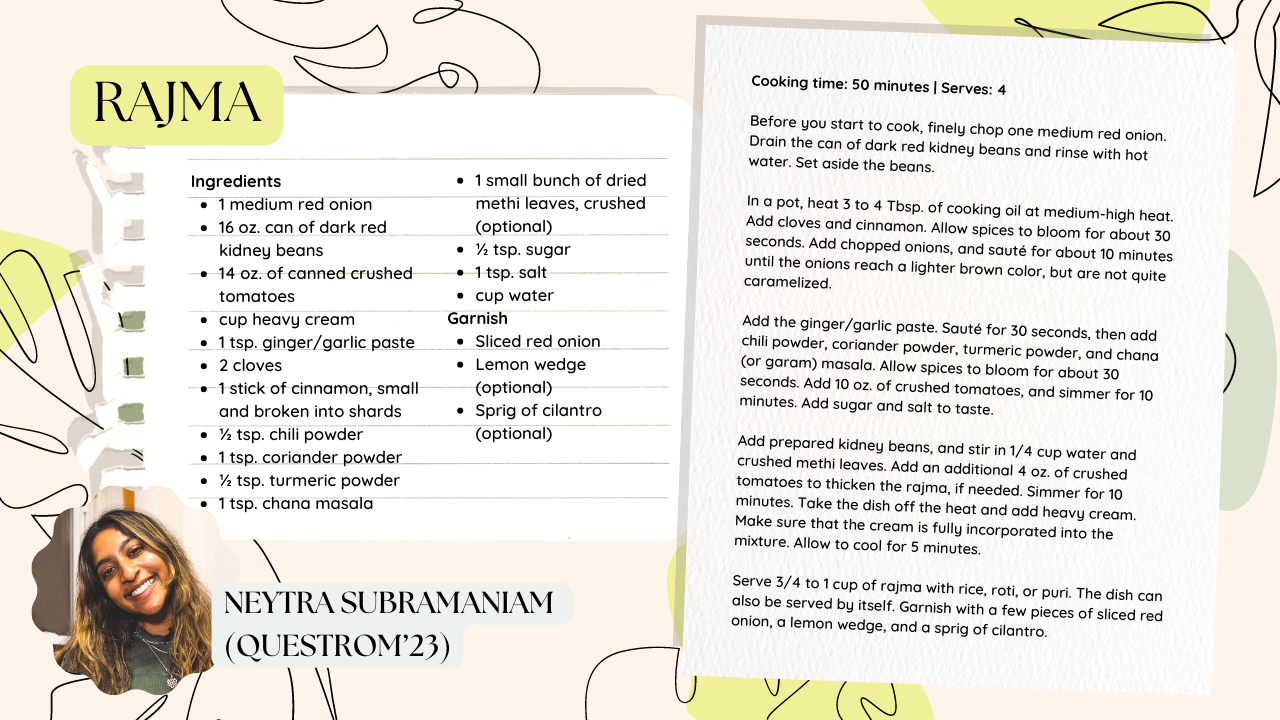 Neytra Subramaniam (Questrom'23) shares a recipe for rajma, a popular Indian curry of red kidney beans simmered in a gravy of pureed tomatoes and fragrant spices, like cloves, cinnamon, ground coriander, and tumeric. Neytra's mother, Bhanu, frequently prepares the dish at home, using a recipe handed down by her mother, whom Neytra calls Ammamma. Originally shared on BU Today.
Luyi Chen (Sargent'22) shares a recipe for sticky rice topped with slices of youtiao (Chinese fried dough), rousong (fluffy, savory meat floss made of dried pork), scallions, and more. Luyi was first introduced to this popular Chinese breakfast dish by her family, and this recipe includes the Chen family signature ingredient—green peas. Originally shared on BU Today.
Priyanka Naik (CAS'10) shares a recipe for chili maple cornbread as part of her newly released cookbook, The Modern Tiffin. Priyanka began cultivating a global perspective on food in her senior year at BU when she studied abroad in London, and got her first big break in professional cooking on The Food Network's "Cooks vs. Cons". Originally shared on Bostonia.