Microsoft Office for Boston University Students
By downloading you agree to the terms and conditions of the Microsoft Office for BU Students Program:
You are a full or part time student at Boston University, enrolled and settled in an accredited program during the semester you are accessing this service.
You are permitted to download only one copy of EACH version of Office (Mac OS and Windows) offered.
That your software download is for personal use and may not be sold or transferred to another person.
Your software download will be for one installation of the software. Additional (secondary) installations are governed by each software package individual End User License Agreement (EULA).
Software must be installed on a computer under the control of the eligible Boston University student. Licenses may not be transferred from the student to another party.
To download select your operating system
Office 365 apps
Office 365 Apps activate on or off the BU network and will remain activate according to your BU affiliation

You can install Office on up to 5 PCs or Macs, 5 tablets, and 5 smartphones.

Ensure Older versions of Office are uninstalled (2010,2013,2016)
Go to https://www.office.com/
Click "Sign in"

Enter your BU email address "username@bu.edu" then click "Next"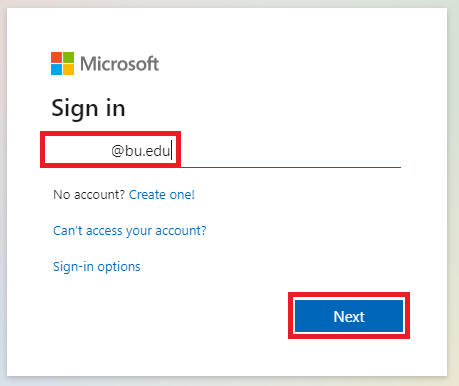 If you get the following prompt ensure to select "Work or school account"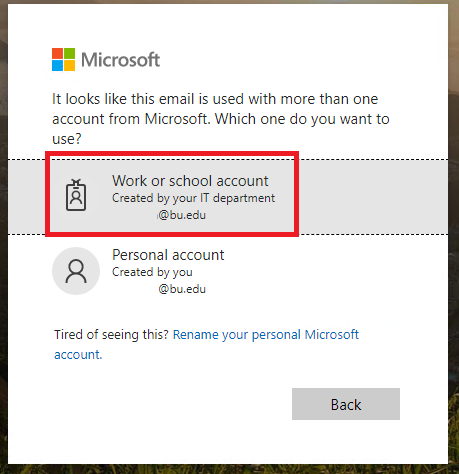 You will then get a login prompt from adfs.bu.edu, enter your BU username and Kerberos Password
Check click "Install Office" in the top right then click "Office 365 apps"

Follow the on screen instructions to complete installation
Finally open any of the Office applications (Word, Excel, PowerPoint) and you will be prompted to Sign in to activate. Use your BU email address and again select "Work or school account" if prompted