Get your start where it all began. Public Relations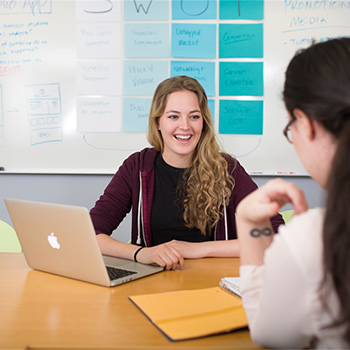 Welcome to the proud home of the world's first university degree in public relations. Other schools have followed suit, but we've never given up the lead.
The Boston University College of Communication (COM) Public Relations program and its faculty have vast experience identifying the effects of rapid change in media and technology and building the classroom experience around them. Students are trained to succeed in today's marketplace and lead in tomorrow's.
---
Balance your brain.
In our three-semester Master of Science in Public Relations program, you'll balance academics with practical application. You'll gain an overview of contemporary public relations, the nature of human communication, and the role of media before choosing an area of specialization. Hone your ability to write clearly and concisely in contemporary media formats, addressing different audiences. Develop professional management skills. And augment your studies with electives in nonprofit, corporate, or international public relations.
When you're through, you'll be ready to assume a leadership role in public relations. Really ready.
---
Learn from the best.
Study with prominent public relations professionals and renowned scholars, including three recipients of the Outstanding Educator Award presented annually by the Public Relations Society of America. BU is the only university in the nation with two endowed professorships in public relations. The public relations professors at COM are industry-renowned experts that bring those experiences and connections into the classroom every day.
Class sizes are small. Instruction is personal and often individual. Mentors become lifelong friends. You'll be both challenged and nurtured in a thoughtful, strategic environment.
---
Think. And do.
Practice public relations while you study it. We offer numerous opportunities for hands-on experience that is critical to landing a job. As a graduate student, you'll work in PRLab, the nation's first student-run public relations agency, with a variety of clients ranging from corporations to nonprofit groups. It's real public relations for real, paying clients.
Gain even more experience through an internship in your area of specialization. You'll learn alongside top public relations professionals and add valuable networking connections. An especially popular option is our summer London Internship Program – 12 weeks of studying global marketing communication and mass media theory, followed by a practicing internship.
---
About Boston.
Our location, Boston, is also one of our greatest resources. It's the nation's seventh-largest media market. Some of the world's foremost companies and organizations call it home. Boston is a major center for high tech, medicine, finance, biotech, and education. There's great culture, sports, entertainment and almost boundless opportunities for internships and careers.