Get your start where it all began. Public Relations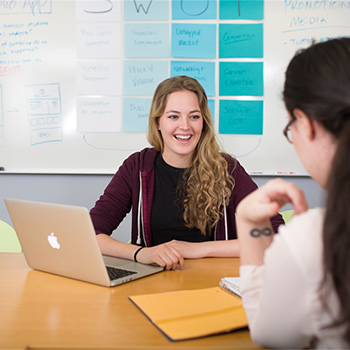 Welcome to the proud home of the world's first university degree in public relations. Other schools have followed suit, but we've never given up the lead.
The Boston University College of Communication (COM) Public Relations program and its faculty have vast experience identifying the effects of rapid change in media and technology and building the classroom experience around them. Students are trained to succeed in today's marketplace and lead in tomorrow's.
Follow us on social media.
---
---
Balance your brain.
In our three-semester Master of Science in Public Relations program, you'll balance academics with practical application. You'll gain an overview of contemporary public relations, the nature of human communication, and the role of media before choosing an area of specialization. Hone your ability to write clearly and concisely in contemporary media formats, addressing different audiences. Develop professional management skills. And augment your studies with electives in nonprofit, corporate, or international public relations.
You'll learn high-demand skills in our cutting-edge facilities, such as the Zimmerman Family Social Media Activation Center, used by students for social media and crisis communication classes, product launches, consumer-response measurement, and more. Our Communication Research Center has enhanced students' ability to measure media impact with investments in galvanic-skin-response, facial-recognition, and eye-tracking cameras and sensors, as well as in virtual reality.
When you're through with our program, you'll be ready to assume a leadership role in public relations. Really ready.
---
Learn from the best.
Study with prominent public relations professionals and renowned scholars, including three recipients of the Outstanding Educator Award presented annually by the Public Relations Society of America. BU is the only university in the nation with two endowed professorships in public relations. The public relations professors at COM are industry-renowned experts that bring those experiences and connections into the classroom every day.
Our faculty also engage in award-winning research, including colleagues who oversee an annual, nationwide survey for PRWeek assessing the current state of PR. This study has quickly become the most extensive and credible assessment of the industry, designed to provide corporations and agencies with high-value, relevant, and meaningful insights, and students with a real-time perspective on the professional environment they will be entering.
Class sizes are small. Instruction is personal and often individual. Mentors become lifelong friends. You'll be both challenged and nurtured in a thoughtful, strategic environment.
---
Think. And do.
Practice public relations while you study it. The signature aspect of our program is our students' experiences as scholars or professionals-in-training, from our Edward L. Bernays PRSSA chapter to innovative research. Your educational journey incorporates case-based learning, internships, and co-curricular activities that enable you to apply the skills you've acquired. As a graduate student, you'll work in PRLab, the nation's oldest, continuously operating, student-run public relations agency, with a variety of clients ranging from corporations to nonprofit groups. It's real public relations for real, paying clients. Following a steady stream of other national and regional awards, PRLab was recently honored with a PRNews platinum award for its annual hackathon when more than 100 students produce plans for non-profits in 18 hours of continuous work.
Gain even more experience through an internship in your area of specialization. You'll learn alongside top public relations professionals and add valuable networking connections. An especially popular option is our summer London Internship Program – 12 weeks of studying global marketing communication and mass media theory, followed by a practicing internship. From London to Boston, Los Angeles to Washington, D.C., students have interned across a wide range of employers, including the American Red Cross; Amnesty International; Bank of America; Big Brother Big Sister; Boston Bruins; Boston Celtics; Boston Red Sox; Burson; CBS; Cohn & Wolfe; Dana Farber Cancer Institute; Dell/EMC; Disney; Edelman; Fidelity Investments; Hill + Knowlton; Ketchum; Moody's; NBC Entertainment; New Balance; New England Patriots; New York Islanders; Puma; Reebok; UNICEF; the United Nations; Weber Shandwick; and many more.
---
About Boston.
Our location, Boston, is also one of our greatest resources. It's the nation's ninth-largest media market. Some of the world's foremost companies and organizations call it home. Boston is a major center for high tech, medicine, finance, biotech, and education. There's great culture, sports, entertainment and almost boundless opportunities for internships and careers.