Meg Tyler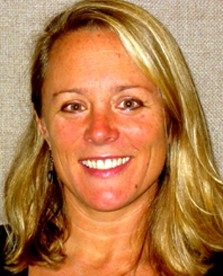 Associate Professor of Humanities
Education:
BA English, Kenyon College
PhD Twentieth Century American, British and Irish Poetry, Boston University
Teaching interests: Lyric Poetry, Creative Writing, Survey of the Humanities: Art and Literature
Research interests: History of Lyric Poetry, Contemporary Poetry, Sonnets in English and German, Poetry in Translation, Irish Literature, Intersections between Art History and Literature
Selected publications:
Books
A Singing Contest: Conventions of Sound in the Poetry of Seamus Heaney, NY: Routledge, 2005.
Co-editor, with Rosanna Warren, of two anthologies of prison poetry writing, Springshine and From This Distance, B.U. Press, 1997 and 1998.
Essays and Poems
"After November" (poem), Literary Imagination 13:3 (Fall 2011).
"Named Airs: American Sonnets (Stevens to Bidart)," in A Companion to Poetic Genre, edited by Erik Martiny (Wiley-Blackwell, 2011).
"A Poetic Trialogue," with Paul Muldoon and Jeff Hilson, in The Cambridge Companion to the Sonnet. Cambridge University Press (February 2011): 6-24.
"You Cannot Rest: Bidart, Lowell, Bishop, and the Sonnet," Literary Imagination 12:3 (Fall 2010): 377-384.
"Paths and Aftermaths: Some Thoughts about Seamus Heaney's and Michael Longley's Recent Sonnets," The Journal of Sonnet Studies 1:1 (February 2008): 20-31.
Presentations
Association of Literary Scholars, Critics and Writers (ALSCW), Boston MA (October 2011), "The Boyhood Letters of Toulouse-Lautrec."
International Association for the Study of Irish Literatures (IASIL), Leuven, Belgium (July 2011), "Heaney's Recent Poems."
American Literature Association (ALA) annual convention, Boston (May 2011), "Lowell, Bishop, Bidart and the Sonnet."
Other professional activity and/or awards:
Fulbright Teaching/Research Award, University of Innsbruck Visiting Professor in Humanities and Social Sciences, 2011-2012.
Dr. Ismail Sensel Award for Outstanding Professors, Boston University, 2005.
Director, Poetry Reading Series at Boston University.  Click here for the Poetry Reading Series web page.