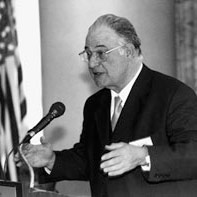 Juergen Kleiner
Professor Emeritus of International Relations
Juergen Kleiner worked in the Foreign Service of the Federal Republic of German for more than 30 years, from 1964 to 1998. His postings included numerous locations in Europe, Asia, and Africa. Of particular note, he served as ambassador to the Republic of Korea (1985 – 1992), Ambassador to Nigeria (1992 – 1995), and Ambassador to Pakistan (1995 – 1998).
His excellent service as a diplomat brought Kleiner several awards, including the Order of Diplomatic Service Merit of the Republic of Korea and the Order of Merit of the Federal Republic of Germany, First Class.
Kleiner has published numerous articles and several books, in both English and German. Most of his published work focuses on diplomacy and/or issues related to Korea. His most recent book is Diplomatic Practice: Between Tradition and Innovation.
Kleiner taught at Boston University from 1999 until his retirement in 2004.
Professor Kleiner's areas of expertise include diplomacy, international law, Northeast Asia, and South Asia.
Specialization