Academics
An academic experience in the heart of Boston.
Boston University's Metropolitan College international partnership program (MET International) is offered exclusively to students from Boston University partner institutions abroad. MET International immerses undergraduate and graduate international students in the Boston University experience through dynamic programs that include access to the University's highly regarded faculty and world-class resources.
Students live, study, and interact on Boston University's main campus, alongside a diverse population of BU students from all over the U.S. and around the world.
Upon program completion, students receive course credit and an official transcript from Boston University. Additionally, students have full access to the breadth of intellectual, social, and professional resources of Boston University, including:
State-of-the art laboratories, recreational facilities, and classrooms
Twenty-three libraries with 2.5 million volumes
Over a hundred academic centers and institutes
270,000-square-foot Fitness & Recreation Center
The George Sherman Union student center
Hundreds of academic and social clubs or organizations
MET International Undergraduate Semester
A unique experience in one of the United States' most exciting and historic cities.
Students enroll full-time, choosing from an array of undergraduate offerings at Boston University's Metropolitan College
Program corresponds to student interests and requirements of the home institution
Students can study for one or two semesters—fall and/or spring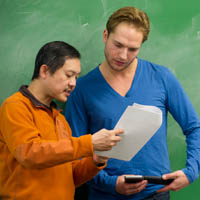 Graduate Certificate Programs
MET International offers graduate students from partner institutions the opportunity to concentrate in a specific field at Boston University, while satisfying the requirements of their home institutions.
Specialized, graduate-level learning
Valuable interaction with diverse students and faculty
Students complete a graduate certificate in just one semester
Summer Term at Boston University
Boston University Summer Term welcomes more than 7,500 students each summer – including over 500 visiting from abroad.
Students can attend one (or both) of the six-week summer sessions
Over 700 courses available
Students can enroll in courses offered by 13 of BU's schools and colleges