Reflecting on Our History
As BU Law celebrates its 150th anniversary, Professor David J. Seipp looks back to assess and appreciate the school's rich history.
Legal History
Reflecting on Our History
As BU Law celebrates its 150th anniversary, Professor David J. Seipp looks back to assess and appreciate the school's rich history.
Boston University School of Law is 150 years old this fall. Our alumni, students, staff, and faculty celebrate this anniversary by looking both backward to its past as well as forward to its future. While the school's greatest achievements and its graduates' most notable successes may well be in our future, it is fitting to look back, assess, and appreciate what has gone before.
Twenty-five years ago, I wrote that the most important event in American legal history that happened at BU occurred in 1897, our 25th year, when we invited a state judge—Oliver Wendell Holmes Jr.—to give an address at the opening of our new building. The speech, titled "The Path of the Law," set out the course of thinking about law for more than a century to come. But now, at this 150th anniversary, I would like to mention two other things that were even more important, and more to our credit. First, our law school—from the moment it began—has played an important, formative role in the structure of modern legal education in the United States. Second, our law school—again, from the moment it began—has offered access to the legal profession for members of groups previously excluded from such avenues to advancement.
To appreciate BU Law's importance in the history of legal education in America, we must remember that in 1872, going to law school was not a necessary or ordinary way to become a lawyer. The vast majority of American lawyers had not attended law school at all. Instead, nearly all of those aspiring to a legal career sought out an established lawyer who would allow them to "read law" in his office. When BU Law was founded, there were only around 30 law schools scattered across the US, none of them offering anything more than a two-year course, none setting entrance requirements other than payment of tuition, and only Harvard announcing that it was going to begin setting examinations for students completing its courses. Attending law school was simply that: if you enrolled, paid the tuition, and attended the lectures, you received the degree.
---

…Our law school—from the moment it began—has played an important, formative role in the structure of modern legal education in the United States.

---
Boston University, chartered in Massachusetts in 1869 as a Methodist school of theology, announced in 1872 that its law school, opening in the fall of that year, would be a new departure. No other law school in the US offered an academic program lasting longer than 18 months except Harvard, which under its new dean, C. C. Langdell, projected a two-year curriculum. BU invented the third year of law school. By the end of the 1870s, Harvard would take up our innovation. After many decades, state bars would begin to require three years of instruction for admission to practice, and every other American law school would follow the leader, BU Law.
By changing the curriculum, we also invented the first year of law school. BU interrupted the previous "round robin" system in which a law student could begin attending lectures on any day, and then attend continuously until the same point was reached by the lecturers, completing the school's 6- or 12- or 18-month program. BU required that students take examinations and pass first-year courses before they could begin second-year courses, and so on from the second to the third year. Langdell at Harvard was also beginning to require examinations at the end of each course. In these respects, BU could well boast at being the new model of a modern and rigorous law school in America, joined in a friendly rivalry with Harvard as national standard setters.
These two Greater Boston schools, previously the only law schools in Massachusetts, were far ahead of other American law schools in raising the standard of classroom instruction. Harvard trumpeted Langdell's case method, with a faculty of eight picked for their expertise in reading law, emphasizing theory. BU started with a large faculty of 18, mostly prominent practitioners and judges, including retired US Supreme Court Justice Benjamin R. Curtis. BU Law promised that students would learn "what to do and how to do it," and its graduates would not require a law office apprenticeship before practicing. Other law schools would begin to open in the Boston area starting in 1898. Two were founded by BU Law alumni and the rest had BU Law alumni on their first faculties.
The second source of pride that BU Law rightfully celebrates is its open access, since our school began, for all qualified applicants regardless of race, sex, religion, national origin, or other identifications. Many other law schools did not admit women until the 1940s, after World War II. The first woman enrolled at BU, Elizabeth G. Daniels, joined in 1874, and the second, Mary Dimon Sturges, in 1877. With Daniels were the first Black student, James Spriggs Payne Jr., from Liberia, and the first Asian student, Michukayu Nawa, from Japan. These "firsts" did not complete the degree, but remember that this was not required for practicing law at that time.
The first woman graduate, Lelia Josephine Robinson, Class of 1881, went on to lobby for the legislation needed to admit women to the Massachusetts bar, and she was the first woman to join its ranks. The first Black graduate, Emanuel Hewlett, was in the Class of 1877 with Takeo Kikuchi, the first Asian graduate. Harvard had earlier Black graduates, but its larger enrollment of white students from the South made BU more attractive to Black law students for many decades. Meanwhile, some schools imposed quotas on Jewish students and posed impediments for applicants from Catholic colleges when BU had large enrollments of students from both faiths.
The system of "reading law," still the norm through 1900, had informally limited the legal profession to those with family, social, and business connections that allowed young aspiring lawyers to be taken under the wing of a prominent, experienced practitioner. BU had a high proportion of students who were immigrants or children of immigrants, first-generation students, or the first in their family and community to aspire to legal careers. We are rightfully proud of our long history of inclusiveness.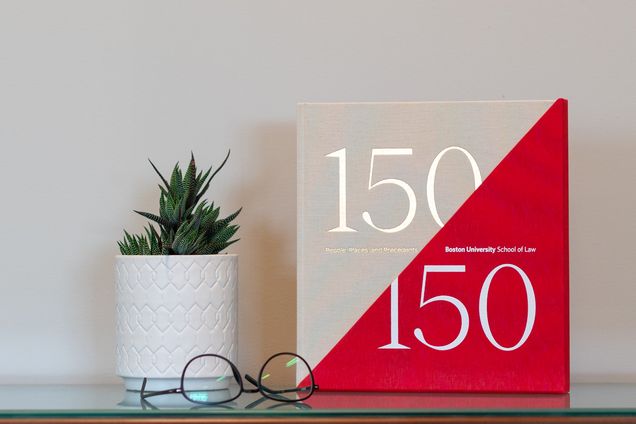 This essay is also published in 150/150: People, Places, and Precedents, a book celebrating BU Law's anniversary.
---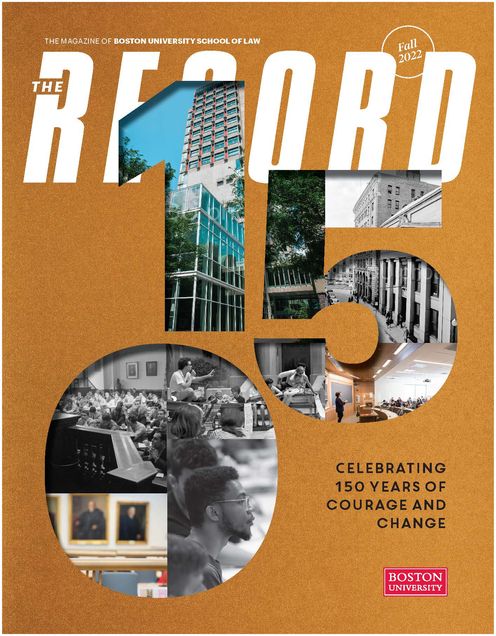 The Record, Fall 2022
---