Class Notes: Fall 2022
Class notes for the fall 2022 issue of The Record reflect submissions received between December 1, 2021, and May 31, 2022.
Alumni
News & Updates from BU Law Alumni
Fall 2022
Class notes for the fall 2022 issue of The Record reflect submissions received between December 1, 2021, and May 31, 2022.
---
Juris Doctor
1962
Edward D. McCarthy received the James N. Esdaile Jr. Award for Civility, Professionalism and Excellence from the Massachusetts chapter of the American Board of Trial Advocates.
1973
Peter Funk is now of counsel at Couch White LLP.
1974
Harvey Kaplan has retired and is working pro bono on First Circuit political asylum cases with Greater Boston Legal Services and the ACLU.
1976
Sean Coffey was named to the Rhode Island Lawyers Weekly Hall of Fame.
Michael McElroy has been recognized by the Rhode Island Bar Association with the 2022 Ralph P. Semonoff Award for Professionalism.
Hon. Mark Switalski announced his retirement from the Family Division bench of the 16th Judicial Circuit Court of Macomb County, Michigan.
1979
Patrick W. Boatman received the 2022 Career Achievement Award from the Connecticut Bar Association's Commercial Law and Bankruptcy Section.
1981
Mark Graham Hanson moved (back) to Florida shortly after graduation and has practiced law there in a variety of positions and locales over the years. Now mostly retired, he works one or two afternoons a week in a program at the local courthouse in Tallahassee, helping people who are representing themselves in court cases. He is traveling a bit, and still competing in open water swim races, usually 5 km.
Carl Weiner was selected for inclusion on the 2022 Pennsylvania Super Lawyers list.
1982
Gene Barton has been named to the 2022 Lawdragon 500 Leading Dealmakers in America list.
Robert L. Cook was elected to a four-year term as a town justice in Henrietta, New York in 2019. In addition, he was the recipient of the 2020 Eisenhower College Alumni Association Legacy Award.
1983
Maria Renna Sharpe joined the LGI Homes Inc. board of directors.
1986
Hon. Pennie McLaughlin was elected to a seat on the San Diego Superior Court.
1987
Peggy Daley has joined Charles River Associates as a vice president in the company's Forensic Services Practice.
Jennifer Lauro was honored to be named among the 2022 Massachusetts Lawyers Weekly In-House Leaders in the Law.
Adele Robinson joined Abt Associates as a principal associate.
John Shoro (LLM in Taxation'92) joined Bowditch & Dewey LLP as managing partner.
1988
Daniel Avery has been named to the 2022 Lawdragon list of 500 Leading Dealmakers in America list.
Gene M. Carlino was elected a fellow of the American College of Trust and Estate Counsel.
Karen L. Ling joined the advisory committee of Galderma, an independent dermatology company.
Louise Miller was appointed Framingham's chief financial officer by Framingham Mayor Charlie Sisitsky.
Veronica Serrato joined the board of directors of Sexual Assault Response Services of Southern Maine as vice chair.
1989
Lauren Liss joined Greenberg Traurig as senior counsel in the Environmental and Real Estate practices in Boston.
1990
1992
Hon. Victoria W. Chavey was named to the Connecticut Superior Court by Governor Ned Lamont.
Keith Gottfried launched Gottfried Shareholder Advisory LLC, a boutique firm focusing on advising public companies and their boards of directors with regards to shareholder activism preparedness and defense.
Stuart Katz has practiced in Connecticut at Cohen and Wolf PC since graduating from BU Law. He chairs the firm's Employment & Labor and Litigation & Dispute Resolution Groups and was recently appointed to the American Arbitration Association (AAA) roster of neutrals for employment matters. Katz's practice is unique in that he represents both employers and employees in a wide variety of employment-related matters in federal and state courts, as well as before the AAA and other alternative dispute resolution venues. He represents clients in a broad range of discrimination and harassment suits, restrictive covenant cases, breach of contract, and wage and hour claims.
1993
Nia Lena Caravasos is one of only two US lawyers featured by the international nonprofit project "Inspirational People." She was featured on the Super Lawyers cover in Philadelphia magazine and has been repeatedly recognized on Super Lawyers lists honoring the top women lawyers and the top 100 lawyers in both Philadelphia and the state of Pennsylvania. Having earned a reputation for being unafraid to break ranks with "the old-boy network," beginning with the Merlino mob trial and continuing with her strategic and uniquely holistic focus in restoring her clients to good lives, NiaLena is one of very few Wharton graduates who practices criminal defense and is uniquely positioned to relate personally to the challenges facing white collar defendants.
1994
Michele Cohen was honored with the Community Leadership Award at the Epstein Hillel School annual gala.
1995
Adrienne Banks Pitts was named an independent director of Retail Opportunity Investments Corp.'s board.
David Brodsky was honored with Boston magazine's Five Star Wealth Manager Award.
Kevin Hayden was named interim Suffolk County district attorney by Governor Baker.
C. Max Perlman has joined Gunderson Dettmer as a partner in the Labor & Employment Group in its Boston office.
Crane Pomerantz has joined Clark Hill as a member in the litigation practice in Las Vegas.
Peter Rosenthal recently started in the newly created role of executive vice president and global head of legal and business affairs at Warner Chappell Music, the music publishing division of Warner Music Group.
1997
Theresa Boni was named general counsel at Surface Oncology.
Jennifer Lawrence was appointed the first general counsel at NEXT Insurance.
1998
Bill Birmingham (LLM in Taxation'03) was named chief investment officer at Osprey Funds.
Sharon Briansky was named general counsel of Allegro MicroSystems.
Natalie Marjancik became managing director of Blue Wolf Capital.
2000
Kristen J. Fallon was promoted to senior partner in the Boston Office of Riemer & Braunstein.
2001
Alissa Kaplan joined Accruent as general counsel.
2003
Tyree Ayers was elected to the board of Maryland Volunteer Lawyers Service.
Jerald Korn has been named chief operating officer at Epizyme, a biopharmaceutical company developing and delivering transformative therapies for cancer patients.
2004
Christian Pugaczewski, a structured finance attorney with nearly two decades of experience developing innovative financial products and documenting derivative transactions, has joined Hunton Andrews Kurth as a partner in New York.
Nicole Sitaraman was appointed to deputy director in the Federal Energy Regulatory Commission Office of Public Participation.
Russel Stein (LLM in Taxation'05) was elevated to partner at the Partridge Snow & Hahn.
2005
Ari Behar is an associate at Lando & Anastasi.
Padma Choudry was elected a trustee of the Bedford Free Public Library.
Eduardo Chung joined Mazars USA as principal in the firm's Tax Practice & Procedures Group.
Julie Rosete rejoined the Ramos Law Group as a senior associate attorney.
2006
Erika Canchola was selected by the Los Angeles Business Journal for its 2022 list of "Leaders of Influence."
David S. Hong (LLM in Banking & Financial Law'08) joined Willkie Farr & Gallagher as a private funds partner.
Elad L. Roisman joined Cravath as partner.
2007
Lawrence Hunt, who counsels clients throughout the estate planning process, joined Pierce Atwood LLP as partner.
Peter Kals was named senior vice president and assistant general counsel at Citi.
Matthew J. Sinkman, most recently an assistant attorney general in the New York State Office of the Attorney General's Environmental Protection Bureau, has joined Gibbons PC as counsel in the firm's Environmental Group, resident in the New York office.
2008
Zach Cochran returned to King & Spalding as a partner.
Mark J. Esposito has been named a shareholder in the Springfield-based law firm of Shatz, Schwartz and Fentin.
Marisa Rauchway joined AY Strauss as a partner and chair of the firm's Franchise Group.
Jesse Roisin was named a partner in Holland & Knight's Real Estate Section.
Jenna Ventorino was elected partner at WilmerHale.
2009
Marion R. Harris was elevated to partner at Pryor Cashman, where he serves in the Litigation, Investment Management, Intellectual Property, and Media + Entertainment Groups. He was named to the 2021 New York Metro Super Lawyers list as a "Rising Star" in business litigation.
Melissa La Venia was named partner of US tax at Raymond Chabot Grant Thornton LLP in Montreal, Canada. Venia has been in the field of international tax since 2012, and has the pleasure of working with individuals, trusts, estates and closely held businesses around the world on their US inbound and outbound tax needs.
Nicholas Rohrer, who focuses his practice on complex commercial litigation in the Delaware Court of Chancery, was elected partner of Young Conaway.
2010
Carly Eisenberg Hoinacki was named a partner at Epstein Becker & Wild.
Adam Veness has joined Cyteir as general counsel.
Melissa I. Wernick was promoted to member at Chiesa Shahinian & Giantomasi PC.
2011
Michael L. Gurman has been named a partner in the Healthcare Practice Group of Ulmer & Berne LLP.
Ashley Jacobs, who concentrates her practice on representing debtors, lenders, and other parties in chapter 11 cases, as well as foreign representatives in chapter 15 cases, was elected partner of Young Conaway.
2012
Caroline Dotolo was elected partner at WilmerHale.
Carollynn Lear has been reappointed to the position of assistant commissioner of the New Hampshire Department of Revenue Administration.
Valerie Moore was named partner in Nutter's Real Estate Department.
2013
Brian Balduzzi (LLM in Taxation'14) was awarded the 2022 Rainbow Revolutionary Distinguished Alumni Award from SUNY Geneseo.
Greg Corbin recently led a merger between his law firm, Signal Law LLC, and Werge Law LLC, another boutique law firm in Denver, Colorado. The combined firm, Werge & Corbin LLC, will operate under the name of Werge Law Group.
Cristina I. Ramirez joined the Travis County Public Defender's Office. She is proud to return to her hometown and serve her fellow Austinites.
Ryan Very took advantage of BU Law's Post Graduate Fellowship Program at the ACLU of Pennsylvania in his hometown of Pittsburgh. That year, he worked to legalize same-sex marriage in Pennsylvania and strike down a voter ID law. After the fellowship, he started a law firm out of his attic, which has grown to a downtown firm of seven people.
Kiersten Zaza Botelho joined Hercules Capital Inc. as general counsel and chief compliance officer.
2014
Rebecca Hollander has been elevated to member at Cole Schotz PC. Hollander serves in the Bankruptcy and Corporate Restructuring Department, as well as the Real Estate Special Opportunities Group, and is located in the firm's New Jersey office.
Alysha Stein-Manes has been named to the 2022 Southern California Super Lawyers "Rising Stars" list.
2015
Caroline Fischer Espi was recognized by Orlando Style as one of Orlando's 2022 Top Women in Law.
Jessica Meyers, an associate with Brown Rudnick LLP, was part of the legal team representing Johnny Depp in a defamation lawsuit against his ex-wife, Amber Heard.
Ashley Tan joined Sullivan & Worcester LLP as an associate in the Real Estate practice group.
Hannah Tanabe, a senior attorney in the Employment Law Unit at Greater Boston Legal Services, was honored with a 2022 Massachusetts Bar Association Rising Star Award.
2016
Talene Ghazarian was elected to serve as director-at-large of the labor union representing California state attorneys and administrative law judges.
2017
Kristen Chassé recently joined Pierce Atwood LLP as an associate for the firm's Trusts and Estates Group.
Stephanie Calnan, an associate with Brown Rudnick LLP, was part of the legal team representing Johnny Depp in a defamation lawsuit against his ex-wife, Amber Heard.
2019
Gerard Fischetti joined Ginkgo Bioworks as corporate counsel in March 2022, focusing on SEC and corporate governance matters.
2020
Kati-Jane Childs moved to Baltimore, Maryland in February 2022 to begin work as an assistant public defender with the Maryland Office of the Public Defender.
Elizabeth Dreisbach joined Landman Corsi Ballaine & Ford.
Michael Farr joined Hill Ward Henderson an associate in the firm's Corporate Group.
Nathaniel Hontz delivered the Sussex County Bar Association Annual Law Day Lecture.
LLM in Banking & Financial Law
2009
Ibrahim Siddiki joined Bracewell as a partner in the firm's corporate practice.
2017
Diego Ostos Guerresi has been appointed as partner of Santamarina y Steta, in Mexico City. His practice focuses on banking and finance law, as well as capital markets.
2019
Heena Wozny is an associate in the Boston office of Morgan, Lewis & Bockius LLP.
LLM in Taxation
2000
Maria A. Cestone joined Coughlin Midlige & Garland as counsel in the firm's expanding Estate, Trust and Taxation Group.
2004
Leanne Scott was appointed as a principal at Baker Newman Noyes.
2007
Lawrence D. Hunt recently joined Pierce Atwood LLP as a partner in the firm's Trusts & Estates practice group.
2015
Lydia Edwards was elected to the Massachusetts State Senate to represent the First Suffolk and Middlesex district.
2016
Harsh Arora was recognized with the 2022 Diversity Leader Award by Profiles in Diversity Journal. The award recognizes those who work every day to expand and improve diversity, inclusion, and equity in the workplace and beyond.
2000
Alyson Ryan joined Nebraska Legal Group as divorce lawyer.
Matthew O. Young was elevated to partner in Pryor Cashman's Executive Compensation, ERISA & Employee Benefits, Labor + Employment, Corporate, and Tax Groups. His practice focuses on transactional matters with a focus on employee benefits and compensation issues in the context of acquisitions, dispositions, securities offerings and financing arrangements.
2021
Ann Marie Maccarone started new position as attorney with Pierce Atwood LLP in the Providence office.
---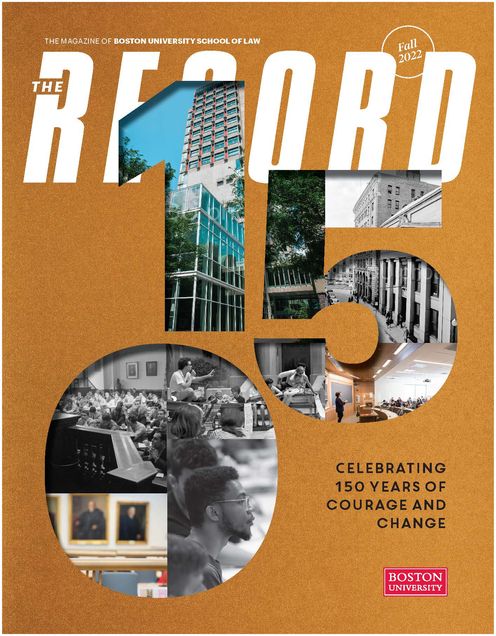 The Record, Fall 2022
---