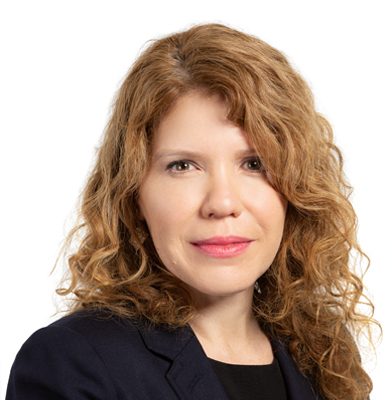 Karen Pita Loor
Clinical Professor of Law
Michaels Faculty Research Scholars
---
BS, magna cum laude, Barry University
JD, cum laude, Washington College of Law, American University
---
Biography
Karen Pita Loor was the associate dean of clinical & experiential education from July 2020 to June 2023, following eight years of teaching and supervising student attorneys in the Defender Division of the BU Criminal Law Clinical Program as they represent indigent clients charged with crimes in the Boston District Court.  Loor also teaches a seminar that she developed entitled Regulation of the Immigrant Experience where students examine, through a legal lens, the obstacles immigrants face in American society.
As associate dean of experiential education, Loor understood that through BU Law's various clinics, practicums, and externships,  students learn, engage in valuable public interest and service work, and build productive working relationships with practicing attorneys.  She views these programs as part of BU's connection to and impact on its community, as BU Law students practice in local courts—and even on the world—as students travel on international legal services projects. Recognizing the impact that BU Law clinical students are having in real time and will have as practicing attorneys, Loor's main priorities entail instituting training and support for students as they work to become culturally competent lawyers and encouraging them to explore systemic problems related to poverty, race, and other intersecting identities that affect the client population of many of the clinics.
Loor writes and speaks as an expert on issues related to protest policing, criminal law and procedure, police violence and immigrants' rights.  She encourages students to use their education to join conversations around legal matters and does the same.  She has testified in support of legislation that would make Massachusetts a sanctuary state. She has organized trips – involving law students and other faculty — to the Mexican side of the border to assist migrants seeking asylum.  She supervised a group of students who filed an amicus brief in a first-of-its-kind case arguing that Massachusetts state and local law enforcement do not have the authority to detain a criminal defendant pursuant to an immigration detainer.
Loor initially joined the BU Law clinical faculty in 2011 after serving as a clinical associate professor with the Florida International University College of Law, supervising law students representing unaccompanied immigrant children in immigration and neglect proceedings. She started her legal career as a staff attorney at the premier public defender office in the country, the Public Defender Service for the District of Columbia, where she represented indigent clients in criminal trial and appellate matters.
Profile Types

Areas of Interest

Profiles
Publications
Scroll left to right to view all publications
In the Media
Scroll left to right to view all in the media posts