The FIRST STEP Act is a move toward criminal justice reform, but BU Law faculty say true change needs to go much further.
A homeless man is detained for trespassing on private property and if found to possess a small amount of heroin. At arraignment, his history of prior arrests and petty offenses leads the court to impose bail, which he can't afford, so he remains in jail while his case is processed. The court-appointed defender is overwhelmed with other cases and encourages him to plead guilty to minimize his time behind bars. In jail, he doesn't receive treatment for his drug addiction, nor other meaningful services to help him rebuild the life to which he will soon return. Upon release, his criminal record prevents him from getting a job or benefitting from public housing. Without other options, he returns to the streets, where the cycle begins again.
The average person doesn't want to hear about the problems with the criminal justice system, says Professor Tracey Maclin, who focuses on civil rights, constitutional law, and criminal law and procedure and has served as counsel of record for the ACLU, the National Association of Criminal Defense Lawyers, and the Cato Institute in a number of US Supreme Court cases addressing Fourth Amendment issues. "They may distantly know someone who is involved, but they can't imagine being caught up in it." Yet, taxpayers are paying $80 billion a year for public correctional facilities, so its problems impact everyone.
With more than two million people in jails and prisons across the country, the US has one of the highest incarceration rates in the world. According to the ACLU, the country's incarcerated population has increased by 700 percent since 1970, with African Americans held at a rate more than five times that of whites. When people are released, strict probation terms, ineligibility for public housing, lack of job training, and other legal restrictions make it difficult to find work or a place to live, which increases the risk of recidivism.
"We have the world's largest prison population, but we have very little reason to think we are getting any particular public safety out of most of that incarceration," says Professor Gerald Leonard, a leading historian of American constitutionalism who teaches criminal justice and criminal procedure courses. "We're inflicting a tremendous amount of suffering on people as well as their families and communities at a large monetary cost. And with the country's long history of using the criminal justice system for essentially race-based control of populations, we are piling a lot of injustice on top of injustice."
Clinical Professor Wendy Kaplan, who supervises law students in the Criminal Law Clinical Program as they represent juvenile and adult defendants in criminal and delinquency trials, agrees. "It's important to ask why there are so many people being held. Is the purpose of punishment deterring others? Rehabilitation? Reform? We have many divergent goals for incarceration and none of them seem to be working."
"There are many people in the criminal system with a history of mental illness who are competent but homeless, unemployable, and have difficulty navigating where they will find food and shelter," she adds. "Yet there aren't enough diversion programs on the front end of the system to keep them out of jail."
The country's long history of racism, the war on drugs, and harsh mandatory sentences have all contributed to the dysfunction of today's criminal justice system. Most experts agree that we need reform, although what that reform should look like is still being debated, even as Congress passes incremental measures.
More and more lawmakers recognize the failings of the system and the need for change. With bipartisan support, President Donald Trump signed the FIRST STEP Act into law on December 21, 2018, to codify long-sought- for reforms to the system. Overall, it seeks to expand rehabilitative programming, increase earned-time credit opportunities for early release, and reduce mandatory minimum sentences.
"This is a first step in the right direction. Politicians realize that the money put into the system isn't paying dividends. People aren't coming out rehabilitated or reformed, and they go back to crime. And many people are held for nonviolent drug crimes and don't need to be there at all," says Maclin, noting that the law affects only people in federal prisons while the vast majority of the incarcerated population is held in local and state jails.
As for state-level reform, Leonard says there are efforts around the country to make the system "more humane and effective"; however, they are limited. "People are starting to pay more attention, but it will be a long time before there is real momentum to change what the criminal justice system looks like on the local, state, and federal levels."
Critical Needs
There are many critical changes necessary for real reform, starting with alternatives to incarceration.
"Not everyone needs prison. Sometimes prison is just a school for further criminalization because it doesn't provide education or positive programming. Inmates don't move forward in any way and their punishment affects families and communities, too," says Kaplan. She points to BU's Prison Education Program, which offers undergraduate courses at correctional institutions in Massachusetts, as an example of positive programming. "Most inmates are not serving life sentences and will come back to society and need to be equipped."
Maclin agrees. "People in prison need education so when they come out, they have better options than crime," he says. "We need to give them practical tools to reduce recidivism."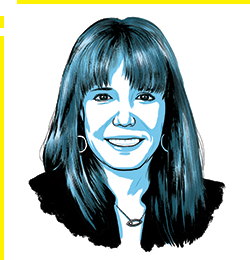 More mental health and substance abuse counseling is also needed. "We need to limit the way we use prison as a tool and instead fight the root of the problem, which is often related to mental health and substance abuse," says Karen Pita Loor, associate dean for experiential education and clinical associate professor in the Criminal Law Clinical Program. "We should treat the illness instead of taking the person out of society. Prison should be a last resort."
Prosecutors also have the potential to impact reform. "Rachael Rollins in Boston, Larry Krasner in Philadelphia, and Eric Gonzalez in Brooklyn are all examples of district attorneys who have said they won't prosecute for low-level drug possession and crimes," says Maclin. "Prosecutors have tremendous power to decide who gets charged and only a small percentage of those people have a full-blown trial because of plea bargains. That means many people are accepting shorter jail time in exchange for pleading guilty to lesser crimes, but prosecutors like Rollins are saying they are going to do things differently and not prosecute lesser crimes."
On the public defender side, organizations need sufficient funding to ensure competent representation for all defendants. A former public defender in Washington, DC, and court-appointed attorney in Miami, Loor says, "In Washington, DC, we had a well-funded office, which meant we had reasonable caseloads and clients got the type of zealous defense that the Sixth Amendment guarantees every person in a criminal case. We also had investigators, so we were able to look behind the police report and discover facts important to a client's defense. Once we got to trial, we understood the facts of the case, the law, the client's life and his priorities so that we could defend his interests."
However, this level of funding is unusual. "In Miami, the attorneys at the public defender office are committed and work hard, but they just don't have the resources," she says. "Each attorney has hundreds of cases, which means it is impossible for each attorney to follow a client from arraignment through trial."
"This system survives at the expense of the zealous representation of indigent defendants," adds Loor. A public defender is assigned to handle all matters assigned to a courtroom. For a public defender in the trial courtroom, that often means meeting the client on the day of trial, relying on information the client provides in that meeting and the police report, and having just a few minutes to prepare the case. "No matter how dedicated or how talented the attorney is, it is impossible to properly defend the case."
The problem doesn't get any better when cases are assigned to appointed counsel whose fees are usually capped at an unreasonably low amount, she says. "For an attorney trying to make a living as appointed counsel, the best business decision is to encourage an early plea—even if that is not the best decision for the client."
Even if the pleas don't result in jail, misdemeanors are still a "big deal," says Leonard, noting that they can lead to serious problems with other aspects of life like getting a job, immigration status, and qualification for student loans.
A FIRST STEP Toward Federal Reform
The FIRST STEP Act attempts to reform the federal system and mitigate overcrowded prisons and disproportionate sentencing. It reduces mandatory minimum sentences for nonviolent drug offenses, converts life sentences under the three-strike penalty to 25 years, and gives judges more flexibility in sentencing for nonviolent drug offenses. It also requires prisons to provide programs to reduce recidivism, bans the shackling of pregnant women, and expands earned-time credit opportunities.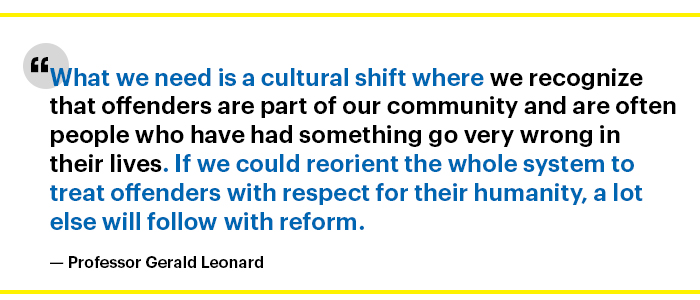 In addition, the law requires the Department of Justice to develop a Post-Sentencing Risk and Needs Assessment System, so that lower-risk prisoners might be eligible to serve the final term of sentences in halfway houses or home confinement.
"This is a positive start toward shifting to a potentially more rehabilitative system instead of one that is purely punitive," says Loor, who supervises students in the Defender Clinic (part of the Criminal Law Clinical Program). "By reducing mandatory minimums, certain people will spend less time in prison. It also says that prisoners should be placed closer to families—within 500 miles—which is important because loss of contact with family makes it harder to reenter society."
However, she is concerned by the risk assessment. "The devil is in the details. Sometimes risk assessments can be biased, so we need to understand how they predict who is likely or less likely to reoffend." Kaplan, formerly an attorney for the Massachusetts Defenders Committee, points to the programs to reduce recidivism as another cause for concern. "Where are the funding allocations for those programs coming from?" she asks. "Who will identify the appropriate inmates for earned-time credit opportunities?"
And with the law excluding so much of the incarcerated population, including undocumented immigrants and sex offenders, Kaplan doubts that the FIRST STEP Act will result in many people being released from federal prison. "It's better than nothing, but the law could go so much further."
"I don't think there is one key thing that will turn the tide on criminal justice reform," Leonard adds. "What we need is a cultural shift where we recognize that offenders are part of our community and are often people who have had something go very wrong in their lives. If we could reorient the whole system to treat offenders with respect for their humanity, a lot else will follow with reform."
"Isolated and Localized" Beacons of Progress
While the federal law is making a "first step" toward reform, some states and localities have made bigger leaps in recent years.
"There are places around the country with effective reform programs, but they are isolated and localized," says Leonard. "Maine has reduced the use of solitary confinement and Washington, DC, long ago virtually eliminated cash bail."
The cash bail requirement, Leonard explains, has led to large-scale detention of defendants, which disrupts family relationships and makes employment difficult. Further, data shows that defendants who do not post cash bail are more likely to be convicted and receive a more severe sentence.
"The longer you are detained, the more likely you are to plead to something just to get out of jail sooner. Ninety-five percent of convictions are due to a guilty plea. We need other ways to ensure that people show up for court dates without requiring cash bail," he says, noting that Washington, DC, uses pretrial services to ensure defendants show up for court and receive the services they need to stay out of trouble. "In this respect, Washington, DC, has been a beacon for criminal justice reform for a long time."
Kaplan, who teaches a seminar on juvenile delinquency, notes that Boston's juvenile system also exhibits positive reform. "The focus there is on preventing arraignment, so youths don't get a criminal record. Using diversion programs, the juvenile system is working with a network of community organizations to provide job training and education."
She points to Boston-based nonprofit More Than Words as an example. The organization empowers youth who are in the foster care system, court involved, homeless, or out of school to take charge of their lives by managing online, retail, pop-up, and wholesale bookselling businesses.
"By training and employing kids to work in a business, they learn what it means to be responsible, to get to a job on time, to do a good job, and to get paid. Without this type of foundation, they may end up in prison by the time they are 18, so it's very important to focus on juveniles," she says. "That is how the front end of the criminal system can really reform—give people opportunities to stay out of prison."
Reported by Meghan Laska
Cover illustrations by Taylor Callery, faculty illustrations by Joel Kimmel
This feature originally appeared in

The Record, BU Law's alumni magazine. Read the full issue here.
---
Related
News