Demonstrating China's Global Power: Webinar Launch and Demonstration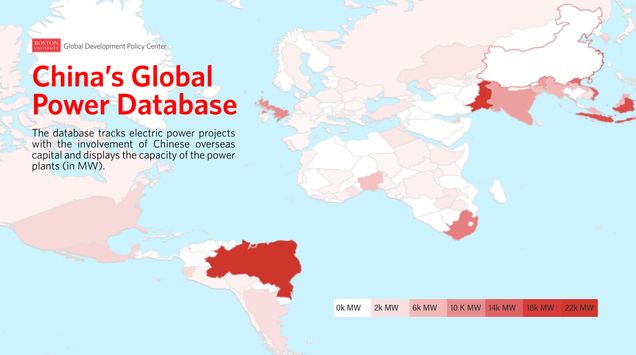 By Maureen Heydt
On Thursday, October 22, the Global Development Policy Center hosted a webinar launch event for the new interactive China's Global Power (CGP) Database. The CGP Database is an interactive mapping of all overseas power plants financed through Chinese foreign direct investment (FDI) and/or China's two global policy banks, the China Development Bank and the Export-Import Bank of China. The database maps these projects by estimated CO2 emissions, lender, deal type, technology, capacity and operating status of the power plants.
The webinar discussion featured GDP Center Director Kevin P. Gallagher, Senior Researcher Cecilia Han Springer, and China Research and Project Lead, Xinyue Ma.
To begin, Ma gave an overview of findings from the database, noting that, "At the end of 2018, Chinese capital has involved upwards of 777 power plants overseas, providing a total 186.5 GW of power generation capacity. Among these power plants, Chinese participation includes debt finance and FDI, such as mergers and acquisitions (M&A) and greenfield investments." Additionally, "40 percent of China's overseas power plant capacity is in the form of coal-fired power plants; 27 percent is hydroelectric and other renewable energy only accounted for 11 percent of the total capacity" and "Assuming all fossil fuel projects under construction or planning come online by 2030, they will add another 211 million tons to annual CO2 emissions." Ma further commented that policy banks and FDI have markedly differing investment patterns.
She further noted that the top 15 countries account for 77 percent of all Chinese overseas energy investment and finance:
Additionally, just ten Chinese companies investing in power generation overseas account for 77 percent of all Chinese overseas energy investment and finance:
Han Springer discussed the environmental impact, noting that while renewable energy has been growing, fossil fuel projects have continued in operation and under construction as well. "With current plans," she stated, "by 2030 accumulative CO2 emissions from these fossil fuel power plants will reach approximately 5.9 gigatons, which would consume 1.3 percent of the global carbon budget for a 66 percent of limiting global warming to 1.5 degrees Celsius."
Next, Ma gave a demonstration of how to use the database to search for records based on region, country, time period, emissions, and type of plant. Han Springer added, "We hope the CGP database can be a great resource for journalists, civil society, researchers, policymakers and others."
The demonstration was followed by a Q&A sessions with the audience.
For more information on the China's Global Power Database, see the following resources:
For a discussion of the policy implications, review the policy brief;
For a summary of main highlights, see the blog;
For a discussion on the methodology, review the methodology note;
The CGP Database is based on research from the following academic studies: