RANDOM ACTOR
As a theatre artist, in collaboration with software engineers and graphics designers, Clay Hopper, senior lecturer with BU School of Theatre, is engaging in creative research where he attempts to utilize conventional projection mapping technology in combination with interactive, generative-computer graphics and computational vision, in order to create a completely fluid and projected environment for the actor.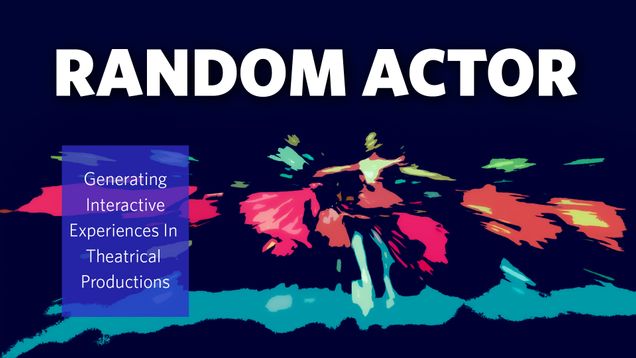 Generative art is a relatively new digital artform. Essentially, it entails a computer programmer (artist) developing code that sets perimeters (an algorithm) for images that the computer generates. After coding the application, the artist inputs a certain stimulus (in this case the actor's movements) and from this input, the computer "organically" generates imagery based on the code perimeters. Then the artist becomes an audience to the results.
The RANDOM ACTOR project team's early work found that when attempting to stage a play within an immersive, fully projected-media environment, the normal system of rehearsal was insufficient for the aesthetic application they were pursuing. Because of the inordinate amount of time spent adjusting/writing code, the team developed the idea of a software application that could change the values of any given generative algorithm in real time, as they worked in rehearsal with the actors and other designers. In this way, all of the elements could be created together as a seamless whole: the projection design changing to accommodate the actors staging, the director then staging the actors to accommodate those new design adjustments, which then further refines the design and the values of the generative graphics.
The software tool, RANDOM ACTOR, is a new application for design in the theatre, with its specific demands around narrative, and with the capability for real-time design with an intuitive user interface eliminating the need for designers to write code.
To complete this project, the team is enlisting the help of a Visiting Interdisciplinary/Interactive Media Artist in Residence in the Spring of 2022. The Shipley Center's support allows them to hire the highly accomplished interactive media artist, Paolo Scoppola, to work with students in The School of Visual Arts, The School of Theatre, and The Center for Computing and Data Sciences on a production of a play, EXIT THE KING by Eugène Ionesco, produced at the College of Fine Arts. This production will be the pilot for – and feature the deployment of – RANDOM ACTOR, the novel software tool that enables real-time design of interactive generative graphics in a narrative context.
Read the May 4, 2022 BU Today Story: Exit the King, and Enter Random Actor

March 2022 BU College of Fine Arts workshop with Paolo Scoppola.
Clay Hopper is a Senior Lecturer in Directing at BU School of Theatre. Previously Clay served as the Associate Artistic Director of Olney Theatre Center and Director of both the National Players and the Summer Shakespeare Festival at OTC. Directing credits include Two Gentlemen of Verona, Twelfth Night, The…
14

July

Ask EdTech: Drop-in Office Hours

12:00 PM - 1:00 PM

https://bostonu.zoom.us/j/96713514850?pwd=WDhsMXQ1dEpkSVRLRS9LcXR5cFYrZz09

14

26

July

Teaching with Technology Faculty Community: Topic TBD

1:00 PM - 2:00 PM

https://bostonu.zoom.us/j/91394467279?pwd=U0hZVFZ4NDdQTGNJdHN1MzROTDRrdz09

26

28

July

Ask EdTech: Drop-in Office Hours

12:00 PM - 1:00 PM

https://bostonu.zoom.us/j/96713514850?pwd=WDhsMXQ1dEpkSVRLRS9LcXR5cFYrZz09

28

11

August

Ask EdTech: Drop-in Office Hours

12:00 PM - 1:00 PM

https://bostonu.zoom.us/j/96713514850?pwd=WDhsMXQ1dEpkSVRLRS9LcXR5cFYrZz09

11

24

August

Teaching with Technology Faculty Community: Topic TBD

11:00 AM - 12:00 PM

https://bostonu.zoom.us/j/96291208211?pwd=Lzd1a0dXemFaUlIrWVZlcnBNZ05NUT09

24

25

August

Ask EdTech: Drop-in Office Hours

12:00 PM - 1:00 PM

https://bostonu.zoom.us/j/96713514850?pwd=WDhsMXQ1dEpkSVRLRS9LcXR5cFYrZz09

25