Lightning Talks Spring 2023: Writ Large: The Place of Writing in University Learning
Co-hosted by Digital Learning & Innovation (DL&I) and The Center for Teaching & Learning (CTL), the Spring 2023 Lightning Talks are a learning and reflection forum where Boston University faculty and invited guests identify areas of challenge and opportunity and share strategies for engaging educational experiences for all students.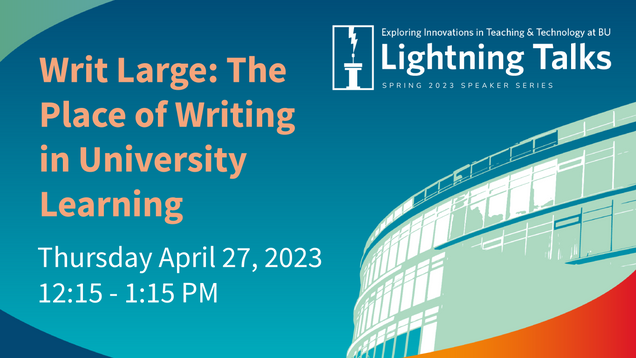 Writ Large: The Place of Writing in University Learning
The central place of writing in university learning and intellectual life is not disputed. But our definition of what constitutes writing continues to evolve, along with our teaching approaches and tools. In a world of multiple Englishes, new writing technologies like ChatGPT, and expectations in the workplace of collaborative writing, what should we as educators know about the place of writing in the university and beyond? Join us for informative presentations and spirited conversation with colleagues on the evolving place of writing in higher education.
Thursday, April 27, 2023
12:15- 1:15 pm
Held via Zoom
Register Here
About the Lightning Talk Format
Fast, peer-driven, and information-rich. Lightning Talks showcase four-to-five presenters—each exploring innovations in teaching and technology at BU. All speakers will adhere to a maximum three-slide format for a short, focused, five-minute presentation. After all presentations, the moderator will encourage and facilitate cross-disciplinary conversation on the topic.
---
Missed a Lightning Talk? Access the Lightning Talks Video Library
Check out the library of recordings and learn how Boston University faculty foster classroom community, build an inclusive classroom, manage long block or large lecture classes, and more. View the Lightning Talk recordings and presentations here.
Learn more about Boston University's Digital Learning & Innovation and The Center for Teaching & Learning. Questions? Email digital@bu.edu.