A Pursued Justice: Black Preaching from the Great Migration to Civil Rights (Homiletic Book Review)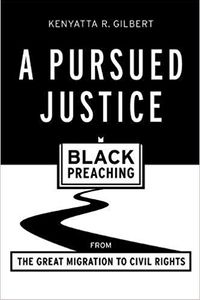 Jackie Blue, a doctoral candidate in Practical Theology at BU School of Theology, recently reviewed A Pursued Justice: Black Preaching from the Great Migration to Civil Rights by Kenyatta Gilbert. Please see the beginning of Blue's review below and visit the Homiletics website for the full review 
Homiletic is a scholarly forum in homiletics and a review of publications in religious communication. It is a freely accessible, peer-reviewed journal. Homiletic is sponsored by the Academy of Homiletics.
Kenyatta R. Gilbert. A Pursued Justice: Black Preaching from the Great Migration to Civil Rights. Waco: Baylor University Press, 2016. 224 pages. $39.95.
Review Excerpt
What does it mean to preach prophetically? This is the question Kenyatta R. Gilbert,
Associate Professor of Homiletics at Howard University School of Divinity, asks in his second project, A Pursued Justice: Black Preaching from the Great Migration to Civil Rights. Building upon his initial work (The Journey and the Promise, 2011) in which he introduced the concept of trivocal preaching, defined as preaching "marked by three constitutive orientations the scriptural voice of prophet, priest, and sage" (Gilbert 2011, 11), Gilbert extends his research with a contextually focused, in-depth analysis into the first voice, the prophetic–more specifically prophetic Black preaching. As one third of the African American preaching triad, Gilbert defines prophetic Black preaching as "God-summoned discourse about God's good will toward  community with respect to divine intentionality which draws on resources internal to Black life" (6). Furthermore, prophetic Black preaching is emancipatory language that concretely names obstacles preventing justice. Centered on the primary (1916) and secondary (1921 or fall 1922 and following) waves of the Great Migration, A Pursued Justice examines the connection between "social justice as an aspect of the human condition" (xii) through historical, sociological, and homiletical analysis.