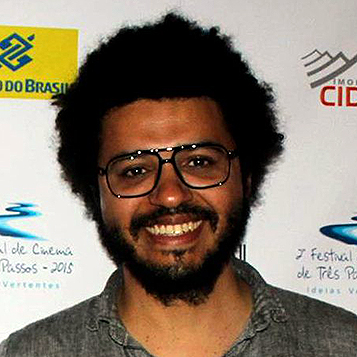 Rodrigo Lopes de Barros is a cultural critic, filmmaker, writer, and currently an Assistant Professor of Spanish, Portuguese and Latin American Studies at Boston University. He has a BA in Law and an MA in Literary Theory from the Federal University of Santa Catarina, the latter with a fellowship from CNPQ (the Brazilian National Council for Scientific and Technological Development). He received a PhD in Hispanic Literature from The University of Texas at Austin with work in the fields of Cuban and Brazilian cultures. He was a post-doctoral fellow at the University of São Paulo with a fellowship from FAPESP and was invited to visiting positions at Harvard University and the Federal University of Espírito Santo. His scholarly interests include the relationship between ethnography and literature, the avant-garde cinema and contemporary art in Cuba and Brazil, and the relationship between art, music, and national histories.
Lopes de Barros is the author of Distortion and Subversion: Punk Rock Music and the Protests for Free Public Transportation in Brazil (1996-2011) (Liverpool University Press). In this book, he uses the method of cyber-archaeology of websites, archival research, and interviews to discuss how the Brazilian punk and hardcore music scene joined forces with political militants to foster a new social movement that demanded the universal right to free public transportation. These groups collaborated in numerous venues and media: music shows, protests, festivals, conferences, radio stations, posters, albums, slogans, and digital and printed publications. (The PDF of the book is available in open access here)
As a filmmaker, Lopes de Barros directed the documentary Chacal: Forbidden to Write Poetry (Chacal: Proibido Fazer Poesia), for which he received the Award of Merit in Film from the Latin American Studies Association (LASA). He also directed the hybrid Literary Ménage: An Investigation into the Writing of Jacques Fux (Ménage Literário: Uma Investigação sobre a Escrita de Jacques Fux), which was published as a trilingual book/DVD (Relicário Edições), and the fiction short film The Body (O Corpo).
Other essays by Lopes de Barros on Brazilian and Cuban cultures have appeared as chapters of books and journal articles in places like Afterimage, Comparative Literature Studies, and Alea: Estudos Neolatinos. He co-edited the book Ruinologias: Ensaios Sobre Destroços do Presente (EdUFSC) and his short stories have been published in literary magazines. As a literary writer, he was among the winners of "Cultural Contest 'Caderno 2' in the 450 Years of São Paulo" by the newspaper O Estado de São Paulo. As a press editor, he co-organized the publication of contemporary intellectuals into Portuguese through Editora Cultura e Barbárie, which he co-founded.