an email update to the Core Curriculum community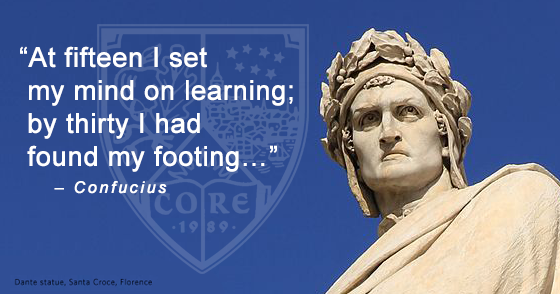 March 4, 2020 | from the Core Director
Dear Core Alumni and Supporters:
It was a strangely warm day in Boston when I wrote this message; the kind of day when all you want to do is curl up with a good Core book! For those of you who do not know, I became the new Director of Core last July. Having taught in the program since 2007, it has been my great pleasure to take the reins and lead Core into the next few years. Many thanks to Stephanie Nelson for being an outstanding Director and a mentor to many of us.
This year, Core celebrates 30 years as a Boston University liberal arts program. I have enjoyed looking back on some of the founding documents, and I love that in 1989, the Core Curriculum was called an "experiment" to introduce students to "classic works in literature and the arts, great ideas in science, and the significant social events of the modern world." Now, three decades later, this experiment has become a distinguished BU tradition and I truly believe our learning community has never been stronger. Here are some of the highlights of the past few years:
We won the BU Giving Day Challenge two years in a row! (And we cannot wait to keep the crown on April 2.)
We now have a winter break program in Florence, Italy for students who have completed our Core humanities course on the Renaissance, CC201.
We added two pathways for students to earn a Minor in Core.
We hired two new faculty members: Dr. Sophie Klein with a background in Classics, and Dr. Katherine Robiadek with a background in Poli Sci.
We completed a renovation of the Core office to brighten up the space and make more room for students to use as a study space; see photos here on the Core Instagram.
We transformed the Core Journal into a Hub Co-Curricular, a natural next step for such a great enterprise. (Let the editors know if you'd like to contribute to our 30-year anniversary issue).
I am especially proud of the Core trip to Florence, since much of this trip for students—who would not otherwise be able to go abroad—has been funded through alumni giving. This year on Giving Day, in celebration of our 30 years, we have set a goal to secure donations of $30 from 300 alumni. Please help us if you can and spread the word that Core is flourishing.
When you are next in Boston, you are very welcome to come by CAS 119, we always have a t-shirt for alumni. Meanwhile, make sure to find us on social media and tell us your favorite Core quote. Until then, happy reading!
As always, thanks so much for all your support. Know that we are always looking to find better ways to reach out to the alumni community. If you have any suggestions or questions along these lines, please feel free to email me directly at kyna@bu.edu.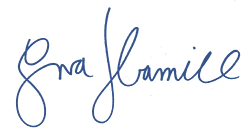 Kyna Hamill, PhD
Director, Core Curriculum
Assistant Dean, College of Arts & Sciences
---
Click here to see an archive of all email updates to the Core community >>
Following the University/s announcement that all in-person summer abroad programs have been canceled, the organizers of the Summer Study in Athens asked… More
On the evening of April 15th, four and a half dozen classmates, alumni, lecturers, and friends, all members of the extended community… More