an email update to the Core Curriculum community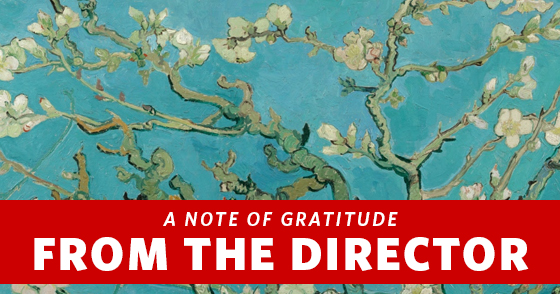 April 5, 2019 | from the Core Director
Hi All,
I know you've been receiving a lot of emails this week, but this is just one more to say "thank you" for your support on Giving Day. The funds we raised this year are dedicated to helping students attend the Core trip to Florence that Professor Hamill has initiated, giving those who could not afford it on their own the opportunity to experience the city of Dante, Machiavelli and Michelangelo for themselves.
The giving rate of the Core community once again topped the list of CAS departments, outscoring huge programs like Economics and Biology in both the number of donors, and in the amount given. But even more important is the message that this rate of giving sends: that liberal arts, and the Core in particular, do matter. We will now head into the last weeks of the semester here buoyed by a particularly strong feeling of fellowship with all of you who have taken part in Core over the past three decades.
I wish I could thank each one of you individually. From all of our hearts, you're the best.
Yours,
Professor Nelson (Stephanie)
Associate Professor of Classical Studies
Director and Assistant Dean, Core Curriculum
College of Arts and Sciences, Boston University
CAS 119 / 617-353-5404
---
Click here to see an archive of all email updates to the Core community >>
Following the University/s announcement that all in-person summer abroad programs have been canceled, the organizers of the Summer Study in Athens asked… More
On the evening of April 15th, four and a half dozen classmates, alumni, lecturers, and friends, all members of the extended community… More