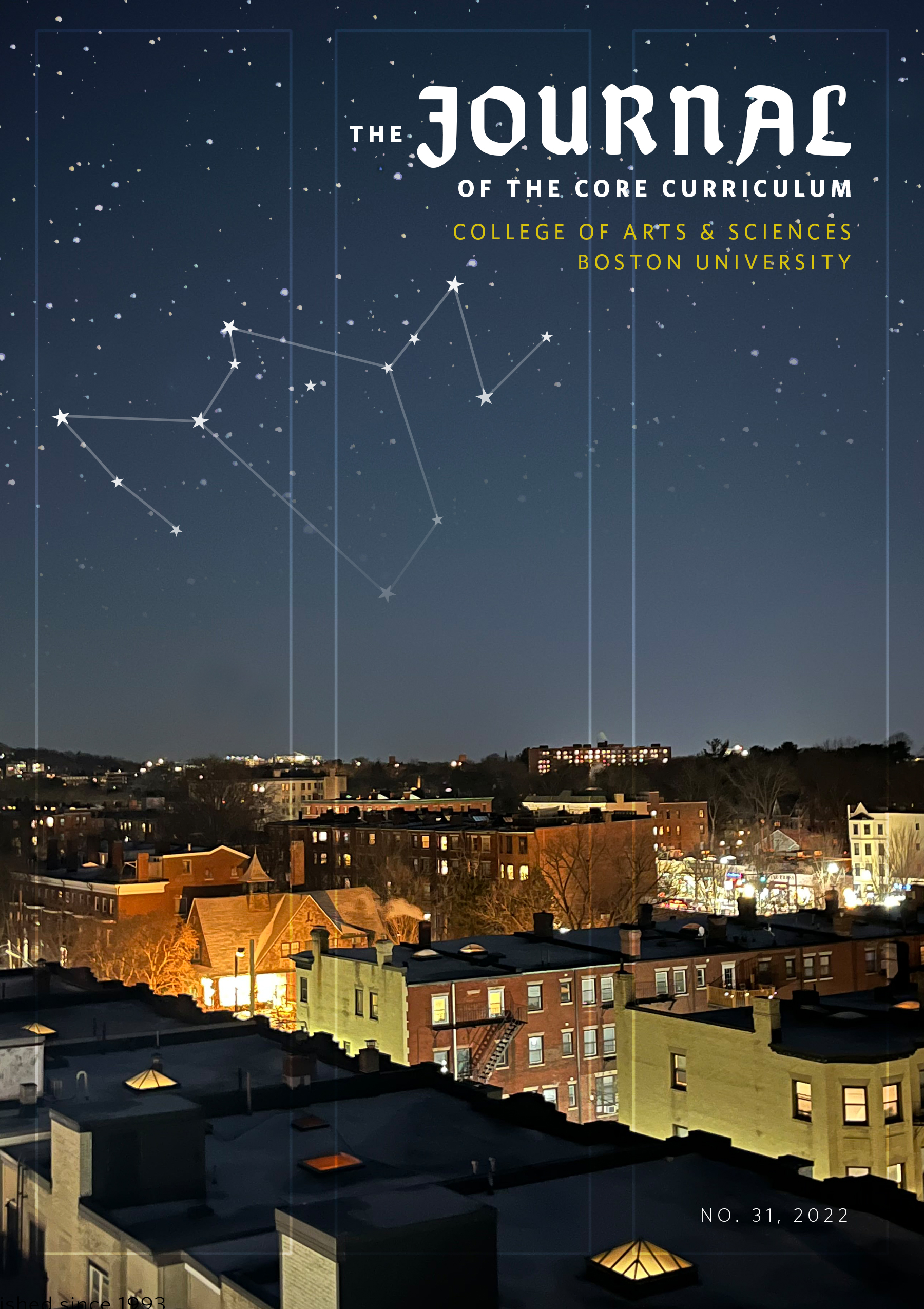 The Journal is produced by student editors in the CAS Core Curriculum, primarily those enrolled in HUB CC192: Collegiate Publishing Workshop. Our mission is to expand our engagement with great works, great questions, and great ideas, empowered by our study of the liberal arts, and to share these conversations with communities beyond the classroom. The Journal is published annually and is available at no cost to members of the CAS community and interested members of the public as supplies allow; contact the staff to pick up a copy. Select issues can be purchased through Amazon.com.
Table of Contents, with links to online exclusives
>> Click here to open the full issue PDF in a new window
Editor's Note – Jack Martin (p.6; read at the Core blog)
Essays & Criticism
Evaluating Educational Anxiety: Interviews with Employees of New Oriental, Inc.
by Tian Liao (p.10)
Directing Beckett
by David Green (p.17)
The Sheikh and the Bartender
by Gideon Gordon (p.24)
The Perspective of Children in Iranian Cinema
by Arezu Monshizadeh (p.29)
Honorable Mention, Essay Award
'The Lone Danger': How Omar Little Western-ized The Wire
by Kathryn Lakin (p.35)
"You're too close!": The Personal Space Conundrum
by Birdie Gile (p.45)
British Satire in the Age of Fake News
by Samantha Vatalaro (p.51)
Honorable Mention, Essay Award
Birdwatching with Karl Marx
by Taylor Thomas (p.74)
Winner, Creativity Award
The Role of Charismatic Leadership in the Events of Jonestown in 1978
by Abby Duerkson (p.88)
Constructing the Virtual Enemy
by Charlotte Beatty (p.96)
Winner, Essay Award
Recreation
by Maria Osipovich (p.106)
Honorable Mention, Sustainability Award
The Great Turtle Is Drowning: The Effects of Climate Change on Mackinac Island
by Emily Yoder (p.108)
Winner, Sustainability Award
Detachment from Divinity: The Origins of Evil and Milton's Fallibility in Paradise Lost
by Lauren Gotard (p.115)
Book Reviews & News
Once Again, an Argument for Liberal Education: a review of Rescuing Socrates by Roosevelt Montás
by Nyah Patel (p.121)
Giving New Life to the Music of the Oldest Story: a review of Gilgamesh translated by Sophus Helle
by Soren Chang (p.123)
On the Tangled History of Beauty and Racism: a review of Fearing the Black Body by Sabrina Strings
by Caroline Fernandez (p.127)
A Look at History's Most Luxurious Book of Kings: a review of The Shahnameh of Shah Tahmasp
by Jamie Poirier (p.130)
Travel Writing in a Time of Limited Travel: an interview with Sunil Sharma
by Netiva Sinha (p.136)
Publication Announcements: New Publications
by Faculty & Alumni (p.140)
Core Alumni: What We've Been Reading
by EnCore (p.143)
Arts & Photography
View from a Beacon Street rooftop
by Di Malkin (cover)
Photos from Yosemite
by Andre Salkin (pp.23 & 138)
Photos from NYC: Tribeca poster
by Zachary Bos (p.39)
Photos from NYC: West Broadway street art
by Zachary Bos (pp.41 & 42)
Kellyann
by Alexandra Castro Iberico (p.47)
Photo from Tahoe
by Danial Shariat (p.48)
Skateboarder
by Di Malkin (p.50)
Photos from the AMH: Flying Fish & Diving Birds
by Zachary Bos (p.56)
Photos from Cuba, 1991
by Kyna & Emily Hamill (p.60)
Photos from the AMNH: Polar Bear
by Zachary Bos (p.69)
Self-Portraits
by Colleen Rath (p.86)
Honorable Mention, Creativity Award
Shop Lights
by Di Malkin (p.94)
Photos from the AMNH: Spectrum of Life
by Zachary Bos (p.116)
Creative Writing
A Human-Centered Genesis
by Mary Regas (p.8)
Portrait
by Eve Kleiber (p.20)
A Response to Nezami Ganjavi's Leyli and Majnun
by Gideon Gordon (p.21)
Geology
by Danial Shariat (p.23)
Haibun: A Salted Family
by Eve Kleiber (p.34)
Honorable Mention, Creativity Award
Of Greatness and Glory
by Aidan Patt (p.40)
Lost Canto
by Allie Mascarello (p.48)
The Lighthouse
by Jakob Welch (p.56)
from The Tao of Henry
by Jennifer Formichelli (p.58)
reprinted from The Core Journal No. 20 (2011)
Downstream Boy
by Lila Heller (p.66)
An Island Lost at Sea
by Jakob Welch (p.69)
After Proteus in Joyce's Ulysses
by Maggie Farren (p.70)
Those Who Love you
by Nobel Chan (p.71)
toast
by Sarah Goodman (p.73)
Résumé
by Zachary Bos (p.83)
Nevertheless, Each Day
by Travis Tischler (p.84)
Event Scores
by Cat Dossett (p.85)
Translations of Hafizullah Shariati Sahar:
Colorful Nightmares, trans. by Savannah Majarwitz (p.78)
Most of the Blackberries are Sour, trans. by Juliet Marhamati (p.79)
Despairs of the City, trans. by Tayler Hall (p.80)
Outskirt of the Sea, trans. by Andrea Guttormsen Wetzler (p.80)
The Smell of Cigarettes, trans. by Tayler Hall (p.81)
Online Features
Film: Exodus by Lauren Gotard; watch here
Video: A Close Look at Mantegna's "Lamentation" by Sumner Jones; watch here
Essay: A Return to Tradition as a Remedy for Anxiety; link forthcoming
Analects of Core
Twain (p.15); Favorite Quotes (pp.38 & 95); Pessoa (p.93); Milton (pp.107 & 114); Emerson (p.120); Rilke (p.135); Campus Memories (p.145); Nachman (p.147); and Petrarch (p.152).
About Our Contributors and Staff (p.148)
Fine print: Founded in 1992. © 2022 by the Trustees and Officers of Boston University. All rights are reserved by the creators of these texts and images. Creative works published herein are works of the imagination; any resemblance to persons or beings living or dead may be coincidental, or may be artistically deliberate. Resemblance to fictional characters found originally in song, myth, art, religion or literature is in all cases meaningful, and in many cases, inspired. Crest, logo and monograph concepts by Alexandra Mascarello for BU BookLab. Cover design by Polina Silkina. Correspondence may be sent to the editors c/o the Arts & Sciences Core Curriculum at Boston University, 685 Commonwealth Avenue, Suite 119, in Boston, Massachusetts, 02215, or via email.