The War on Fake News
President Trump claims the media peddles fake news. Has it made itself an easy target?
4.1.18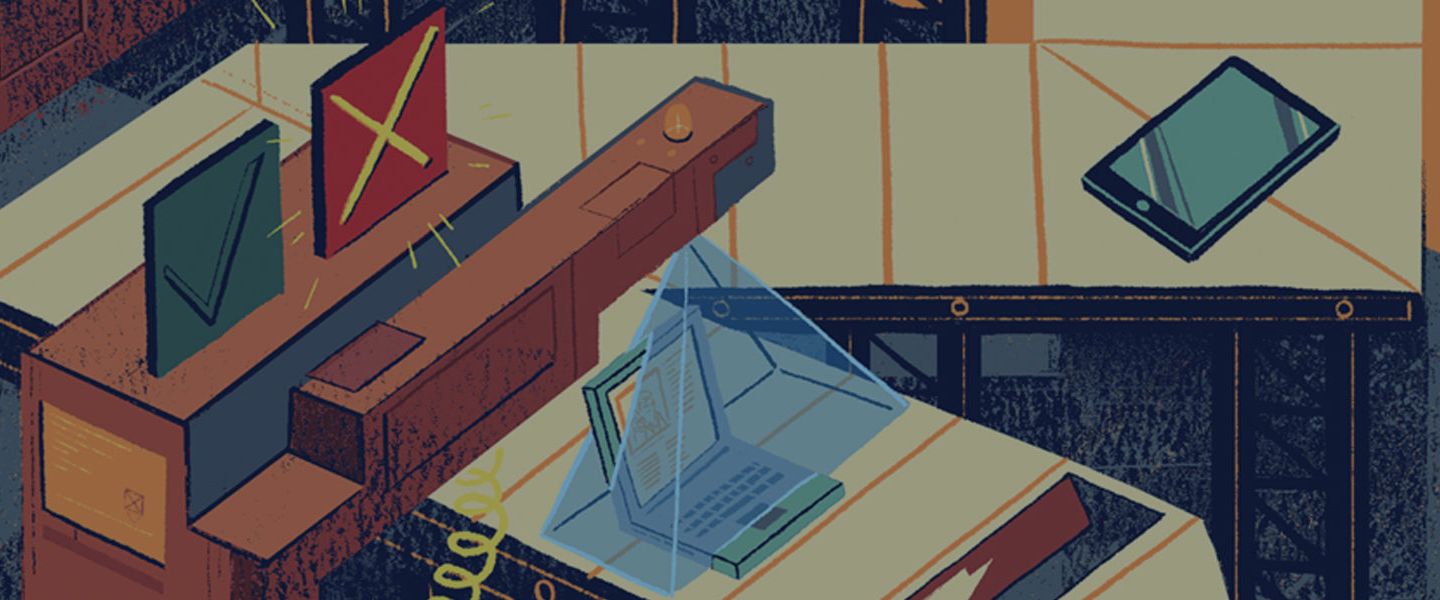 One month before the 2016 presidential election, a white supremacist Twitter account sparked a rumor linking the Democratic Party to a pedophilia ring operating out of Comet Ping Pong, a Washington D.C., pizzeria. The story blazed across the internet—one million tweets were tagged #Pizzagate in November alone—and came to a head when Edgar Maddison Welch, a soft-spoken 28-year-old from North Carolina, decided to take matters into his own hands. On December 4, he opened fire on Comet Ping Pong. Although no evidence of trafficking was found at the site, and outlets as diverse as Snopes.com, the New York Times and Fox News debunked Pizzagate, the story stuck. A December poll of 1,224 US voters found that 9 percent believed Hillary Clinton was "connected to a child sex ring," while 19 percent were not sure. "It's now clear that so-called fake news can have real-world consequences," Clinton said after the election. "It's a danger that must be addressed, and addressed quickly."
Fake news has become a two-part problem: Fictional stories whip from Facebook feeds onto front pages, while right-wing media and government officials—most notably, President Donald J. Trump—level devastating charges against the mainstream media that it is peddling fake news. The COM community is working to take down this two-headed hydra, devising inventive ways to help restore trust in mainstream reporting and give the public new tools for separating fact from fiction.
"WTH, LAMESTREAM MEDIA!"
Sarah Palin, former governor of Alaska, on Facebook
Michelle Amazeen, an assistant professor of mass communication, advertising and public relations, has mapped fake news' proliferation. In the period between 2014 and 2016, Amazeen—with Lei Guo, an assistant professor of emerging media studies, and Chris J. Vargo, an assistant professor at the University of Colorado Boulder—tracked 171,365 stories from 60 fake news websites for a study published in New Media & Society in June 2017. They found that credible news organizations influence fake news purveyors, who spin falsehoods around grains of truth; mainstream media then spends time and money debunking those bogus stories.
"Those stories tied up a remarkable amount of news media resources that could have been devoted to other important issues," Amazeen says.
No wonder Welch was so confused about Comet Ping Pong. After his arrest, the New York Times reported that Welch had "said one article on the subject led to another and then another. He said he did not like the term fake news, believing it was meant to diminish stories outside the mainstream media, which he does not completely trust."
Such lack of trust has helped fuel the rise and influence of fake news. In September 2016, Americans' trust in the media hit an all-time low of 32 percent. At that time, just 14 percent of Republicans trusted the media (down from 32 percent in 2015), compared to 51 percent of Democrats.
It's a long fall from 1976. With Watergate still a fresh memory, trust of the media was at an all-time high: 72 percent of Americans had confidence in mass media. Trust declined throughout the 1980s as cable television and conservative radio gave airtime to commentators like Rush Limbaugh, who questioned media reports that clashed with their own world views. The partisan divide widened until "attacking the press was a part of what a successful Republican candidate did," says Dean Tom Fiedler ('71).
The mainstream press has also made itself an easy target, says Fiedler, often producing reporting with a progressive slant, especially on issues important to conservatives. For example, mainstream stories about abortion rights tend to be written from the perspective of those who favor women's rights, and suggest that pro-lifers are extremist and antagonistic to women. The progressive bias pervades mainstream media on issues ranging from gun rights to coverage of the 2016 election, and "tends over time to put the media in a position where it can be criticized for alienating people," Fiedler says. During the election, "there were a lot of Trump voters who felt disrespected by the press, which they associated with liberals, or people who look down on them."
Those missteps—combined with the sometimes blurry line between real and phony—made it easy for Trump to weaponize fake news. When Trump attacks the media as fake news, "he's trying to destroy the credibility of the press so the watchdog becomes toothless and the power the presidency can yield is unchecked," says Fiedler. "Ours is a democracy that depends on the informed 'consent of the governed,' and in order for the governed to be informed, they need information that has integrity. If they are unable to give their consent based on good information, then our democracy will die."
"THANK YOU FOR DOING YOUR JOBS!"
—A note from a Trump rally attendee to reporter Sopan Deb and his colleagues
In this era of fake news, the tenets of good journalism have never been more vital. Starting with fairness. Fiedler says fair and impartial representation of views from both sides can help heal the partisan divide and restore conservatives' trust in the media. He recommends journalists and outlets check their biases when selecting and reporting stories, especially when covering issues with emotional weight, like abortion rights and gun control. Amazeen notes that many mainstream outlets are making headway: The New York Times hired conservative op-ed writer Bret Stephens, and NPR established the "Divided States" series to interview supporters of both presidential candidates.
CBS News reporter Sopan Deb ('10) was dubbed by Politico as one of the "breakout media stars" of the 2016 campaign season for his work debunking misinformation and helping to inform voters. Now a culture reporter at the New York Times, Deb interrogated then candidate Trump at press conferences, fact-checked his speeches, and offered spot-analysis. He also spent a lot of time interviewing the future president's backers—despite some hurling insults at him.
"The vast majority of Trump supporters I interacted with over those two years were very nice and very warm," says Deb. "They just wanted to have their voices heard." In a CBS recap of his campaign reporting, he wove in quotes from his conversations with Trump supporters. Sandy Woodmansee, a construction supervisor from New Hampshire, told him, "I was laying in bed, trying to sleep, and I don't know why, but I thought of the Clintons being back in the White House and it absolutely appalled. The very next day I volunteered to assist Donald Trump." When his candidate won the New Hampshire primaries, "Woodmansee spotted me across the room, walked up to me, grabbed me by the face and plopped a big kiss on my cheek."
In addition to improving fairness in reporting, journalists must remind themselves of another 101 lesson: Be wary of anonymous sources.
"Anonymous sources are cancerous," says Fiedler, who adds that transparency is key to irrefutable reporting. Mainstream outlets like the New York Times too often lean on anonymous sources, "surrendering some of their credibility every time. These are little things, but they add up over time to a vulnerability in the media to the skepticism that conservatives hold on to."
COM is training future journalists to combat fake news by respecting those tenets of journalism. In courses like Media Law and Ethics, students learn how and when it may be appropriate to use anonymous sources, and in classes like Media Criticism, they investigate issues including political biases and the effect of conservative news on mainstream media. They're also taught to avoid content like native advertising—designed to blend in with a paper's own stories—that erodes readers' trust. A consumer survey by Amazeen found that fewer than one in five people could distinguish native ads and that their trust in a publication declined upon learning the content was branded. "On the one hand," says Amazeen, "journalists are trying to fight fake news, but on the other hand, the publishers at their organizations are participating in this practice that some find misleading or ethically challenging."
"IN A WORLD OF WILD TALK AND FAKE NEWS, HELP US STAND UP FOR THE FACTS."
—PolitiFact call to action
Curbing fake news isn't just a job for experts and the media. "Ultimately, the only solution here is going to be creating a more literate society," says Fiedler. When buying a new car, he points out, we might check Kelley Blue Book and read online reviews.
It would make sense, he says, to spend as much energy analyzing the media that drives our other major decisions, like selecting a president. It turns out, the majority of us don't.
Fewer than 50 percent of consumers who access news online can identify its source, Amazeen found in a study she published in Digital Journalism in 2017—and yet, we pass that content along to our own online communities, becoming complicit in its proliferation. To start, Amazeen suggests to her students, pay attention to sources and bylines, and be wary of content penned by "staff," which is often produced by PR firms. Read the "about" page, where some fake news sites print a disclosure. Amazeen recommends that journalists use the "ongoing story structure," a term coined by Kathleen Hall Jamieson, cofounder of FactCheck.org. In this method, newsrooms track and continuously report on tenacious fake news stories, instead of debunking them once and moving on. She notes that BuzzFeed News reporter Craig Silverman has been leading this charge.
Following Trump's inauguration, Amazeen and other COM faculty developed a series of media literacy initiatives for students, including visits from journalists and class projects on fact-checking. Aaron Sharockman, executive director of the Pulitzer Prize–winning fact-checking organization PolitiFact, taught students how to verify statements by political leaders. A forthcoming program will train students to assess the credibility of news sources, and to detect and expose fake news. Students will then share their fact-checking knowledge in high school government, political science or journalism classes in the Boston area, as well as with organizations engaged in the 2018 senate elections, like the League of Women Voters.
"It can be exhausting for people to have to try and sift through what's accurate, and what's not," Amazeen says. "But in today's age, it is in our interest to be able to determine where information is coming from so we'll recognize all the attempts at influencing us."
The state of the union isn't all gloom and doom; there has been an upswing in consumers turning to trusted news sources. Since the election, publications like the New York Times, the New Yorker, the Atlantic, and the Wall Street Journal have counted record donations and subscriptions. In the fight against fake news, and the Trump administration's attacks on mainstream media, Fiedler says we're seeing "an energized news media, not one that is shrinking from this.
"I don't know that you'd see in more than a handful of other countries the news media driving the public agenda, as is happening in the US. If I were watching from another country, I would see this as an encouraging sign of a vibrant democracy where the news media plays a critical role."