Grad Seminar Tackles Real-World Challenges
Emerging Media Studies course pairs students with area businesses, nonprofits
9.30.21
With the onset of COVID-19 came a flood of public health advice, explainers about the virus' origins and spread and, eventually, updates about vaccines. Some of the information saved lives, some of it was quickly contradicted and some of it deliberately misled. Healthcare organizations had a clear challenge: How do you convey accurate, trustworthy information when the facts are quickly changing and misinformation is rampant?
"Nobody knew how to deal with a pandemic from a communication standpoint," says Serena Bronda, a media relations specialist at Brigham and Women's Hospital in Boston. "We wanted to know if we did a great job."
Then, an invitation from one of her former COM professors gave Bronda ('16) and the communication team at Brigham and Women's a chance to analyze their work—and better prepare themselves for the next public health emergency.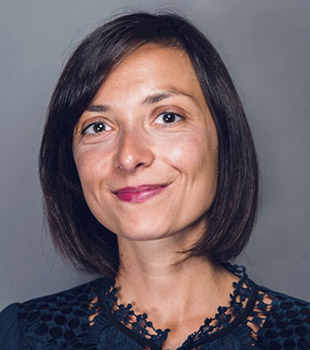 Guo, Lei, an associate professor of emerging media studies (EMS), wanted to see if Brigham and Women's might have a specific question about their strategy that a group of students could study in EM 777, a three-semester graduate research seminar. The course, a prerequisite for master's and PhD students in the EMS program, matches student teams with real-world clients who need help with a communication-related challenge.
For Bronda, being the liaison for the student researchers brought her full circle. She took EM 777 in 2015–2016; now, she had the chance to work with a new group of students. "This class really gives you the perspective of what work is, setting expectations and meeting deadlines," Bronda says.
Creating Knowledge
When James Katz joined COM's faculty in 2014 and began designing the new graduate EMS program, he wanted to try something new.
"Often, in a research methods course, the professor will give students a dataset that's already been well explored—I wanted our students to create knowledge, where the answers to the questions are unknown," says Katz, the Feld Professor of Emerging Media. "This gives them an opportunity to integrate sophisticated material, that's typically taught as abstract principles, with real-world problems."
That idea became EM 777, the capstone for EMS students. The 10-month course spans the entire master's program; PhD candidates serve as project leads and mentors. After a first semester devoted to learning methods of research in communication and academic theory, students split into teams and spend the spring working on client projects and writing academic papers. During a six-week summer semester, that work is then translated into a client report and presented at COM's Screentime conference.
Lei, who teaches the course along with colleagues Kelsey Prena and Chris Chao Su, compares EM 777 to the sort of hands-on experiences offered in business schools. One team from the 2020–2021 cohort helped the city of Melrose, Mass., adopt new internal communication tools to manage its remote workforce during the pandemic. Another worked with BU's Fitness & Recreation Center to understand what types of online fitness content would be the most effective during the pandemic. Other clients included Harvard Graduate School of Education, a Shanghai-based tourism marketing company, Twitter's Revenue Diversity & Emerging Businesses division and the International Monetary Fund's fiscal affairs department.
To help their clients, the teams use some of the tools introduced in the first semester, which can include data analysis software like R, the programming language Python and survey software such as Qualtrics. They also use manual content analysis methodologies for media coverage, collecting and coding—in one example—news stories about how Brigham and Women's, and other leading hospitals, handled COVID-19.
"For research programs like ours, we are very unique," Lei says. "We prepare students to do research, but in a practical way." Alums of the program have stayed in academia while others have gone on to roles as social media analysts, UX (user interface) researchers and designers, and more traditional communication jobs, like Bronda's.
Picking a Path
When Bronda began EM 777, she expected to continue on to the PhD program. But her project—a collaboration with doctors at Boston Medical Center investigating the stigma attached to irritable bowel syndrome among college students—steered her in another direction. "It's really where my love for health communication was born," she says. "And it's where I created my area of expertise."
For research programs like ours, we are very unique. We prepare students to do research, but in a practical way.

Guo, Lei
For PhD candidate Chawannuch Chaikulngamdee, who mentored the Brigham and Women's team, the project was also a chance to learn about the healthcare industry. Chaikulngamdee ('24) has managed social media accounts for businesses and was curious to see if the same strategies that increase sales could translate to health communication in the pandemic. "Framing a message positively can convince consumers to buy a new product," she says. "Would the same frame be as effective to persuade people to get vaccinated?"
Message framing became the basis of the team's research as they analyzed both social media and traditional news coverage, examining how hospitals and media organizations presented information. Did stories emphasize fear to motivate actions like mask wearing? Might a hopeful story spark audience engagement?
What they found reinforced the strategy that Bronda and her colleagues had used, while highlighting areas for improvement. Brigham and Women's was already putting out engaging stories and posts framed by hope and calls to action and often relied on their expert clinicians to convey information. But a frame they only used a fraction of the time was human interest, due to the challenges of the pandemic, which included remote work and restricted hospital access.
"But the research shows the importance of telling the story through the lenses of the patients and that's important for us to know from a strategic perspective," Bronda says. "It's not always easy—but it's going to pay off because it's such an important part of the story."