Q&A with Biological Anthropology PhD Student Zoe Albert
Zoe Albert is a third year PhD student studying Biological Anthropology in Dr. Cheryl Knott's lab and affiliate of CISS. Her background is in human and veterinary medicine and ecology and evolutionary biology. Prior to beginning her work at Boston University, in 2020 Zoe received her Bachelor of Science in Ecology and Evolutionary Biology from Tulane University. She fell in love with the study of primates while researching white-faced capuchin monkeys in Santa Rosa National Park, Costa Rica. Her dissertation research focuses on the gut microbial differences of the wild orangutan populations living in two disparately anthropogenically disturbed areas of Gunung Palung National Park, West Kalimantan, Indonesia. Learn more about Albert below in a Q&A interview with CISS communications intern Lily Belisle.
What made you decide to be a social scientist/ why does social science matter to you?
Having the chance to learn about social science, and specifically biological anthropology, and the study of evolution, was the first opportunity I had ever had to learn that science isn't cold and impersonal.  Instead, it is a beautiful marriage between all of the things I find the most interesting- biology, primatology, feminist theory, communication and conservation among so much more.  In college I majored in Ecology and Evolutionary Biology while minoring in English, so I think I always knew I was a social scientist, even before I actually had a sense of what that meant.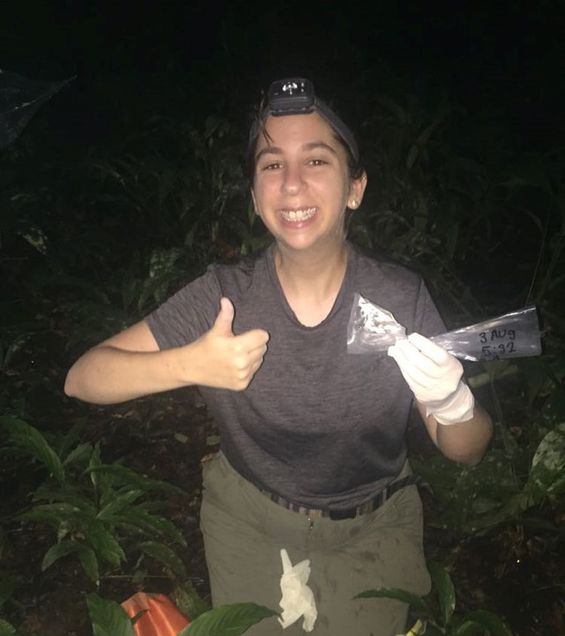 Can you tell us about a current research project that you're excited about?
The research project that takes up most of my mental energy and excites me incredibly, is my dissertation research!  I will spend one year living in the rainforest of Gunung Palung National Park, West Kalimantan, Borneo, Indonesia researching the gut microbiome of wild orangutans.  I am interested in whether or not their microbial composition changes in forest areas with different levels of degradation.  That is, how does an environment that has been altered by humans, influence their guts?  And, further, can we deduce anything about their health from these differences?  My work will rely on relatively novel methodology for doing fecal analysis in the field.  I am hopeful that my research can further support the conservation of wild orangutans and provide guidance regarding the most natural/healthy diet that could be provided to animals who cannot forage for themselves. Picking orangutan poop off the forest floor at five in the morning isn't glamorous work but getting to observe the lives of these wild apes makes it incredibly rewarding.  
What is the best piece of professional advice you ever received?
This one might be a little counterintuitive. Before I started the PhD program here, I was actually in veterinary medical school. After my first year, I had an internship with an incredible veterinarian in Rome. He loved to regale me with stories of all of his favorite Italian cities, which led me to tell him that I did not anticipate having enough time to visit Florence while I was in Italy. I was simply too busy with work, but I promised that I would make sure to come back sometime! The next day, when I showed up at the clinic, he surprised me with a day off and train tickets to Florence. He reminded me that while work is important, there is nothing more important than seeing this big, beautiful world and experiencing all of the love, joy, beauty and culture that it has to offer. I believe this advice has made me a better academic, a more empathetic person, and someone who really understands and values work life balance.
Tell us a surprising fact about yourself.
I have always loved animals…so much so that when I was 11 years old, I started a company dedicated to raising money for animal advocacy and well-being.  By the time I left for college I was able to donate over $30,000.  You can check out the website here.