Category: Students
This year Melissa Marquez, a fourth-year graduate student from Professor Deborah Perlstein's group, will be supporting the West End House Boys & Girls Club in Allston-Brighton by running the 2019 Boston Marathon! She is excited to join their marathon team and to get to know the West End House community even more through this opportunity.
The West End House in Allston-Brighton is one of the Boys & Girls Clubs in Boston and the largest youth development agency in the area where a multitude of students go to after school. They provide a variety of outcomes-driven programs to more than 1,700 youth between the age of 7 and 24 residing the most under-resourced communities in Boston. Youth come from nearly every Boston neighborhood-approximately 60% live in Allston-Brighton, and 40% live in other Boston neighborhoods, including Dorchester, Roxbury, and Mattapan. The programs are directed by professional staff and volunteers and are geared toward ensuring that the students succeed academically, explore and master the arts, develop career readiness skills, and adopt healthy lifestyles.
Melissa has been volunteering at the West End House for about three years through Boston University's Graduate Women in Science and Engineering (GWISE) organization. Every week GWISE runs a girls science club where students take part in fun, hands-on activities. During her first year, Melissa worked with the elementary school club and, within her second and third year, she helped start and co-lead a middle school version known as Girls with Goggles. The club's ultimate goals are to help young girls gain an in-depth understanding of scientific concepts and engineering principles, excite the students about science and engineering, and encourage them to pursue a STEM-related career. Girls Science Club is just one example of a program available to students at the West End House that encourages them to enjoy learning and develop skills that will help them succeed. Most recently, West End House was featured by United Way that shares the impact of their STEM programming.
Melissa's goal is to raise $15,000, which would help the West End House to continue their mission in inspiring and enabling youth from all backgrounds, especially those who need them most, to realize their full potential as productive, responsible, and caring citizens. You can make a tax-deductible gift to her CrowdRise page and stay updated about the West End House and her training!
If you are in Boston on Marathon Monday, April 15th, we would like to invite you to come out and support all of the runners that day! This is one of the major days of the year that the city feels like home for everyone as we gather to celebrate and support one another.
BU Chemistry is pleased to announce a three-year renewal of funding for our NSF Research Experiences for Undergraduates (REU) Program.  This summer program, hosted by the Chemistry Department, provides students from primarily undergraduate institutions with opportunities to work in advanced research laboratories. Of the 33 students who participated in the program over the past three years, 91% came from underrepresented minority groups, better than 60% were women, and almost 45% came from community colleges. Many of them co-authored peer-reviewed publications, presented their findings at conferences, and/or decided to attend graduate school, including BU. Another measure of the program's success is its ever-expanding pool of applicants, with over 600 applications received for the summer 2018 program alone.
Chemistry would like to give special recognition to the efforts of Professors  Linda Doerrer, Principal Investigator (PI), and ,John Snyder, co-PI, and Chemistry Departments Proposal Development Administrator Daniel Hauck, whose hard work and commitment to the program made this renewal possible.
Due to a change in the National Science Foundation's funding periods, the Chemistry Department will not be hosting REU students for the Summer of 2019. The program will be active again in the Summer 2020.  For more information, including the application process, visit the BU Chemistry REU.
We were pleased to announce the Department of Chemistry student award winners for the 2017-2018 academic year at the Orientation BBQ. For those who may have missed it, here are the award winners.
Sugata Ray Memorial Award for International Students: Nathchar Naowarojna (Liu Lab)
This award was established by the Ray family in memory of their son, Sugata Ray, a former graduate student in the Chemistry Department, to recognize an international Ph.D. candidate each year who excels in his or her graduate studies. Research, academic performance, teaching, and service contributions to the Department are all considered in selection of the awardee.
Professor Liu writes, "Can has demonstrated her potential to thrive in the academic environment and greatly contribute to the field of natural product biosynthesis and enzymology. Her skills and knowledge in research, and dedication to mentorship make her an exceptionally qualified nominee." She has authored or contributed to an impressive number of publications, and demonstrates an extraordinary commitment to undergraduate mentoring through her teaching assignments and undergraduate research supervising.
Lichtin Award for Research: David Stelter (Keyes)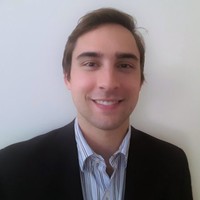 This award was established in honor of Norman Lichtin, a distinguished research scientist and former Chair of the Chemistry Department. The award recognizes students that are distinguished by their exceptional contributions to chemical research in their doctoral studies. 
Professor Keyes writes, "David is a wonderful student, one of my best ever. Despite having to teach almost full time he has achieved significant research results, and never lost his enthusiasm, while also being a joy to have as a TF." David is first author on two papers, contributed to two more, and has a large body of results to write up and exciting work in progress.
Feldman Award: Lindsey Walker (Elliott Lab)
The Feldman Fund was established by the Feldman family to memorialize Julius Feldman, who served for many years as Associate Chairman of the Chemistry Department and who took a special interest in the welfare of graduate students. The Feldman Award recognizes outstanding accomplishments in research, teaching or service.
Lindsey is a fifth year student in the Elliott Lab who has not only made significant and impressive research contributions but is a great communicator of science, and stands out as an excellent leader.
Professor Elliott writes, "Lindsey is a sharp, devoted, creative and highly driven student, who is well on her way to being a successful scientific leader. She is a talented researcher who is motivated by a concern for the environment, and a desire to use electrochemistry as a functional tool to improve society. She is a wonderful student, and I am very lucky to have her in my lab."
Departmental Award for Outstanding Graduate Student Research: Lauren Viarengo (Whitty Lab)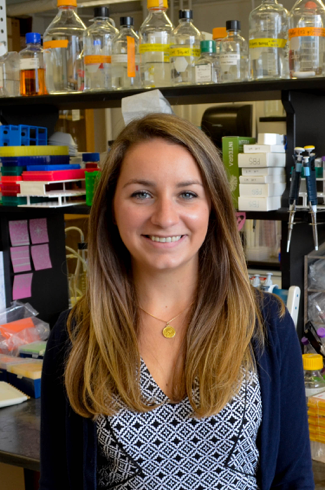 Professor Whitty writes, "Lauren has a strong intellect and is exceptionally diligent and conscientious in everything she does. Lauren is also highly sought after as a Teaching Fellow, being very conscientious and having excellent interpersonal and communication skills. But what really sets her apart is her fearlessness in taking on new research challenges, and her exceptional drive. I believe she serves as an example of everything we look for in our very best graduate students, and is an ideal candidate for a graduate student award to recognize her extraordinary capabilities and efforts."
Congratulations to all of our award winners!
On Friday, May 4th, 2018 the work of 22 students was spotlighted in this year's Undergraduate Research Symposium (URS).  The high-caliber projects presented underscored the importance of the hands-on, challenging research that is the hallmark of Boston University's Chemistry major. The even was organized by the Undergraduate Programs Committee, Professor John Snyder and coordinated by our Undergraduate Program Coordinator, Julia Jesielowski.
URS was first instituted in 1987 by then Director of Undergraduate Studies, and now Emeritus, Prof. Mort Hoffman, and has been a much anticipated, spring's-end annual event ever since.  The Symposium is modeled along the lines of talks at an American Chemical Society (ACS) meeting:  12 minutes of presentation followed by 3 minutes of questions and discussion.  Capping the day was the announcement of the Departmental Awards, followed by a celebratory pizza party for the students, their faculty advisers, graduate mentors, and their guests.
Stephanie Beach, of the Doerrer Group, recently won a prestigious Chateaubriand Fellowship! The Chateaubriand Fellowship is a grant offered by the Embassy of France in the United States. It supports outstanding Ph.D. students from American universities who wish to conduct research in France for a period ranging from 4 to 9 months. Chateaubriand fellows are selected through a merit-based competition, through a collaborative process involving expert evaluators in both countries.
The program is divided into two subprograms: Humanities and Social Sciences (HSS) which supports those who seek to study Humanities and Social Sciences. Stephanie was awarded the Chateaubriand Fellowship in Science, Technology, Engineering, Mathematics & Biology-Health (STEM), which is for doctoral students who aim to initiate or reinforce collaborations, partnerships or joint projects between French and American research teams. This fellowship is offered by the Office for Science & Technology (OST) of the Embassy of France in partnership with American universities and French research organizations such as Inserm and Inria. It is a partner of the National Science Foundation's GROW program.
Stephanie is currently working at the Centre de Recherche Paul Pascal, a CNRS lab, in Bordeaux, France from February through May of 2018 to partner with the group of Prof. Rodolphe Clérac. She is developing new variations of the Doerrer group thiocarboxylate lantern complexes for development as single molecule magnets.
Congratulations Stephanie!
Research at Boston University's Photonics Center reporting on a drug-free photonic approach to eliminating methicillin-resistant staphylococcus aureus (MRSA) earned Pu-Ting Dong (BU Chemistry Student, Dr. Ji-Xen Cheng Group) the SPIE Photonics West 2018 Translational Research Award.
Translational Research Symposium Chairs Bruce J. Tromberg of the Beckman Laser Institute and Medical Center at the University of California, Irvine (USA) and Gabriela Apiou, from the Wellman Center for Photomedicine at Massachusetts General Hospital (USA) presented the award to Dong Sunday, February 4th during a forum that focused on translational research applications of blue light.
Dong's research found a synergy between photobleaching of staphyloxanthin (STX) with blue light and hydrogen peroxide (H2O2) in killing the highly infectious and dangerous MRSA.
"This potentially opens a new way to address a tremendous problem that the healthcare system is facing using a biophotonic technology," Apiou said.
As Dong noted, it can take 30 years after the emergence of antibiotic resistance for a new antibiotic to be developed.
Treating MRSA is "a significant problem in infectious disease," Tromberg, an SPIE Fellow, said, and Dong's solution "could benefit a large number of patients worldwide."
In a talk preceding Dong's presentation, SPIE Fellow Michael Hamblin of the Wellman Center, explained how blue light has been found to influence circadian rhythms and magnetic fields and has become a common treatment for treating acne, low-back pain, neurological disorders, and other diseases and disorders.
Hamblin noted that a new conference at Photonics West, Photonic Diagnosis and Treatment of Infection and Inflammatory Diseases, and its 60 papers, indicated the importance of light technologies in treating a number of diseases.
Melissa Marquez, a second-year graduate student in Professor Deborah Perlstein's group, has recently received a 2017 NSF Graduate Research Fellowship. She earned a Bachelor of Science in biochemistry with a minor in mathematics from Mount Saint Mary's University and as an undergraduate conducted research in Dr. Eric Stemp's lab focusing on DNA-protein cross-linking resulting from oxidative damage to DNA. She was introduced to Boston by participating in Tufts University's NSF Research Experience for Undergraduates (REU) program in the summer of 2013 and worked in Dr. Mitch McVey's lab where she focused on determining the lethality stages in Drosophila melanogaster Werner Syndrome exonuclease mutants. Along with chemistry, Melissa enjoys serving others in their journey toward their science aspirations. She is currently a fellow for the BU NSF GK-12 Global Change Initiative (GLACIER) program where she works at Pierce School in Brookline with a 6th grade science teacher, an officer for BU Women in Chemistry, and a co-leader of the BU Graduate Women in Science and Engineering (GWSE) Girls with Goggles club, an outreach program that provides weekly hands-on activities for middle school girls.
Through the support of the NSF, Melissa aims to obtain a greater understanding of how iron cofactors are biosynthesized through the cytosolic iron sulfur cluster assembly (CIA) pathway. This system is responsible for iron sulfur (FeS) cluster biogenesis for proteins found outside of the mitochondria in eukaryotic organisms. Essential processes such as DNA replication and repair, transcription, and translation, are all dependent on at least one FeS cluster containing enzyme. A key question is: how are these DNA metabolizing enzymes, also termed targets, recognized by the CIA pathway? Melissa plans to discern the mechanism of CIA target recognition by investigating Cia2, a vital component of the CIA targeting complex known for executing target identification in the last step of the system. Not only is cluster targeting poorly understood for the CIA pathway, but it is not known how any cluster biogenesis pathway identifies its targets. By examining how targets are recognized, this work can provide a model for how target recognition is executed for other cluster biogenesis systems. Melissa is primarily interested in pursuing a career in which she can simultaneously work on innovative experimentations closely related to therapeutic development and reigniting students' appreciation for deeper learning and, ultimately, love for science.
On May 2 BU Nanotechnology Innovation Center (BUnano) held its inaugural symposium "Nanotechnology for Imaging". The symposium focused on The "Nanotechnology For Imaging" symposium will be focused on highlighting accomplishments of BUnano faculty and students, and featured keynote presentation by 2014 Nobel Prize winner for Chemistry, Professor Stefan Hell.

BUnano Center Director Prof. Mark Grinstaff welcomed the audience in the packed Metcalf Trustee Ballroom. and presented BUnano's mission to promote a vibrant and dynamic community for nano-related disciplines at BU. What distinguishes BUnano from other nano centers in the Boston area is its connection to the Boston Medical Center and the BUSM.  BUnano offers pilot grants to foster and support collaborative research of BU faculty across campuses in their pursuit of finding nano solutions to real life problems in technology and medicine.

The morning session featured a lineup of talks by BUnano faculty. Dr. Luca Dal Negro opened the scientific portion of the symposium with his talk on "Materials and Fields @ the Nanoscale: Optical Engineering of Resonant Nanostructures," followed by Dr. Allison Dennis's talk  "Cadmium-free Quantum Dots for Imaging in the Visible and Near Infrared" and the joint presentation by Drs. Joyce Wong and Victoria Herrera entitled "Janus Nanoparticles for Cancer Theranostics." Dr. Luca Dal Negro is an Associate Professor of Electrical and Computer Engineering, Materials Science and Engineering, and Physics at BU. He introduced his group's research related to the development of novel plasmonic materials and nanostructures for spectroscopy. Dr. Allison Dennis, Biomedical Engineering Assistant Professor, discussed how her group uses cadmium-free Quantum Dot chemistries for applications in fluorescent biosensing and improved biomedical imaging. Dr. Joyce Wang, a Professor in Biomedical Engineering and Professor of Medicine Dr. Victoria Herrera discussed their interdisciplinary collaboration on developing theranostic Janus USPION for enhanced MRI imaging and targeted nucleic acid therapy to treat non-druggable cases, especially in pancreatic cancer.

After lunch break, Dr. Selim Unlu, a BUnano affiliated faculty and professor of Electrical Engineering introduced the keynote speaker of the symposium, Prof. Stefan Hell. He is the current Director at the Max Planck Institute for Biophysical Chemistry in Germany. In 2014 Prof Hell was awarded the Nobel Prize in Chemistry for his pioneering work in the field of ultra high resolution fluorescence microscopy. Stefan Hell succeeded in radically overcoming the resolution limit of conventional optical microscopes – a breakthrough that has enabled new ground‐breaking discoveries in biological and medical research.

Prof. Hell's exciting talk on flurorescence nanoscopy featured his recent research on how to neutralize diffraction in order to achieve imaging of cells and tissues at the nanoscale. For close to an hour, Prof Hell held the audience's attention captive, transforming them to the realm of STED microscopy infecting them with the possibility of capturing images of the nanoworld.

Twenty students and postdoctoral fellows were selected to present their posters at the symposium. Ms Qianyun Zhang, a student in Dr. Bjoern Rheinhard's Lab, received $500 for her poster "Illuminating EGFR clustering and its Effects on Signal."

The symposium concluded with BUnano's version of the popular show Shark Tank, "Terrier Tank." The competition was moderated by Dr. Ahmad Khalil, Biomedical Engineering Assistant Professor at BU. Five finalists presented their innovative translational research idea to a panel of judges. The panel included BUnano Entrepreneur-in-Residence Dr. Jill Becker (CEO and Founder of 02139 Inc), Dr. David Coleman, Chair of the Department of Medicine at BUSM, Peter Marton of BU's Questrom School of Business and Buzz Lab, Jess McLear of Launchpad Venture Group, and  Dr. Terry Russell, Managing Director of Interface Ventures. It was truly exciting to see undergraduate students, graduate students and postdoctoral associates striving to take a nascent idea and translate into a marketable product which would provide tangible benefit to our society.

After careful consideration, the judges awarded the $10,000 prize to CatchAu – an environmentally conscious wastewater treatment idea by a team of graduate students, Mingfu Chen, Uros Kuzmanovic, and Nicolas Shu.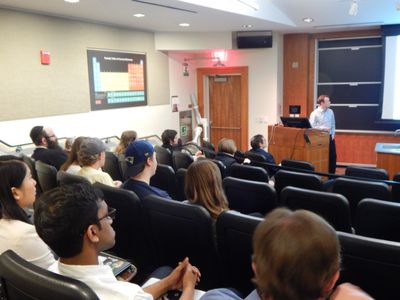 On Friday, May 5th, 2017 the work of 11 students was spotlighted in this year's Undergraduate Research Symposium (URS).  The outstanding quality of the projects presented underscored the importance of the hands-on, challenging research that is the hallmark of BU's Chemistry major. The even was organized by the Undergraduate Programs Committee, Professor John Snyder and coordinated by our Undergraduate Coordinator, Lauren Jett.
URS was first instituted in 1987 by then Director of Undergraduate Studies, and now Emeritus, Prof. Mort Hoffman, and has been a much anticipated, spring's-end annual event ever since.  The Symposium is modeled along the lines of talks at an American Chemical Society (ACS) meeting:  12 minutes of presentation followed by 3 minutes of questions and discussion.  Capping the day was the announcement of the Departmental Awards, followed by a celebratory BBQ for the students, their faculty advisers, graduate mentors, and their guests.  To view URS photos, please click here.
New approaches to undergraduate lab classes
Virtual machines, digital badges, and trips to the museum enrich the undergraduate lab experience.
When it comes to developing fresh educational approaches, college and university professors focus on the classroom and often neglect the laboratory. But, at the ACS national meeting, held earlier this month in San Francisco, attendees heard from professors who are working to improve the undergraduate laboratory experience.