Random Actor Project Enters Second Phase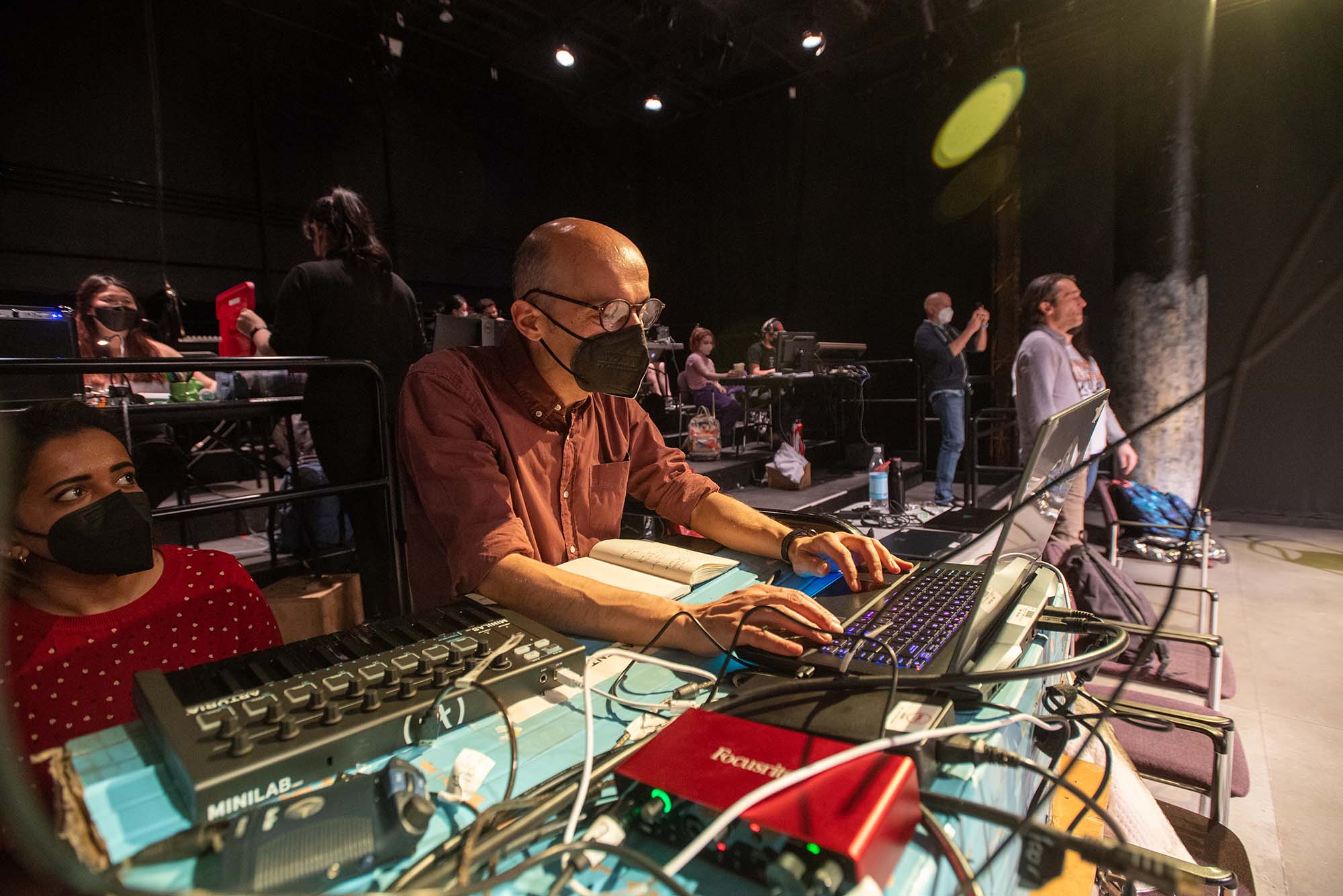 CFA Faculty
Random Actor Project Enters Second Phase
Originally published by Boston University Faculty of Computing & Data Sciences on October 23, 2023. Written by Maureen McCarthy, Editor, CDS News
One year after its launch, Random Actor, a software tool for creating live, interactive stage projections, is moving toward its finalized form after receiving a second grant from the Shipley Center for Digital Learning & Innovation. Phase 2 funding will allow the project team, led by James Grady, BU Spark! creative director, and assistant professor of Art and Graphic Design at BU College of Fine Arts, Clay Hopper, senior lecturer in Directing at BU School of Theatre, along with Interactive Media Designer Paolo Scoppola, and BU students, to improve the real-time interplay of graphics with performers.
The project, which was featured in the BU Computational Humanities, Arts & Sciences (CHASS) tutorial series, aims to develop innovative software that combines projection mapping, interactive generative-computer graphics, and computational vision to create a dynamic projected environment for actors. The ultimate goal is to provide designers with real-time capabilities, eliminating the need for coding and seamlessly integrating design and performance during the rehearsal process.
According to Professor Wesley Wildman, CHASS co-director and BU Faculty of Computing & Data Sciences Chair of Faculty Affairs, the Random Actor project is first-rate evidence for the virtually unlimited potential of collaborations between computational methods and the fine arts. "Random Actor should be regarded as a bellwether, foretelling far-reaching transformations in fine-arts fields, arriving in the very near future," he said.
Random Actor explores the potential of interactive systems, blending code-generated and static content, to offer enhanced flexibility in design. Currently, the project caters to actors in various fields, including theatrical performance, dance, immersive design, and music. However, the team looks forward to exploring additional opportunities to showcase the software's capabilities in the future.
In this Q&A, Grady and Hopper talk about phase 1 of the project, the next wave and project goals and activities, and offer advice to innovators interested in exploring funding opportunities.
Pictured, above: scenes from School of Theatre's production of Exit the King, which piloted the Random Actor project at CFA's Studio ONE in spring 2023.
Describe Phase 1 of the project and its success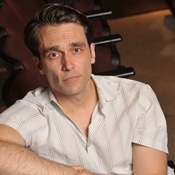 Clay Hopper: In phase 1, our goal was to develop and deploy a cutting-edge software design tool for real-time generative, interactive media in theatrical settings. Previous iterations, developed in collaboration with BU Spark!, provided valuable insights and led us to seek collaboration with an experienced Interactive Media Designer and Creative Coder. After an extensive search, we found the right fit in Paolo Scoppola, who brought significant expertise in software development for interactive media installations.
Random Actor addressed a crucial need identified in an earlier immersive media experiment for actors: the ability to adjust the generative algorithm's output in real-time without coding. This innovative solution allowed designs to evolve with actors' performances and introduced a new toolset for theatrical and graphic designers to work in a novel mode.
What lies ahead for Phase 2, and what are your Phase 2 goals?
James Grady: After completing the pilot phase of Random Actor, we were inspired to continue its development and enhance the student experience at Boston University. We planned to focus on two fronts: further developing Random Actor as a software tool with "Plug N Play" capabilities, allowing easy device connection, and creating a library function of pre-designed generative algorithms for graphics. Securing additional funding was a priority to realize these exciting improvements. Our journey with Random Actor has just begun, and we looked forward to its potential impact on generative, interactive media.
Beyond Phase 2: What are your long-term goals for Random Actor?
Hopper: We are currently at the initial stages of developing a proposal for an Interactive Media Research Lab with a central focus on Visual Narrative and Performance. Our vision is to create a lab similar to MIT's Media Lab, but with a unique emphasis on the use of emerging technology in the world of art. This research will encompass various disciplines, including narrative theory, performance theory, visual art, graphic design, interactive multimedia design, spatial storytelling, and exploring the relationship between live performers and imagery.
To make this vision a reality, we are actively seeking both funding and guidance on the most promising avenues for our proposal. We are eager to collaborate with BU Spark! and BU Faculty of Computing & Data Sciences to shape our proposal effectively. The success of the Random Actor pilot has ignited a multitude of innovative ideas and creative enthusiasm, propelling us forward with great anticipation and ambition. We are excited to receive counsel from Shipley Center as we progress in this endeavor.
For those with innovative ideas, what advice would you give?
Grady: For those with innovative ideas seeking to embark on a creative project, our advice would be to start by defining a clear and compelling vision for your endeavor. Understand the specific problem or opportunity your project aims to address and how it can contribute to the broader field. Craft a well-structured proposal outlining the objectives, methodologies, and potential impact of your research.
Do not hesitate to seek counsel and advice from institutions like Shipley Center, which can provide invaluable expertise in navigating the process of establishing a creative venture. Their guidance can significantly enhance your chances of success and help turn your innovative ideas into reality.
Deep Dive: Exit the King
Explore more behind the scenes of this production in CFA's Featured Work collection!