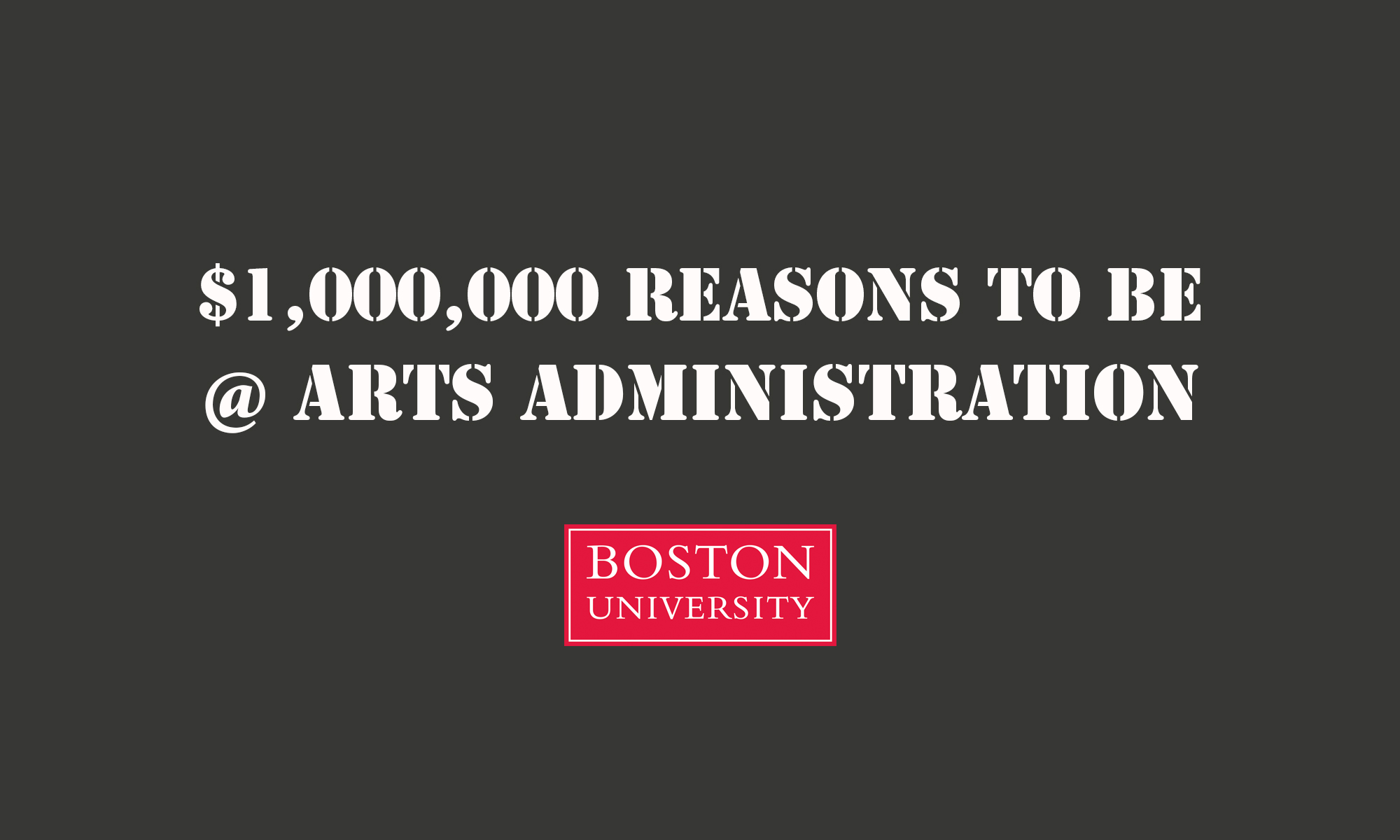 Arts Administration Director Lanfranco Aceti and Michael Ibrahim, who teaches the program's Grant Writing course within the Fundraising Certificate, are extremely proud to announce that Ms. Adrienne Lotoski, a current master's degree student, has written a successful proposal used for a one million dollar grant funded by the Barr Foundation.

Ms. Lotoski, an accomplished student in the program, took advantage of a new direction set by Aceti and Ibrahim for the class to provide students with hands-on experience in fundraising and development for arts-related projects and events.  As part of their coursework, students are encouraged to develop proposals for their current projects and organizations to submit to funders and donors.
Ms. Lotoski applied this new approach to her organization. Under the guidance of Mr. Ibrahim, she was able to translate the theoretical knowledge and skills she acquired through the course into a real life endeavor—with impressive results. The proposal she crafted to expand WBUR's arts-related website, The Artery, laid the groundwork for senior management to obtain the funding for the organization from the Barr Foundation.
Reflecting on her experience, Ms. Lotoski noted, "When our organization was notified that we received the funding, it was one of the most gratifying feelings that I have had in our Arts Administration program, as well as my career. I have completed other class projects for WBUR, but this was the most exciting one to come to life! Everyone at the station is thrilled to have received this wonderful grant and we are beginning to implement the outcomes.  I worked through the various milestones and applied the theory to a real case study as Professor Aceti suggested, with the vision of our General Manager, Charlie Kravetz, Development Director, Mary Hull, and a team of dedicated managers.  The result was being able to implement the key concepts Professor Ibrahim teaches throughout the semester."
Lanfranco Aceti remarked, "As Program Director, I am extremely happy to learn this news. It demonstrates the transformational success of the Arts Administration Program's new direction. Both Michael Ibrahim, as a lecturer, and Adrienne Lotoski, as a student, have been able to showcase how theory and practice can reinforce each other and demonstrate how an empowering pedagogical framework can provide life changing opportunities."