VIDEO: What's for Thanksgiving? Try This Fall-Themed Manicotti with Squash and Brussels Sprouts
Alum Michael Lombardi, chef-owner of Cambridge's new Si Cara, prepares this take on his grandmother's dish
Watch it again
What's for Thanksgiving? Try This Fall-Themed Manicotti with Squash and Brussels Sprouts
recipe
What's for Thanksgiving? Try This Fall-Themed Manicotti with Squash and Brussels Sprouts
Michael Lombardi, Jr., has been serving up delicious Italian cuisine since his BU student days, when he'd prepare ravioli from scratch for roommates and friends. As chef-owner of Si Cara, his newest restaurant, in Cambridge's Central Square, Lombardi serves Canotto-style pizza, a Neapolitan-style variation crowned with a distinctly puffy, airy crust. And as chef and partner of SRV, the Italian restaurant he helped open in 2015 in Boston's South End, Lombardi (Questrom'08) serves up modern twists on classic Venetian cuisine, including two-bite plates called cicchetti. The restaurant mills its own grain to make the freshest pasta.
But for Thanksgiving, he leaves the cooking to his Italian-American family in Connecticut.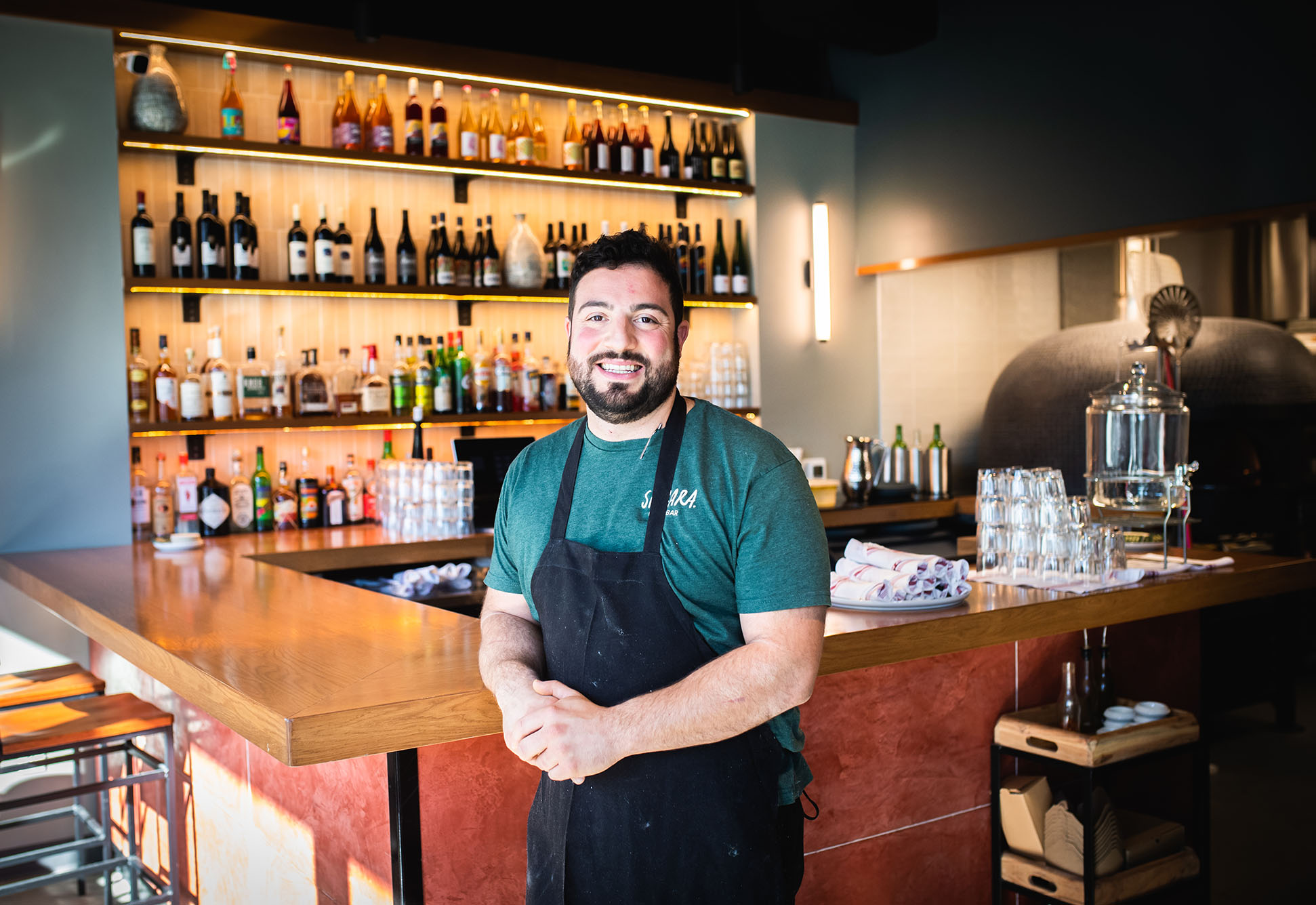 Growing up in Connecticut, Lombardi's grandmother would serve a classic holiday meal of turkey, gravy, and potatoes. But she would also make manicotti (which translates to "little sleeves" in Italian)—or manigot, as the dish is referred to in the family. Rather than using filled pasta shells, her recipe called for homemade crepes stuffed with ricotta cheese and baked in a red sauce.
Lombardi, inspired by those fond Thanksgiving memories, decided to put an autumn twist on his Nonna's manicotti. In our video, he stuffs his crepes with butternut squash and ricotta, then tops them with brussels sprouts leaves, pickled apple, and toasted almonds, providing a crunchy counterpoint to the pillowy crepes.
Squash and Ricotta–Filled Manicotti with Brussels Sprouts Bechamel
Serves 4-6
Pickled Apples
1 red apple
1½ cup apple cider vinegar or white wine vinegar
Cut the sides of the apple off the core leaving 4 pieces. Place them flat on a cutting board and cut into thin slices. Place the slices in a container and pour the vinegar over them. Allow to sit for at least 15 minutes before using.
Manicotti Crepes
2 cups all-purpose flour
2 cups water
6 eggs
1 tsp baking powder
Butter as needed (for cooking)
Place all the ingredients in a bowl (or blender) and whisk until smooth. Warm a 6-inch frying pan and melt a small piece of butter. Using a ladle, add in 2 ounces of the batter and using gravity, move it around the pan until it evenly covers the entire bottom. Cook for 90 seconds, or until you can slide a spatula under the crepe and the bottom has fully set. Flip the crepe when ready, and cook for an additional 30 seconds. Slide the crepe onto a paper towel or piece of parchment paper. Repeat the process to make the crepes until all the batter is gone.
Squash and Ricotta Filling
1½ lb squash puree (3 large butternut squashes)
1½ lb ricotta cheese
4 eggs
1 cup grated parmigiano reggiano cheese
1 tsp salt
Cut the squash in half and scoop out the seeds. Place the pieces in a baking dish skin side down and lightly salt the flesh. Cover the dish with aluminum foil, and bake for one hour at 375 degrees. If the squash isn't fully soft after an hour, continue cooking, checking every 15 minutes. After the squash is cooked, scoop out the flesh and puree it in a blender until smooth. Then add equal parts squash to the ricotta and gently stir together. Add the eggs, grated parmesan cheese, and salt and stir until smooth.
To fill the crepes, take two heaping tablespoons of the filling, and place in a line on the crepe. Roll the crepe around the filling, then hold it seam side down.
Brussels Sprouts Bechamel
1 lb sliced brussels sprouts (reserving the outer leaves for garnish)
1 quart milk
4 tbsp butter (½ stick)
¼ cup all-purpose flour
1 cup grated parmigiano reggiano cheese
2 tsp salt
2 tsp nutmeg
Put the butter in a saucepan, and melt until it starts to bubble. Add in the sliced brussels sprouts and the salt. Sweat them for 3-5 minutes until they have wilted, but still have a bright green color. Add the flour while stirring, so no lumps form. Once all the flour is incorporated, add the milk in three batches, bringing the sauce to a boil each time. Make sure you are continuously stirring so that the bottom of the sauce doesn't burn. After all the milk is incorporated and the sauce has boiled and thickened, add in the grated parmigiano reggiano, nutmeg, and any additional salt that's needed.
Final Assembly
1 cup almonds, toasted and chopped
Brussels sprouts leaves (reserved from the original pound of brussels sprouts)
1 tsp olive oil
Pinch of salt
Grated parmigiano reggiano cheese as needed
1 cup pickled apples (or more if you'd like)
In an oven-safe baking dish, spread a small amount of the brussels sprouts bechamel evenly across the bottom. Place as many of the rolled crepes in the pan as possible, allowing them to touch each other. Spoon more of the bechamel sauce over the top, and place the baking dish in a 350 degree oven for 30 minutes.
When the baking dish comes out of the oven, turn the broiler on. Lightly toss the brussels sprouts leaves in olive oil and a pinch of salt. Place them on a baking sheet on the top rack of your oven. Broil them until the outside of the leaves char a bit.
Before serving, scatter the charred brussels sprouts leaves over the manicotti and garnish with pickled apples, toasted and chopped almonds, and more grated parmigiano reggiano.