Venetian Cuisine Takes Center Stage at Boston's SRV
Questrom alum Michael Lombardi shares his passion for pasta at acclaimed eatery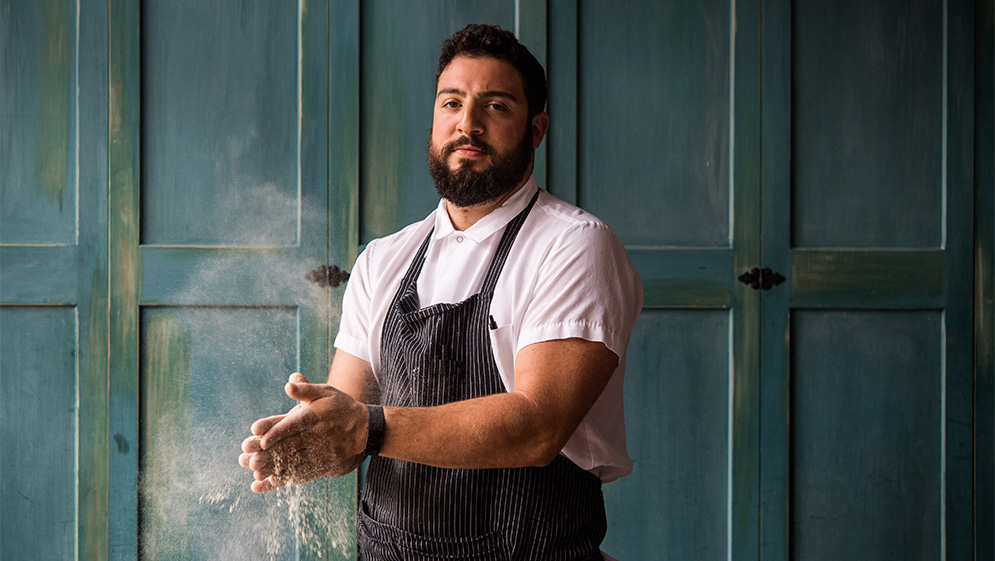 Lots of people like fresh pasta, but very few go to the lengths Michael Lombardi does to make it.
In the basement of his South End restaurant SRV, Lombardi (Questrom'08) and co-owner Kevin O'Donnell have installed a mill to grind the grain needed to make the freshest pasta, whether it's tubes of garganelli, buckwheat pizzoccheri, or piles of the elbow-shaped noodle known as lumache.
It's no small endeavor in a restaurant that can serve more than 500 people on a busy night.
"From a production standpoint, from where it lies in our heart, pasta holds the most square footage in the restaurant and on the menu," Lombardi says. "It's always been a passion of mine."
Lombardi and O'Donnell opened SRV in 2015, modeling it after the food and vibe found in Venice's bàcari, where two-bite plates called cicchetti are served in a wine bar setting. SRV has a large bar and dishes up plates both large and small. In just two years, it's won wide acclaim, most recently as a semifinalist for the James Beard Foundation's 2017 Best New Restaurant award.
The restaurant reinterprets Italian classics, from a snack of soft-boiled quail eggs with white anchovy and capers to a plate of roasted sunchokes with foie gras, apple, and a chestnut-flour cake called castagnaccio. A 2016 Boston Globe review called the menu "more than good, displaying regular flashes of creativity, craft, and, most pleasurably, surprise."
Lombardi's love of pasta goes back to childhood and Sunday dinners at his grandparents home in Woodbridge, Conn., where his large Italian family still gathers. It's an elaborate affair that almost always culminates in one of his grandmother's or mother's pasta dishes that feature homemade noodles and recipes that have been handed down for generations.
Lombardi's wife, Paige Zaitsoff Lombardi, chef de cuisine at Oleana in Cambridge, says that for her husband, Lombardi meals have always been about family and heritage.
And pasta.
"If he takes an interest in something," she says, "he just dives into it."
At BU, Lombardi studied business. But he also made ravioli from scratch in his dorm kitchen to feed his friends. A favorite was ravioli stuffed with roasted chicken, which was such a hit that it became the subject of his roommate's senior year photography project.
Lombardi liked pleasing people with his food then, and he still does today. "It's really about making the food and knowing it's being accepted on the other end," he says. "It's comforting for me."
After graduation from BU, he enrolled at the Culinary Institute of America, which led him to Orvieto, Italy, as part of an internship program at a cooking school–restaurant there called Zeppelin. That's where he met fellow New Englander O'Donnell, who had studied at Johnson & Wales. The two hit it off, cooking together in the restaurant in their downtime, talking about recipes, and coming up with a few of their own.
"From the moment we first started working together, we knew we each loved making pasta," O'Donnell says. "That's how we bonded."
After returning to the United States, the friends both got a job at the upscale Manhattan Italian dining spot Del Posto, owned by Mario Batali and Joseph and Lidia Bastianich. They later seized the opportunity offered by French restaurateur Charles Compagnon to run the Paris bistro L'Office. In a city particular about its food, the bistro gained a devoted following and earned complimentary mentions in Bon Appetit and the French editions of Vogue and Elle.
When their work visas expired, Lombardi and O'Donnell came to Boston, where they opened SRV with restaurateurs James Cochener and Michael Moxley. SRV stands for La Serenissima Repubblica di Venezia (the Most Serene Republic of Venice), the city's historic name. Venice's bàcari, a labyrinth of dark wine bars, have been around since the 15th century, and have a reputation for offering authentic and affordable Venetian food that is the equivalent of Spain's tapas.
Lombardi says the flavor combinations he and O'Donnell explore in their pasta derive from their experience in Italy, and that milling their own grains allows them to control the pasta's flavor and texture, as well as its "bounce and snap."
The in-house operation is much more labor-intensive than buying milled flour or another grain, but it's worth it, he says. He likes to know the origin of the wheat berries he's using and to be sure they're fresh. While the restaurant employs a full-time pasta maker, Lombardi and O'Donnell can be found in the kitchen most nights running the dinner service and making sure that every meal is perfect before it leaves the kitchen.
It's a far cry from his ravioli-making days in a BU dorm.
Megan Woolhouse can be reached at megwj@bu.edu.